I always run across scone recipes in my cookbooks and wanted to try them sometime, but didn't know how or when to serve them. The recipes didn't give any tips except 'serve warm'. I guess you're just supposed to automatically know!

Anyway, after a little research and asking questions, I got a few tips. So here's the ones I made, although in my research I found out that chocolate chip scones are too American. I want to try some that are more authentic sometime. They're kinda like fancy biscuits.
Chocolate Chip Scones …recipe from an Easy to Bake, Easy to Make recipe card.
2 cups flour
1/2 cup sugar
1 Tbsp. baking powder
1/2 tsp. salt
1/4 cup cold butter, cut into pieces
1 cup whipping cream
1/2 cup semi-sweet chocolate chips
Preheat oven to 400. Grease a baking sheet. Combine flour, sugar, b. powder, and salt in a large bowl. Cut in butter with a pastry blender until coarse crumbs form. Stir in cream until a dough forms. Stir in chocolate chips. Knead dough gently on lightly floured surface 8-10 times. Pat dough into an 8″ round, about 1/2″ thick.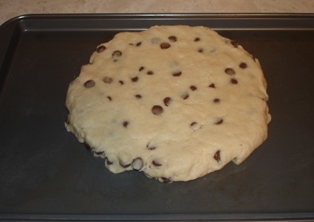 Cut round into 8 wedges with a sharp knife. Place on prepared baking sheet. I put the chunk of dough on the baking sheet, THEN shaped it into an 8″ round.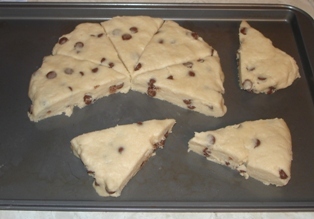 At the bottom of the card it said "Helpful Hints: If you prefer soft scones, arrange the wedges on the baking sheet so they are touching each other. For scones with crispy edges, place the wedges about 1 1/2″ apart on the baking sheet." I thought soft would be better, Shannon thought crispy would be better. So, that's why they're arranged like they are, that way we'd have some of each.

Bake scones until golden brown, 20-25 min.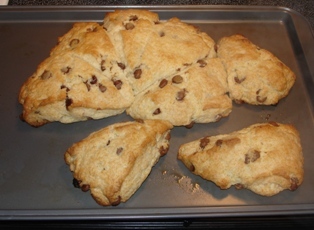 Serve warm. Tips I got were to split them apart and spread butter and/or jam in them and to put whipped cream on top. I did the butter and whipped cream… didn't know if jam would go with choc chips.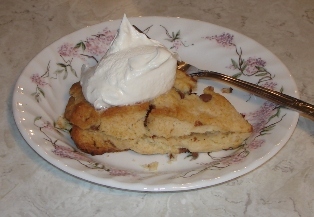 I know, I should have a cup of tea sitting beside the plate. These were really good! Easy to make too. Another note on the recipe card was "For biscuitlike scones, do not knead dough. Drop dough into 8 mounds on prepared baking sheet. Bake about 20 minutes." So, I guess they're not necessarily all wedges.
————————————————————————————————
Note: On the post before, I forgot to say where the recipes came from. The Broccoli Casserole and the Pudding Pumpkin Pie both came out of the 2006 Quick Cooking annual cookbook.