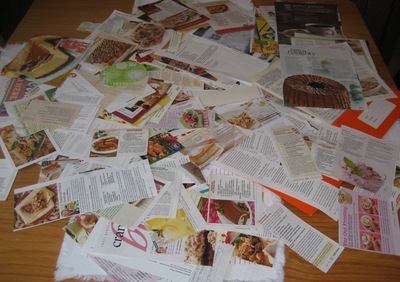 Do you ever do this? Go leafing thro' a magazine and clip out the recipes that reach out and grab you before throwing the magazine away? Then what? I have all mine in a folder and my goal is to try every single one and then make a decision between A or B:
A. Throw it away
B. Paste it into my 'blank' cookbook (that isn't so blank anymore) In case you don't know what a blank cookbook is, it's set up like a cookbook with all the different categories (breads, meats, main dishes, veggies, desserts, etc), but the pages are either lined or blank. I got mine from mimmistidbits about 5 years ago and love it!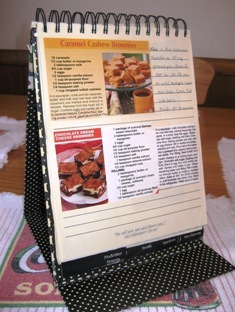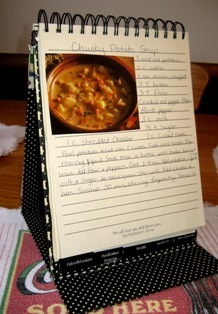 The clipped recipe I'm featuring this time is:
Pecan Cinnamon Buns …from a Bon Apetit magazine
Filling:
3/4 cup packed dark brown sugar
1/2 cup pecans, toasted, chopped
1/4 cup sugar
2 tsp. ground cinnamon
1/4 tsp. ground cloves
1/8 tsp. salt
2 Tbsp. (1/4 stick) unsalted butter, melted
Combine everything except the butter in medium bowl. Stir in melted butter (filling will be dry and crumbly).
Dough:
Nonstick vegetable oil spray
2 1/2 cups (or more) all purpose flour
2 Tbsp. sugar
1 1/4 tsp. baking powder
1/2 tsp. baking soda
1/2 tsp. salt
1 1/4 cups buttermilk
9 Tbsp. unsalted butter, melted, divided (I divided it before it was melted, then melted each part separately…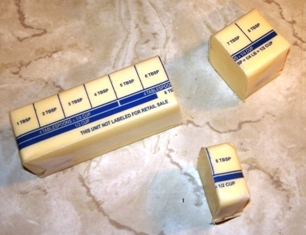 Preheat oven to 425. Spray 10″ diameter cake pan with 2″ high sides with nonstick spray. Whisk 2 1/2 cups flour, sugar, baking powder, baking soda, and salt in large bowl. Stir buttermilk and 6 Tbsp melted butter into dry ingredients until blended. Transfer dough to lightly floured surface and knead until smooth, adding more flour by teaspoonfuls if dough is too sticky, about 8 turns (I added probably at least an extra 1/2 cup). Roll dough out on lightly floured surface to 12×10″ rectangle. Brush dough with 1 Tbsp melted butter.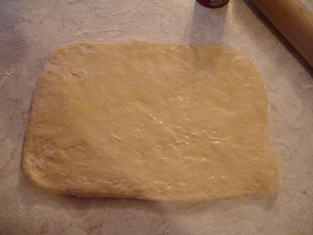 Sprinkle filling evenly over dough, leaving 1″ plain border on 1 long side. Press filling gently into dough to adhere.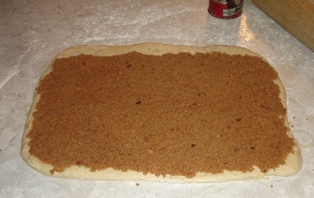 Beginning at long end opposite plain border, roll up dough jelly roll style. Pinch border of dough to seal. Cut dough crosswise into 8 equal slices.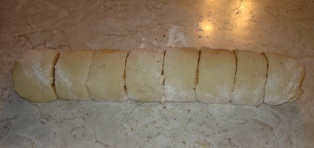 Place 1 bun in center of prepared cake pan; surround with remaining 7 buns, spacing apart (buns will expand to fill spaces during baking). Brush tops of buns with remaining 2 Tbsp melted butter.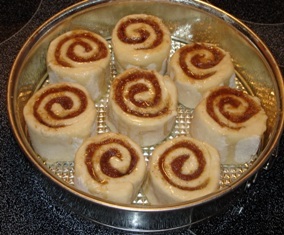 Bake buns until golden brown, about 23 minutes (some filling may come out sides of buns). Cool buns in pan on rack 5 min.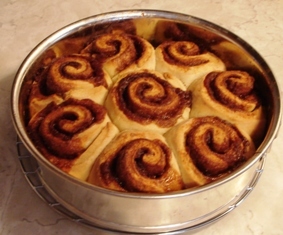 Drizzle icing (recipe below) over warm buns, then serve warm or at room temperature.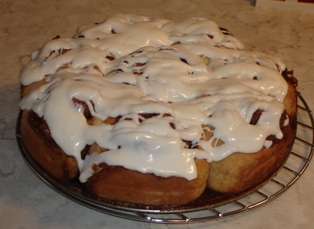 The only round pan I had that was big enough was my springform pan. Turned out to be handy because I just took the sides off and the rolls were easily accessible!
Mascarpone Icing
1 cup powdered sugar
2 Tbsp. mascarpone cheese (an Italian cream cheese available at many supermarkets)
2 Tbsp. buttermilk
Whisk in medium bowl until smooth.
And now the real question: Will this recipe… A. Get thrown away or B. Go in my blank cookbook?
The answer is A. One reason is because I don't keep unsalted butter, buttermilk, and mascarpone cheese on hand, so I'd always be substituting salted butter, reg milk with vinegar, and cream cheese anyway. Also, while they were really good, they weren't quite as light as reg cinnamon rolls.
One thing that I really liked about this recipe, though, was that I didn't have to get up early to have hot fresh cinnamon rolls for breakfast! No waiting for it to rise twice!
Comments