Posted on March 21, 2008
Filed Under Pork and ham
Up until a few years ago, we had a thing where we'd have my husband Shannon's family over for Easter Sunday lunch. Shannon would make a ham that got rave reviews. I'm not sure what happened, but we don't do that anymore. I guess we probably missed a year and the 'too-new' tradition was lost. Anyway, here is his recipe. He's done it for Christmas, too. He hasn't made it lately, and I only have 2 pictures of it… the last time he made it was before the days that I automatically put 'food' and 'camera' in the same boat, like I do now… these days, food and camera go together "like pancakes and blueberry syrup" (that was a line in a story tape we had in our growing up years and we still kick it around).
Twice-Smoked Ham
1 (12-15 lb) smoked bone-in ham
Whole cloves
Pineapple slices
Marachino cherries
1 cup frozen tangerine juice concentrate
1 cup Polander apricot preserves
1/2 cup French Pommery mustard
1/2 cup Grey Poupon Dijon mustard
1 cup packed light brown sugar
1 tsp. ground cloves
1/2 tsp. course ground black pepper
1/2 tsp. cayenne
To make this ham, use the indirect method of slow-cooking as described on page 13. (You don't need to own a smoker for this. Let's go to page 13… it says: Using a chimney starter, get 15 briquettes red hot. Place coals on one end of grill and place 1 pound of green hickory around coals. Use water-soaked hickory chunks if you can't get fresh-cut hickory. (Shannon buys and soaks the hickory chunks.) Keep the internal temperature of the grill at 200 – 225 degrees. Add more charcoal and hickory chunks every hour as needed. Don't put meat directly over hot coals. Shannon has a rotisserie that he always put the ham on.) Now, back to the recipe: Score the ham in a cross diamond pattern. Stud the ham with whole cloves at each intersection.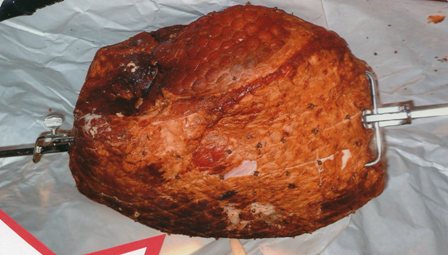 Smoke at 225 degrees for 3 hours ('pg 13′ directions above). Remove the ham and place on sheet pan. Secure the pineapple slices and the cherries to the ham with toothpicks.


To make the glaze, combine the tangerine juice concentrate, preserves, mustards, brown sugar, ground cloves, and peppers in a bowl and mix well. Generously slather the ham with glaze and bake in a 350-degree oven for 1 1/2 hours. Brush the ham with glaze every 20 minutes. Remove from the oven and let rest for 30 min before carving. Yield: 10 – 12 servings.
Now, if you're church-going and have thought of the conflict of glazing every 20 minutes while you're sitting in church, what Shannon did was glazed it every 20 min while it was smoking, then before we left for church, he poured a bunch of glaze over it and with the cherries and pineapples on there, it stuck pretty good. Then, he glazed it again when we got home.
A lot of work goes into this ham, but it is SO good. The outside is candied and the inside is moist and delicious! Next time we make it, I'll get decent pictures and update with them! We haven't even talked about it yet if we're going to make it this Easter, but it seems like with a ham like that, we should have company, and well, my ankle still feels better being propped up instead of flying around cleaning the house and making food!
This recipe comes from the Famous Daves Backroads and Sidestreets cookbook. I need to feature more recipes out of that cookbook. They have lots of ingredients, which equals lots of flavor! The next one I want to try is a wild rice soup that has 22 ingredients. I've had it at the restaurant several times and it is to die for.
Have any of you ever been to a Famous Daves restaurant? What did you think of it? Have you ever been to the original one in Hayward, WI? Here's a picture of it… I scanned it in from my cookbook. It's actually a 2-page spread and that white line is where the pages meet.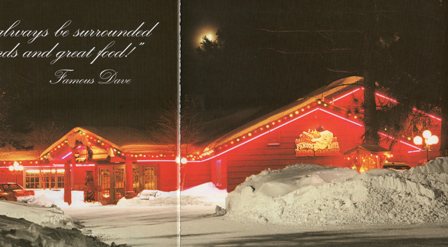 Happy Easter!
Comments