Her name is:

She's not sugar-free… she's full and overflowing with sweetness.
Here she is…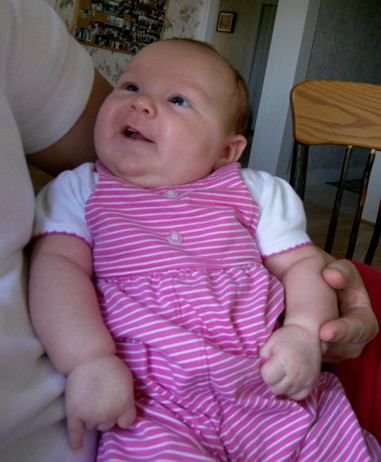 She's a bundle of pudge and coos and smiles and wiggles… well, ok, and some crying and blowouts too.
Lexi & Tiffany adore her. Here they are when she was brand new…

And here they are just recently…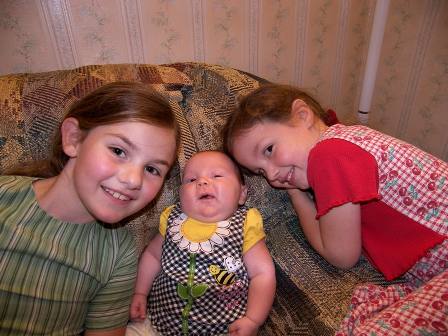 Megan's middle name is Lydia. Megan Lydia. One reason we wanted to use it is for a namesake of a dear grandmother… Shannon's grandma's name was Lydia. Another reason we wanted to use it is because on the day we found out that we were expecting Megan, we also got the news of Grandma passing away. It was a life and a death notice all in one day. Bittersweet.
Speaking of Grandma Lydia, the ABC blanket under these cupcakes was hand-quilted by her for Lexi (who is now 7). Someday, I'll probably have trouble deciding whether to pass it on to Lexi who it was made for or Megan who is her namesake.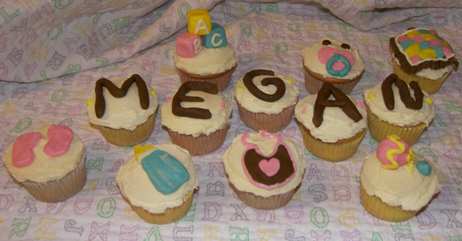 Sleeping… she goes 5-hour stretches at night and a few times has slept ALL night! Not bad for 2 1/2 months! I'm quite proud of her!
I wish somehow I could put a cyber-squish on here so you could hold her for a minute, especially for my mom who lives miles away and hasn't gotten to cuddle her for awhile. 😉
She weighed 7 lbs 12 oz at birth and tipped the scales to 13 1/2 lbs at her 2-month check-up… no wonder she grew out of some of those adorable little clothes before I got to wear them on her enough!
And that's our Little Cupcake. A Little Cupcake that is to blame for my blog suffering over the last year. A Little Cupcake that's pretty much the boss around here, but we're fine with that because we think she's the darlingest thing around.
Speaking of cupcakes, here are the real ones up close… decorated with fondant and frosting. My little Cooks in Training helped make the stuff on top. We sat down and had what Lexi called a "girl's meeting" to discuss what to put on top of the 12 cupcakes and the name and these 7 things is what we came up with. As we were making the things, Tiffany (4) kept calling the fondant Play-doh. And when she wasn't calling the fondant Play-doh, she was asking if she could eat some more frosting. 
Hopefully, you can tell what they all are, but just in case you can't, they are: a bib, a blanket, a bottle, baby feet, baby face with a pacifier, rattle, and baby blocks.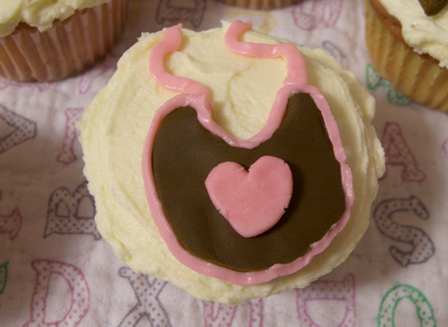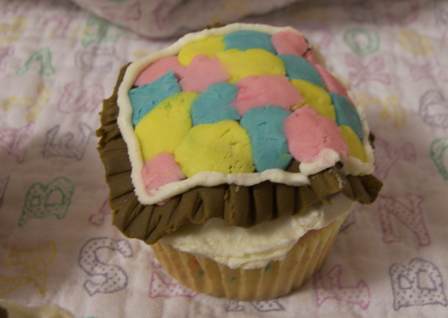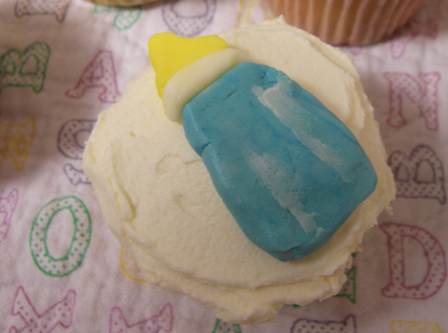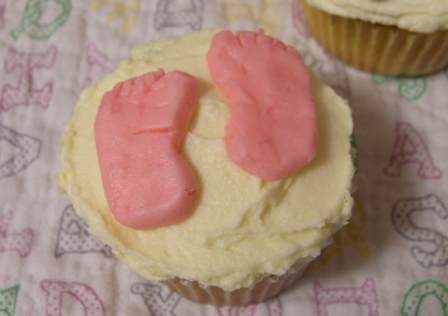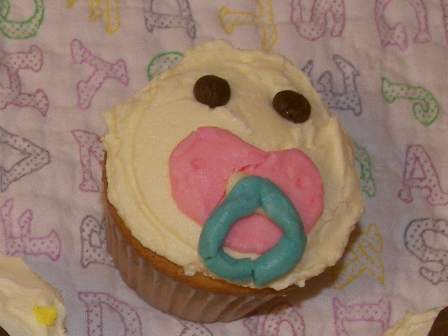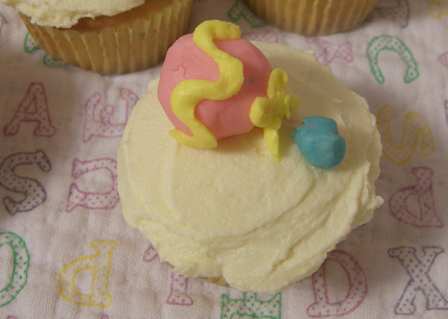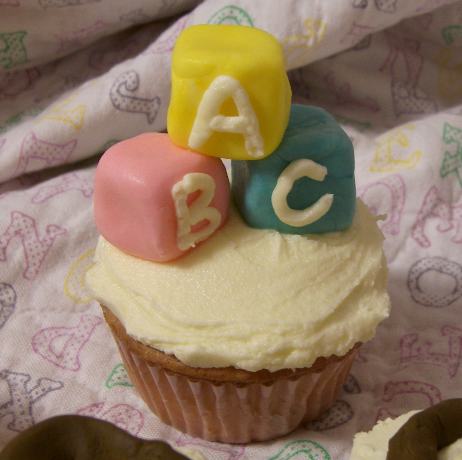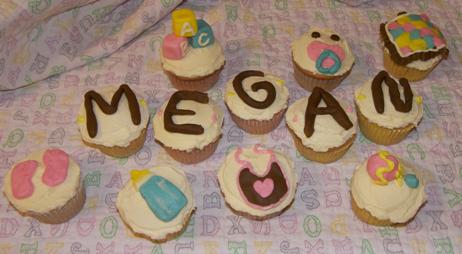 I'm just sayin'. 😉
1. Eat whatever you're craving. It'll usually make you feel better. Even tacos at 12:30 a.m.? Yup. I know from experience.
2. Graze all day. Isn't that GREAT advice?

3. Stay hydrated. Water can be so nauseating, so it helps to squirt a bit of lemon juice in it. Also helps to drink it ice cold. Or drink iced tea, juice, or milk.
4. Noodles. In small quantities though, or it starts making you sicker.
5. Stay out of the kitchen as much as possible and don't be browsing cookbooks and cooking magazines… even if it means not updating your cooking blog for quite awhile. 😉
These are all, of course, my own opinions and what worked/is working for me. I have friends who eat crackers like crazy, but I'm never in the mood for plain crackers. If you have your own tips, please leave them in a comment below! We need all the help we can get during this phase, don't we? And if you're not pregnant right now, maybe you'll want some of this info for in the future.

On another note, thanks alot for the emails from you readers, wondering if everything is ok and saying you're missing the updates. I'm hoping to keep this site up a bit better now and hopefully slip in some holiday recipes yet this year. One that I'm planning to do is my mom's cranberry salad. Hopefully I can make it like she does… it's one of those I-don't-really-have-a-recipe-for-it Mom specials. It is oh so good!
December = cookie baking, candy making, chocolate eating, a big Christmas dinner, using butter in obscene amounts, never actually getting hungry…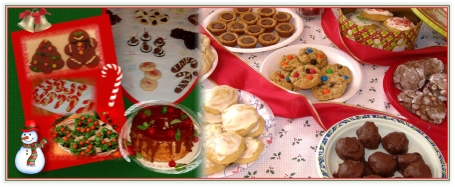 Then BAM! January hits!
January = calorie limits, dusting off the treadmill (*ahem* and using it), having chocolate only in your dreams, drinking water water water, finding yourself frequently wandering out to the kitchen to look around for something 'legal' to eat…


Sigh! Anyone else suffering from 'whiplash'?
Here I am, equipped with my feather-duster, ready to dust off this site again. Ah, how I missed it! I had a list a mile long that I had to get done before I was going to allow myself to start posting again. But, I'm pretty gracious, especially with myself (sigh!), and I let that little rule slide. Not totally slide though, I did get about 3/4 of the things done that I wanted to.
 So, have any of you ever moved? Do you know how much WORK it is?! You have to still do the laundry, make meals, take care of the kids, go scrapbooking, clean the house, PLUS decorate the house, unpack boxes, and fit everything into cupboards and closets. And it doesn't all fit quite as good as it did… you know how when you go grocery shopping and you've got a full cart, then you put it all on the checkout counter and when you load it back into the cart bagged up, the cart is overflowing and you've still got 5 more bags to put in it. So, I have quite a few things that don't have homes yet. Like the Kleenex box. It is on top of the fridge, but how many guests will manage to spy it up there? And the spices, I need to figure out a better system for them. They have a home, but not a very organized one. …Not like I'm stuck on being organized or anything.
 I think for the next while, my house will be like a Rubikscube (I have no idea how to spell that, so just sound it out and you'll know what I mean). Once everything is in place, I'll still be changing this and changing that till it feels right.
Anyway, I'm not posting a recipe right now, just checking in to say Hi and that you'll be seeing more action on this site again now.
And if you ever get bored, make a duck bill with Pringles chips…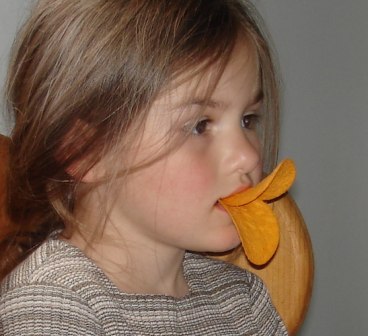 *Digging myself out from under a mountain of boxes* All I've been thinking of lately is bananas and an occassional apple… maybe it has to do with the fact that I've been spending alot of time with banana boxes and an apple box now and then.
We are moving.
From
WISCONSIN
to
OHIO.
So, this website will be put on the back burner for the next month or so. Ah, how fitting to use the term 'back burner' in a kitchen-related post. You know, it is true that when I make a meal, I very seldom need more than 2 burners and always use the front ones. The back ones aren't used near as often. I wonder if they keep that it mind when they're making stovetops. Not sure exactly what they'd do to make the front ones better and last longer, I guess that was just a weird random thought.
 Anyway, for tonight, I'm making, er, WE'RE making Grilled Chicken Breast Salad. It's 'we' because the grill is not my territory, and I'm quite happy to keep it that way.