Quote from my last Out of My Comfort Zone post:
"Up next week on Out of My Comfort Zone cooking… Baked Apples and Cheese. Yes, they are mixed together in the same dish, and yes, that would be cheddar cheese, not cream cheese. No, I didn't make it yet. But I'm looking forward to it."
Well, here it is, in all its syrup-y goodness: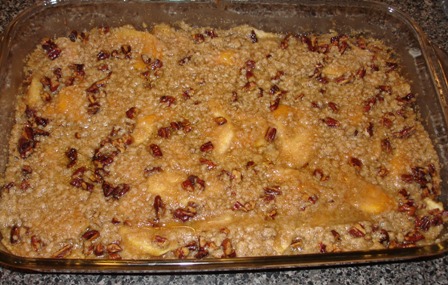 I was expecting rave reviews, but well, um, didn't get any. Not even from myself. It was good, but not exceptional. While I was eating my portion, I kept thinking I should try it sometime without the cheese… the rest of it was so scrumptious and that toasted pecan streusel topping on it was to die for, I could've eaten that stuff plain! You know, skim along the top with my spoon when nobody was looking.
I took it to a family supper and asked for feedback on it. The feedback was that the cheese was too chewy and that apples don't go with cheese. They said it was good though, just not 'make again' quality. My MIL liked it the best, although what she raved about mostly was the toasted pecans. They really were good, but then most things are good if they're tossed with melted butter and toasted in the oven!
So, here's the recipe and then we'll talk about cheese problems at the end. This recipe is taken from the Famous Daves Backroads and Sidestreets cookbook. That in itself is another reason I thought this recipe would be a keeper… that cookbook is loaded with keepers!
Baked Apples and Cheese
1 cup packed light brown sugar
1 tsp. cinnamon
2 Tbsp. butter
4 cups sliced peeled Granny Smith apples
3/4 cup flour
1/4 cup freshly grated Parmesan cheese
1 1/2 cups sharp cheddar cheese, cut into 1/2-inch cubes
Mix brown sugar and cinnamon in a bowl. Cut in butter until crumbly. Stir in apples. Mix flour and Parmesan cheese in a bowl. Add sharp Cheddar cheese, tossing to coat.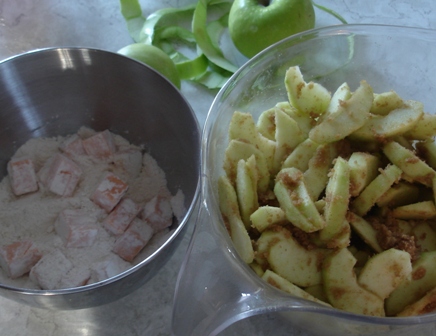 Add to apple mixture and mix well. Preheat the oven to 350 degrees. Spoon the apple mixture into a buttered 9×13″ baking dish.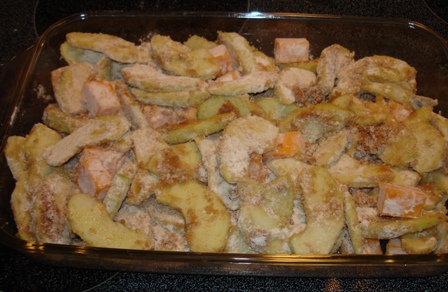 Bake for 20 minutes.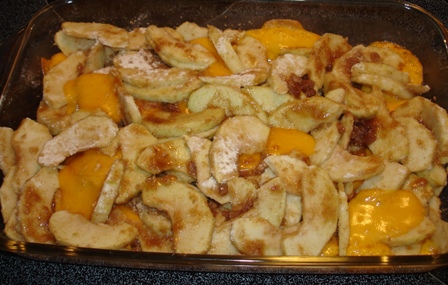 Lightly stir.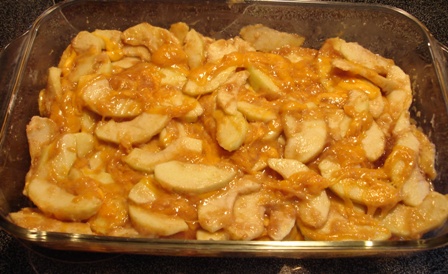 Sprinkle with Pecan Streusel Topping.

Bake 10 minutes more. Yield: 5 – 6 servings.
Pecan Streusel Topping:
1/2 cup chopped pecans
1 tsp. melted unsalted butter
2/3 cup flour
1/2 cup packed light brown sugar
1 tsp. cinnamon
1/8 tsp. ground nutmeg
1/2 cup unsalted butter
Toss the pecans with 1 tsp. butter in a bowl.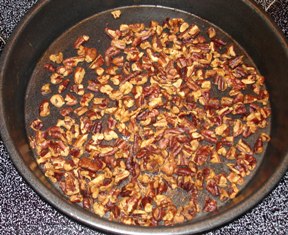 Spread in a round baking dish. Preheat the oven to 350 degrees. Bake for 13 minutes or until lightly toasted, then cool.
Combine flour, brown sugar, cinnamon, and nutmeg in a food processor container. Pulse in short bursts to mix. Add 1/2 cup butter. Pulse in short bursts until the mixture resembles coarse crumbs the size of peas. Stir in the pecans. Store, covered, in the refrigerator. Yield: 2 cups.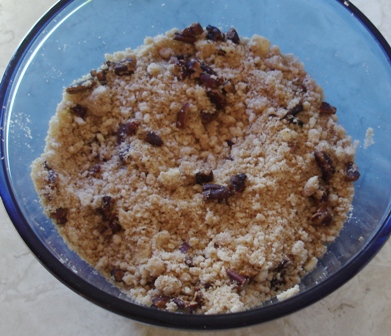 This topping can be used for other stuff too… layered in the middle of coffee cakes or topping for crisps and cobblers.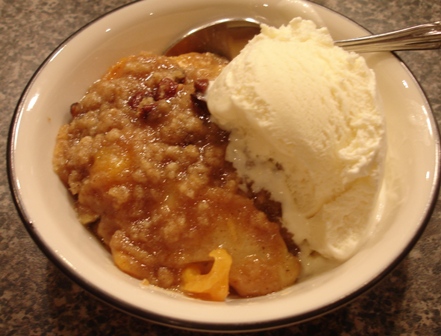 Now, about the cheese… the problem was that you'd hit a patch of chewy cheese, which is a good thing on a pizza or in a grilled cheese sandwich, but it tasted a little weird surrounded by sweetness.
Here are my ideas:
—maybe shredded cheese or smaller chunks would work better
—maybe a more 'melty' cheese, like American, would blend in better
—maybe I should've served it piping hot
—maybe this recipe would be THE best apple crisp recipe after omitting the cheese completely
I want to try this on my mom sometime and see what she thinks. She loves 'out of her comfort zone' stuff and trying new things. I could make half a pan with no cheese and the other half with cheese, using some modification ideas that I had… or modification ideas that you might have.
Not sure what next week's "Out of My Comfort Zone' food will be. I haven't had any inspirations yet.
Comments