Posted on May 29, 2008
Filed Under Out of My Comfort Zone, Salads
Do you ever just stop and wonder WHO decided what goes together? And who decided that scrambled eggs and pancakes are breakfast foods? And who decided that you shouldn't eat ice cream or a Hershey's w Almonds candy bar before 10:00 a.m.? And who decided that corndogs are a kid's food? And WHO was the first person to have the guts to put fruit and nuts in a lettuce salad?!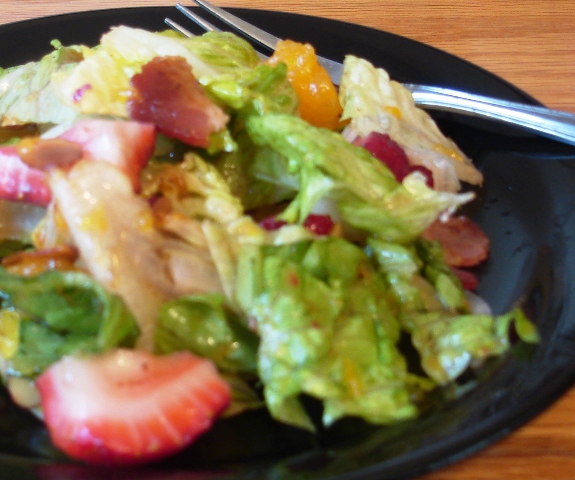 But, you know what, this salad was good! Really good! I could not believe it! And I could also barely stop eating it! If you have never tried it, this recipe would be a great one to try it on. Especially the strawberries were good with it. And the dressing.
If any of you are coming up for air about anything in the first paragraph… "Hey, we eat scrambled eggs and pancakes for supper sometimes!" "Hey, c'mon, I eat ice cream every morning!" "I LOVE corndogs and I'm 27!", I know, I know. Me too. Well, me too all except the parts about ice cream EVERY morning and being 27. But, when you have pancakes and eggs for supper, you call it a 'breakfast supper'. And I would think my husband was the one who decided that about no ice cream or candy bars before 10:00 (yes, we've had these discussions), except that Dairy Queen doesn't open till 11:00 a.m., so that's kind of another clue. And have you ever seen corndogs on the regular menu at a restaurant? Nope, you'd have to order them off the kid's menu. There, that oughta save some ranting in the comment section.

Back to this salad, it comes from the 2001 Quick Cooking Annual cookbook. There's a picture, and it is so colorful, and it grabbed me. I also learned something… I almost didn't put the onions in because I do not like raw onions in stuff and was afraid that the amount of them would for sure wreck it. The recipe calls for a sweet onion, so when I went shopping, I made sure to get an onion labeled 'sweet'. It was a world of difference from the regular onions I usually buy! These were good! And not as strong. I'd still use the regular onions for cooking, but I won't dodge around raw onions in other recipes anymore… I'll just make sure they're sweet onions.
Berry-Mandarin Tossed Salad
1/4 cup sugar
2 Tbsp. cider vinegar
2 Tbsp. honey
1 1/4 tsp. lemon juice
1/2 tsp. paprika
1/2 tsp. ground mustard
1/2 tsp. grated onion
1/4 tsp. celery seed
Dash of salt
1/3 cup vegetable oil
8 cups torn mixed salad greens (if you see grated carrots and red cabbage in there, it's because my bag of ready-to-serve Romaine salad mix had them in)
2 cups sliced fresh strawberries
1 can (11 oz) mandarin oranges, drained
1 medium sweet onion, sliced into rings
1/3 cup slivered almonds, toasted
4 bacon strips, cooked and crumbled
Note: To toast the almonds, I just tossed them with about a teaspoon of melted butter in a pan, then put them in a 400 degree oven till they started turning brown, maybe 10 minutes or so, I didn't time them, just kept checking them.
In a 2-cup microwave-safe bowl, combine the first nine ingredients. Microwave, uncovered, on High for 1 1/2 -2 minutes; stir until sugar is dissolved. Whisk in oil. Cover and refrigerate until serving.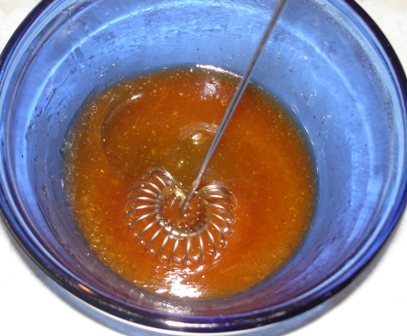 I actually had some problems with the dressing… the oil didn't want to blend into the rest of the stuff, the dressing got really thick after being in the refrigerator, and I thought it was too much dressing. And I did follow the recipe exactly, right down to the celery seed. It actually worked out ok and coated the salad evenly (I was afraid it would be thick in some places and none in other places). I think next time, I would put only about 2/3rds of it on though.
In a salad bowl, combine the greens, strawberries, oranges, onion, almonds, and bacon.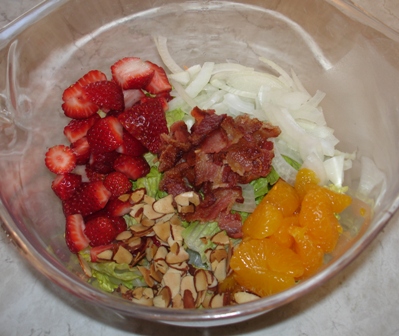 So pretty, huh?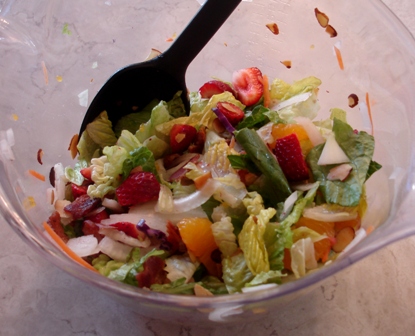 Drizzle with dressing and gently toss to coat. Yield: 12-14 servings.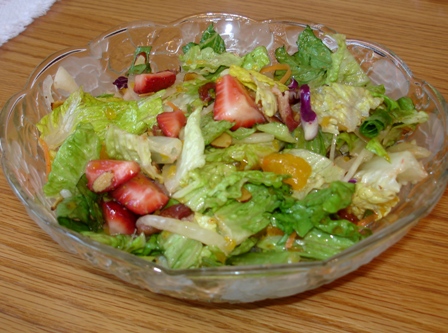 Maybe this type of thing is a regular dish on some of your tables, but we don't see it much around here. I'm going to take this salad to the next fellowship meal at church… see if anyone takes any.

And now, I have to get an inspiration for something to make for a meal this evening… we eat in a little over an hour and a half and I have no clue what we're going to have. Any ideas?
Comments