Posted on May 1, 2008
Filed Under Out of My Comfort Zone
This week's cooking adventure is… Flaky Crabmeat Bundles. I'd love to know, does that sound like something you'd just up and make without thinking twice?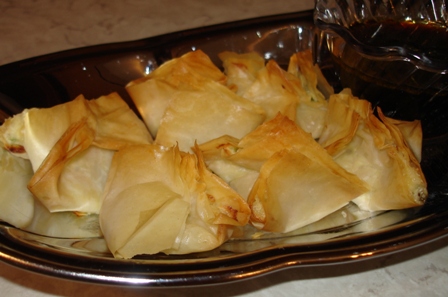 My husband, Shannon, reads my blog… ok, yeah, I guess you'd know that since I told you he's my tech support and the one that got it up on the web and customized it for me. Anyway, last night, I said, "You know the thing about cooking something once a week that's out of my comfort zone?" He said, "Yeah, I saw it in your last post." I said, "Well, first up is Flaky Crabmeat Bundles". He was in the next room and after a slight pause, he appeared in the doorway and said, "HUH?!" I think he was afraid he had heard me right.
Well, I made them…
First, while thinking about making them, I had to get over the 'crab' thing. Ewwwww! And then it didn't help matters when I opened the can. Flaky describes it for sure.
Next, there was the thing of phyllo dough. I had bought some awhile ago because it kind of intrigued me, but never got the nerve to try it. I was looking forward to that part, though.
This recipe comes from a Pampered Chef Stoneware Sensations cookbook. Since I only have one piece of stoneware, when I use that cookbook, I start by looking in the Stoneware Index (which is categorized by the different stoneware pieces used) instead of the Recipe Index. And, no, I don't really want to own more than one piece… I should say that quietly because I know there are some die-hard stoneware fans out there. I am, however, a big fan of Pampered Chef and have LOTS of things and there are still more in that catalog that I think I can't live without. Well, anyway, we can talk about Pampered Chef some other time, let's get on with these crab things…
Flaky Crabmeat Bundles
2 cans (6 oz. each) lump crabmeat, drained (I couldn't find anything that said 'lump' on it. Mine ended up looking more grated.)
1 container (8 oz) chive and onion soft cream cheese
2/3 cup fresh pea pods or sugar-snap peas, coarsely chopped
1/4 tsp. salt
1 medium carrot, shredded (1/2 cup)
2 garlic cloves, pressed (don't miss the lazy man's tip for this at the end of the post)
6 sheets frozen phyllo pastry, thawed
2 Tbsp. vegetable oil
Sauce:
1/2 cup light soy sauce
1/4 cup balsamic or white wine vinegar
2 tsp. peeled fresh ginger root (I used about 1/3 tsp ground ginger… I found online that 1 tsp. ground ginger is equal to 2 Tbsp. fresh ginger root, although not as good. I looked for ginger root for quite awhile in the produce section at the grocery store, but couldn't find it. We live in a little town.)
2 tsp. sesame oil (couldn't find that either, I used olive oil)
Preheat oven to 375. For bundles, combine crabmeat, cream cheese, pea pods, and salt in a bowl.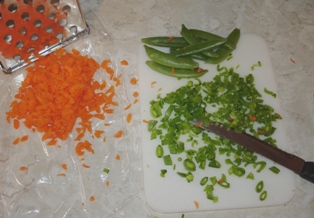 Shred carrot.
Add carrot and garlic to crabmeat mixture; mix well.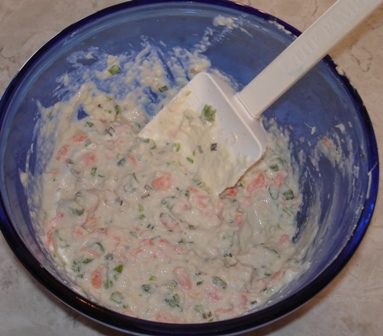 Unfold one phyllo sheet onto an 18″ long piece of parchment paper. (Keep remaining sheets covered with plastic wrap.) They're not kidding about that! Those sheets are paper thin and dry out SO fast. And after they dry, they break instead of bend. Using Kitchen Spritzer filled with vegetable oil, generously spray phyllo sheet. I don't have a Kitchen Spritzer, so I used a pastry brush. Worked ok, but a sprayer would've been much better. Top with second phyllo sheet; spray with oil. Repeat with 3rd sheet of phyllo and oil. Trim phyllo sheets to a 16″ x 12″ rectangle. Cut thro' all layers of phyllo to make 4″ squares. My sheets were smaller, so I only got 6 squares out of each batch.

Using small Stainless Steel Scoop, drop rounded scoops of crabmeat mixture onto center of each square.

For each bundle, bring 4 corners together at top; pinch. Place bundles on flat Baking Stone.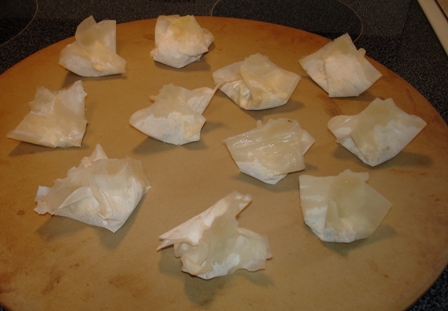 Bake 15 minutes or until edges are golden brown. Remove from oven and place on nonstick cooling rack. Repeat with remaining phyllo sheets and crabmeat mixture to make 24 bundles. I just made a half batch for us.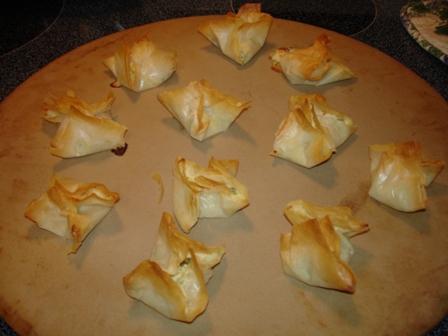 For sauce, combine all ingredients in small bowl; mix well. Serve warm bundles with sauce. I warmed up the sauce, too. Yield: 24 bundles, 3/4 cup sauce

They were good! Shannon liked them even better than I did. I liked them better with the sauce. With or without the sauce was a toss-up for Shannon. It was definitely a different taste than what we're used to.
They'd be great to serve at a ladies' afternoon tea party or as appetizers for a formal meal.
Back to the phyllo dough… I have over 3/4 of the pack left. I'm looking forward to using the rest. Maybe next time it'll be for a dessert.
Just a quick tip for garlic cloves… I've never bought a garlic clove or used a garlic press. I use this: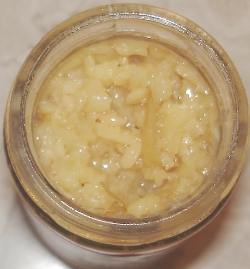 It's fresh minced garlic, found in the spice aisle, and you refrigerate it after opening. On the side of the jar, it says, "1 tsp = 1 average fresh garlic clove". I should compare this stuff side by side with a freshly pressed garlic clove and see if I can tell a difference.
Up next week on Out of My Comfort Zone cooking… Baked Apples and Cheese. Yes, they are mixed together in the same dish, and yes, that would be cheddar cheese, not cream cheese. No, I didn't make it yet. But I'm looking forward to it.
Comments