Posted on May 22, 2008
Filed Under Beef, Grilling, Main dishes
Hey! We've got a guest writer! Since I am not the griller around here (thankfully!), it seems fitting that I also shouldn't be the writer of the grilling posts, right? So, here is my husband Shannon:
Did you read in the news this week about the restaurant on Wall Street in New York that serves a $175.00 cheeseburger? Yup, you read right, $175.00! It is Kobe beef topped with foie gras, exotic mushrooms and golden truffle mayonnaise. Golden truffle mayonnaise is made from chopped black truffles, truffle oil, and gold flakes. Gold as in "silver and gold".  So let me get this straight… Some chef in New York decided it would be a good idea to make his gold watch into Miracle Whip? Wow. Remind me not to leave the Midwest.
This is not that burger.
Memorial Day weekend is the unofficial line between spring and summer (or if you are from up here in Wisconsin, the line between winter and summer).
Cheeseburgers sizzling on the grill… What could be a more sure sign of summer than that?
Cheeseburgers are such a basic food that you don't even need a recipe. But here is my recipe, just the same.
Ingredients:
2 pounds fresh ground beef. Not too lean, 80/20 would be good. I used 85/15 this time. If they don't have enough fat, they will fall apart on the grill.
1/4th cup chopped onion.
1 chopped jalepeno. Use as much as you like. We like a bit of kick.
BBQ sauce. Your favorite brand.
Lawry's seasoned salt. Put in as much as you prefer, but don't be scared to use quite a bit. I use about 2 teaspoons (that is completely a guess, I have never measured).

1/4th teaspoon coarse ground pepper.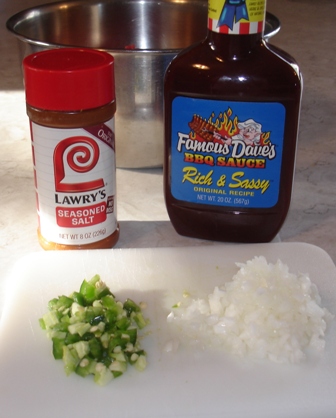 Combine the ground beef, onion, jalapeno, 2 tablespoons BBQ sauce, Lawry's, and pepper in a mixing bowl.
Shape into patties. This is hand work, no Pampered Chef burger shooter or other cheating! This is a cheeseburger, keep it simple. I made 4 patties this time, but that makes pretty big burgers. Depending on your group, you may want to make them smaller.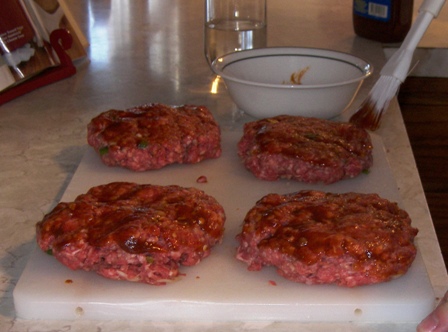 Using a brush, brush a light coat of BBQ sauce on the patties. This is not for flavor as much as to carmelize the suger in the BBQ sauce for a nice "crust". It may actually work better to do this step just a minute before they come off the grill.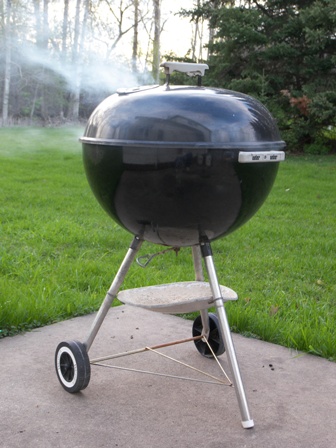 Grill on a charcoal grill. I almost don't want to put times here because each grill will differ in temp. I grilled them for about 6 minutes on each side. DONT LEAVE THEM ON TOO LONG! Seriously, the most common way to ruin a good burger is to overdo it. A little pink in the middle is perfect.
Put cheese on. Leave on grill for an extra minute to melt the cheese. I used provolone cheese. The buns must be grilled.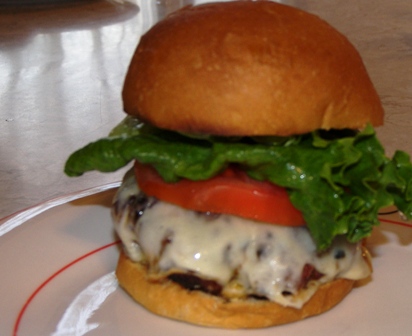 Dress to taste. I like tomato, lettuce, Bread and Butter pickles, ketchup, and mustard.
Ah, now that's a "God bless America" cheeseburger! Serve with extra napkins.
While you are enjoying your good honest cheeseburger this weekend, remember to feel sorry for some guy out in New York whose self esteem is so low that he needs to eat a $175.00 cheeseburger with jewelry in it, just to prove he can.
Me again: Well, after a grilling post like this, I'm going to close my kitchen for the weekend and be outside. Have a wonderful Memorial Day weekend! See ya Tuesday!
Comments