Posted on November 11, 2008
Filed Under Cakes
Ok, it's about time to feature something sweet again, wouldn't you say? I would! I have to force myself to try to keep this site balanced… would be more fun to have all desserts. But maybe the reason for that is because that's the type of stuff that I'm addicted to get cravings for the most. So, of course it's more fun to post about it. That's probably why I haven't posted the crunchy-baked fish yet that I made awhile ago.
This recipe is hand-written in my 'blank' cookbook. It's my mother-in-law's recipe. I'd never had it or even heard of it until she made it one time when my family went over to their house for a meal one time many years ago, before I even dreamed she'd be my mother-in-law someday. Ok, I'd better take that back… it may have been in my dreams for the future… ????
I think this cake is meant to be a knock-off of the TastyKakes Peanut Butter Kandy Kakes, which are (in my opinion) the BEST in the entire TastyKake line. It does actually taste a lot like them, except those have chocolate on all 4 sides instead of just the top. Hmmmm, never thought of it till right now, but I could cut them out in circles after the peanut butter is on and dip them in chocolate. Given the choice of chocolate on 1 side or chocolate on ALL sides… that's a no-brainer.
Peanut Butter Candy Cake
4 eggs
2 cups sugar
1 cup milk
1 tsp. vanilla
2 cups flour
1/4 tsp. salt
2 tsp. baking powder
1 cup peanut butter
8 oz. milk chocolate chips (I used most of a 12 oz. bag)
Beat and beat the eggs. Gradually add the sugar, milk, and vanilla.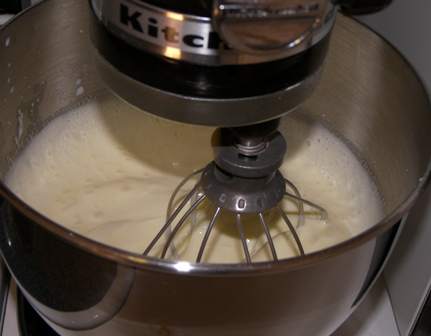 Then add the flour, salt, and baking powder. Pour into a greased jelly roll pan.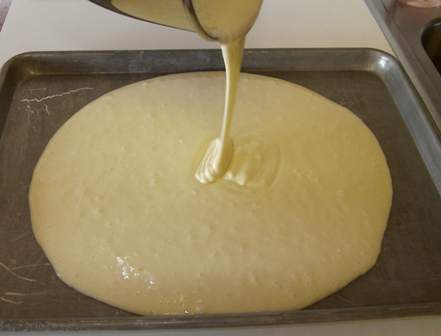 Bake 15-20 min at 350.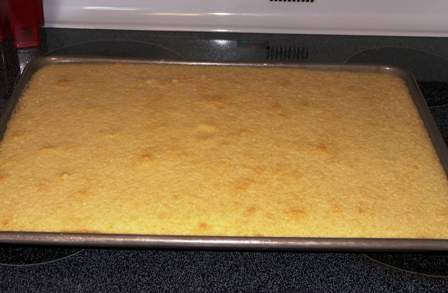 When you get the cake out of the oven, put dollops of peanut butter all over the cake. When it softens and melts a bit, start spreading it out until the entire cake is evenly covered. I didn't actually measure out 1 cup for this (and probably put on over 1 cup), so don't hold yourself to 1 cup if it seems like more would be better.

Same with the chocolate.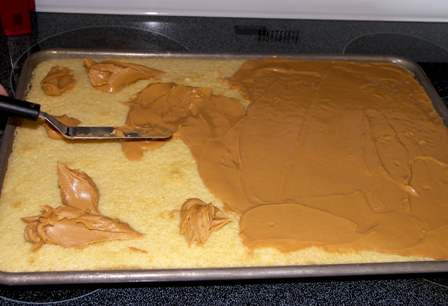 Let the cake cool, then put it in the freezer for awhile until the peanut butter firms up. Melt the chocolate and spread on top of peanut butter. It'll harden because the peanut butter underneath is cold.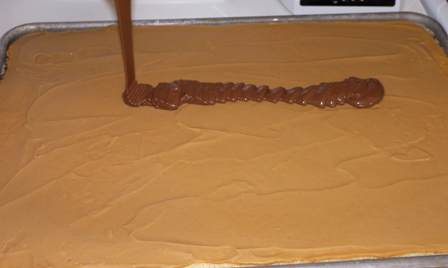 Cut into squares. Some of my pictures got blurry, and I don't have a good one of the cake all covered with chocolate. I really should check my pictures before eating the food!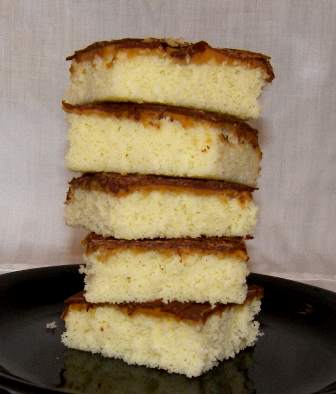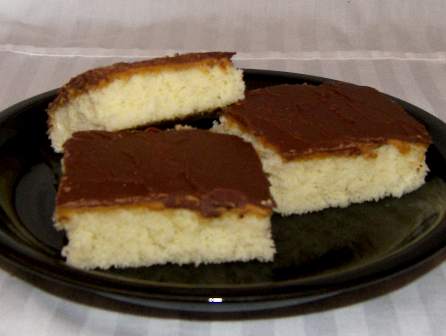 I don't think I need to sell the idea that this is good stuff! The cake part is kind of like a moist pound cake. Moist cake with peanut butter and chocolate… nothin' wrong with that combo!

Comments