Posted on December 3, 2008
Filed Under Salads
Here's a quick and easy and delicious salad recipe you've gotta have. It's got Italian flavor. Yum. I actually put Italian seasoning on lots of stuff, including all salads.
This salad recipe comes with a homemade croutons recipe. I haven't bought croutons for several years now… these don't take long to make and it uses up bread that's not soft anymore and here's the best thing about them (besides the taste): They're soft enough to poke with a fork, but still have a crunch. I don't like croutons that are so hard that when you try to poke them on your fork, they break into 5 pieces and no piece actually gets onto the fork. Just a trivial tidbit that this reminds me of… when we were on our FIRST date, we were at a restaurant eating our house salads and my boyfriend (who's now my husband) poked into a crouton and a piece shot across the table and hit me. I still remember, in my nervousness, trying to make a quick decision of whether I should ignore it or laugh about it or throw it back at him. We just laughed about it. Now, I kinda feel like telling you all about our first date because several funny things happened and I still remember thinking it was so crazy that I was nervous because we were highschool sweethearts and were just WAAAAAAAITING for my 18th birthday when I was allowed to date (we had our first date the evening of my 18th birthday) and I guess I was nervous because the atmosphere was somehow different and this was the real thing, but I guess I won't go into it because most of it has nothing to do with cooking, not that everything I write on here has something to do with cooking.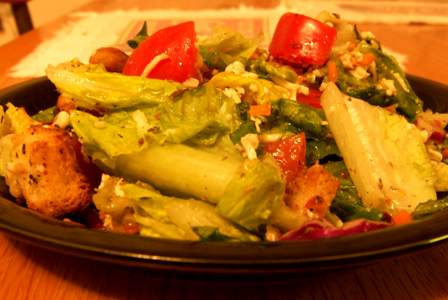 Robust Italian Salad …recipe comes from the 2001 Quick Cooking annual cookbook
1 pkg (16 oz) ready-to-serve salad
1 pkg (2 1/2 oz) sliced pastrami, cut into 1/2″ pieces, optional
1 cup (4 oz) shredded mozzarella cheese
4 plum tomatoes, chopped
1 tsp. Italian seasoning
1/3 cup Italian salad dressing
1 cup Seasoned Croutons (recipe below)
Sliced ripe olives, optional
In a large salad bowl, combine the first 5 ingredients. Drizzle with dressing; toss to coat. Top with croutons and olives if desired.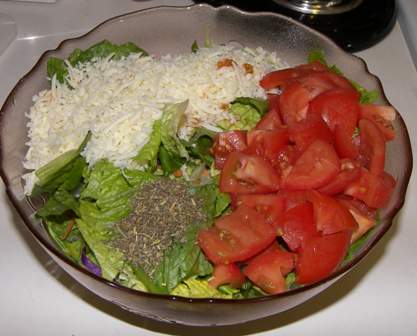 Garnish with tomato roses and parsley.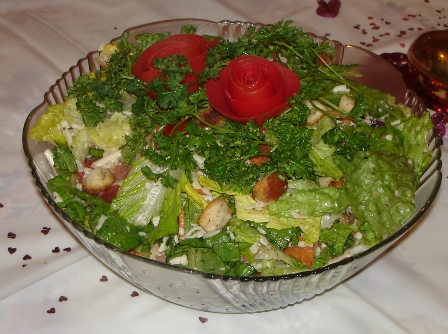 Seasoned Croutons (the kind that don't shoot across the table when you poke them with your fork)
2 Tbsp. butter
1 Tbsp. olive or vegetable oil
1/4 tsp. garlic powder
1/4 tsp. onion powder
1/4 tsp. dried oregano
1/4 tsp. dried basil
Pinch of salt
6 slices day-old bread, cubed
In an ungreased pan, combine the first 7 ingredients. Place in a 300-degree oven until butter is melted. Remove from the oven; stir to combine. Add bread cubes and toss to coat. Bake for 10 – 15 min or until lightly browned, stirring frequently. Cool. Store in refrigerator in airtight container. Yield: 3 cups. These are not only great with salad, but we also use them in soup.
Comments