Talking about the Red Lobster biscuits here. I tried the recipe from Heidi and it beat the other one! Those were EXACTLY like the ones at Red Lobster. It does have twice the butter though too, so I'm sure that helps! Freida, you've gotta try these sometime. I think the secret is (besides the extra butter!) beating the dough with a wooden spoon for 30 seconds. Let me tell you, that's HARD work! But I could notice a big difference after I did that… it was much fluffier.
So, here it is, the biscuits that make you think you've got a seafood dinner coming up next. But then you're glad after all that you are in the comfort of your own home when you jerk back to reality as your 22-month-old spills soup on her lap.
Red Lobster Biscuits
2 cups Bisquick
1/2 cup shredded cheddar cheese
2/3 cups milk
1/4 cup melted butter
1/4 tsp garlic powder
Mix Bisquick, cheddar and milk into soft dough. Beat w/ a wooden spoon for about 30 seconds. Add melted butter and garlic powder. Spoon onto greased cookie sheet. Smooth down tops. Bake for 8 to 10 min at 450 degrees.
While baking, melt butter in pan and stir in garlic powder. When done, brush butter on top and serve hot.
Heidi adds "This is how I have it written out, so I'm guessing you do the butter and garlic powder twice. I don't know, its been so long since I have made them. I'm going to try them again and see, but I guess if you think that sounds like a lot of garlic, I would leave it out when I brush the butter on." I did both the butter and garlic twice (once mixed in the dough and once brushed on top).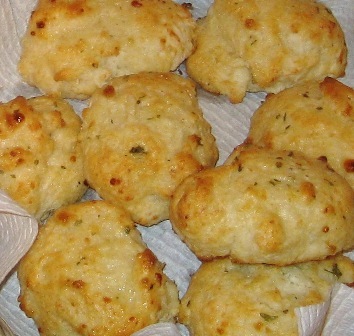 Thanks Heidi! And Freida!
Comments