Did you ever have brainstorms hit you while laying in bed at night and can't go to sleep? …
This is a fun way to spend alot of time not doing much!

Bake an angel food cake (I used a cake mix) in a jelly roll pan lined with tin foil, not greased. Bake the cake for about 20 min. Flip upside down onto another piece of tin foil. Let cool for at least a half hour. Cut hearts out of the cake with a 1 1/2″ cookie cutter. Don't go too close to the edge or it won't cut through well.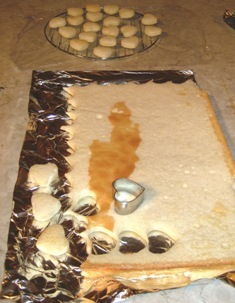 I got 65 hearts out of it, but I'm sure I could've got more.
Make a glaze… put some powdered sugar in a bowl and add a little vanilla, then add milk little by little and beat with a wire whisk until it seems about the right consistency to glaze, but not too thin that you can see the cake thro' it.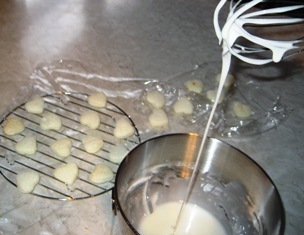 To glaze the hearts, put them on a wire rack with Saran wrap underneath to catch the drippings. Divide the glaze into however many different colors you want, then add a drop of food coloring to it. I'm out of green and blue food coloring, so I had to make do with yellow and red.
Spoon the glaze over the hearts.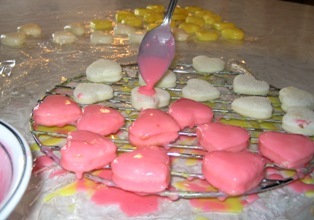 To make sure all the sides get covered, get more glaze on the spoon and pat it around the outside.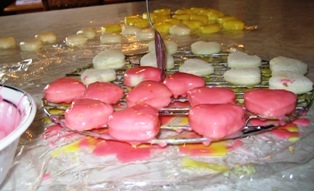 It took me about 30 – 45 seconds to do one heart… the sloppier you are, the faster it goes, the funner it is, and the more glaze you waste.
Now they're all glazed… I wonder how many times I said, "Don't touch!" this morning…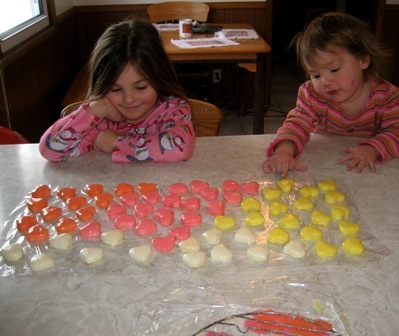 Now, copy off of the real conversation hearts or think of your own and write on them with red frosting (I mixed up regular buttercream frosting for that, not glaze). I just used a plastic sandwich bag and cut off a tiny part of the corner… my writing tip would've been too big.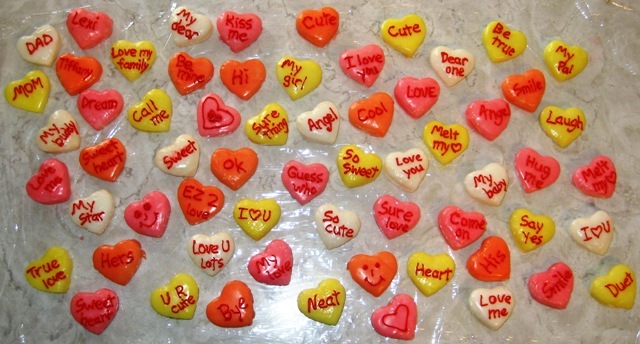 After the cake was cooled, total time to make these was about 3 hours. If you like the idea, you could do them in a morning. I think they'd look kinda cute to scatter around down the middle of the table for a Valentines meal. They actually look cuter in real life than on the pictures. I'm going to scrapbooking in a few minutes and am taking them along. Should be a hit with the kids!
Comments