Snickerdoodle Bars
Posted on March 12, 2014
Filed Under Cookies and bars
In the world of baking, here is what I bake the most. Snickerdoodle Bars.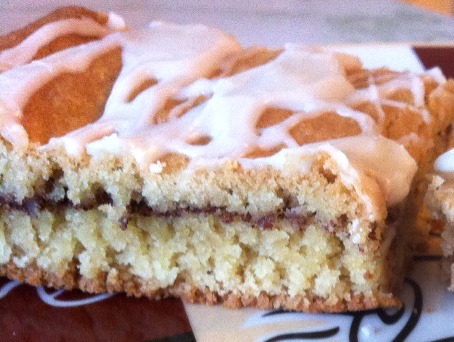 Out of the 5 people in this house, 4 of us are crazy about them. I won't let out any secrets how long (or should I say how short) a pan of these lasts around here. I'll give you a hint though… you might not want to blink or you could miss them. Ok, not quite.
In case you're wondering who's the one not crazy about them, it's me. I really like them, but they don't have chocolate in them. Give me monster cookies instead. That's my all-time favorite ever. Monster cookies is the second most common thing that gets baked in my kitchen. Why is it that I often think of my sister-in-law Liz when I write baking posts? Our friendship does go deeper than food, honestly! But I thought of her again when I wrote about monster cookies… she loves them, too. And one time, when they were here and we were going shopping, she asked me if I'd please make some monster cookies if she buys the ingredients. That was such a huge compliment and I'll never forget it. But anyway, this post isn't about monster cookies, it's supposed to be about snickerdoodle bars! For a monster cookies post, go here.
One nice thing about these snickerdoodle bars is that they take only staple ingredients. So 95% of the time, they can be made at a moment's notice. They take a whole Tablespoon of cinnamon, so another nice thing about them is that they have a bold cinnamon flavor.
Snickerdoodle Bars …recipe from my friend Shannon, and then she also put it in the Simple & Satisfying cookbook
3/4 cup butter, softened
1 1/4 cups sugar
1/2 cup brown sugar
3 eggs
1 tsp. vanilla
2 1/3 cups flour
1 1/4 tsp. baking powder
1/2 tsp. salt
1 Tbsp. cinnamon
1 Tbsp. sugar
Glaze:
1 cup powdered sugar
1-2 Tbsp. milk (1 1/2 Tbsp is perfect)
1/4 tsp. vanilla
Cream together butter and sugars. Add eggs and vanilla. Mix well.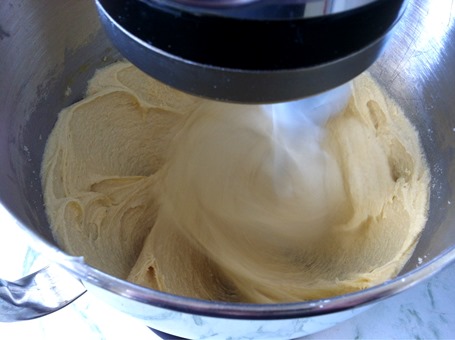 Add dry ingredients. Pour 3/4 of the batter into a greased 9×13 pan. (It doesn't actually pour, more like scoop it into the pan and then spread it out.)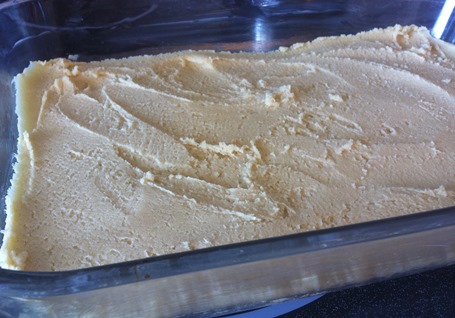 Mix Tbsp of cinnamon and sugar together and sprinkle over layer. Put remaining batter on top.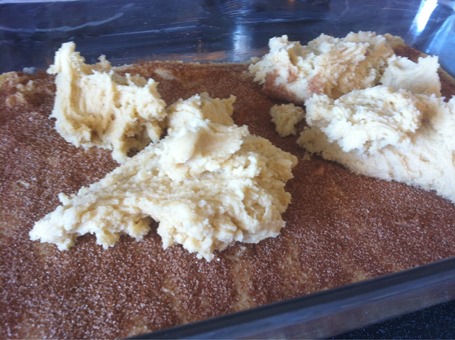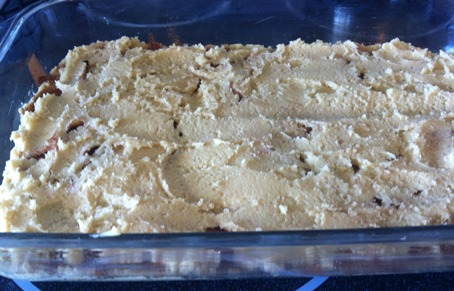 Bake at 350 for 25 min. (The recipe actually says 30 min, but we think they're softer and better at 25 min.)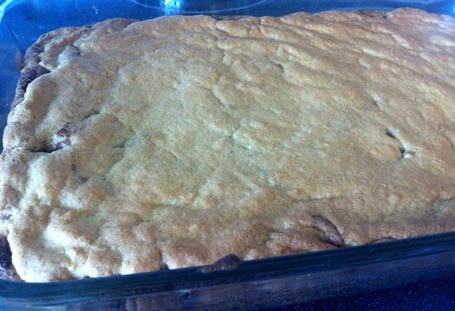 Cool slightly. Drizzle with glaze.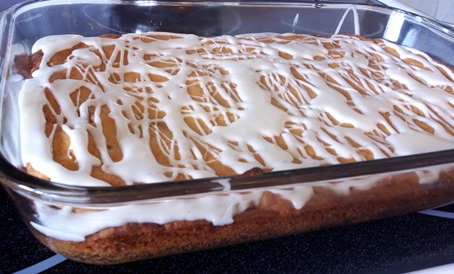 Now. A variation.
Lexi (11) makes these bars, but she kind of has a hard time with spreading the remaining dough on the cinnamon layer. And it is hard… the dough is sticky and firm and the cinnamon layer offers no traction. It even takes me 4-5 minutes just to spread that layer on. So, we tried something and it worked! We mixed the Tbsp of cinnamon right into the dough. The 2 bars taste the same and it's so much easier to spread all the dough in the pan and pop it into the oven instead of the 3 layers.
The bars look different, though.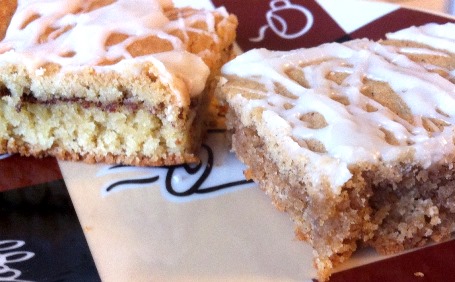 I like the looks of the 3-layered ones better, so I might do those for social occasions, but here at home, the all-in-one bars win most of the time. Especially if Lexi is baking.
And since we're talking variations, if you prefer cookie form, here is our favorite recipe for Snickerdoodles.
So, there you have it. The most popular baked goods at our house. What do you bake the most?
Comments