Pepperoni Pizza Puffs
Posted on April 3, 2014
Filed Under Snacks
I hope this post will make sense. Right now, my computer screen is split, with me writing this post on half of it and my 3-yr-old Megan watching Dora on the other half (currently, Dora is singing a song about Winter turning to Spring and as she's singing, all the snow around her is melting and the grass is greening up and flowers are starting to bloom… I wish finding Spring in real life would be that easy, sing a song and there it is, especially this year). Anyway, I'll try not to accidentally drop little Spanish phrases here and there as I'm writing this.
Pepperoni Pizza Puffs. I discovered this recipe a couple years ago on Lick the Bowl Good and have made it SO many times! You can go from walking into the kitchen to serving in 30 minutes. They are great for snacks or lunches. They freeze well too… which means you can go from walking into the kitchen to serving in 5 minutes instead of 30!

I have been asked for the recipe multiple times after serving them. In fact, one time someone who had never had them asked for it. I was cleaning school with a group when I got a phone call from someone calling to get this recipe. I make it so often that I know it by heart, so I gave it over the phone while wiping down a desk. When I got off of the phone, one of the other cleaners said "I was listening and that recipe sounds good and easy. Could you write it down for me?"
I don't make them exactly like Monica does on Lick the Bowl Good, but very close. I'll post them here how I make them, which is basically with a little less kick because my kids prefer them that way.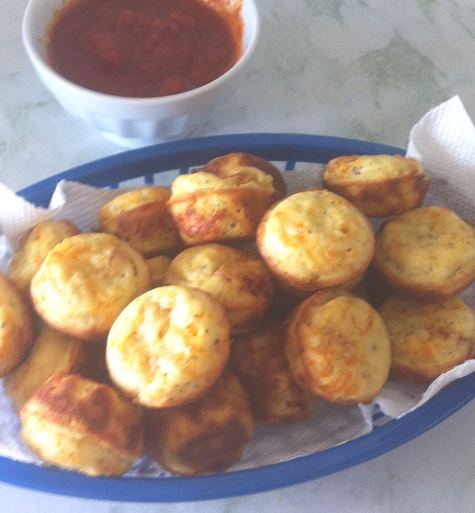 Hmmm, looks like I need to take a better picture next time I make them.
Pepperoni Pizza Puffs …adapted from Lick the Bowl Good
3/4 cup flour
3/4 tsp. baking powder
1/2 Tbsp. Italian seasoning
Pinch of salt
3/4 cup whole milk (I like to use whole, but it works great with any milk)
1 egg
1 heaping cup shredded mozzarella cheese
1 cup chopped pepperoni (if I don't have pepperoni on hand, I skip it. They love em without it too. Tiffany actually prefers them without it, so sometimes when I'm making them with pepperoni, I fill a few muffin cups for her before adding the pepperoni to the batter)
Pizza sauce for dipping
Whisk everything together, except the cheese and pepperoni. Then, stir them in. Divide the batter evenly between 24 greased mini muffin cups. Bake at 375 for 20 minutes. Warm the pizza sauce in the microwave and serve with the puffs for dipping.
I tried these one time in regular muffin cups instead of mini… aaaaaaaaand then went back to always making them mini.

They seemed to not be quite as fluffy, and well, they lost some of their charm by being big.
I just heard something on Megan's movie that was said in an annoying voice and I copied it in an exaggeratedly annoying voice and she said, "Mom, stop. You're embarrassing me!"
If you pack lunches for your school kids, here's an idea for you with these pizza puffs. Make a bunch of them, buy little 6″ paper plates and small condiment cups with lids. Package them in a sandwich bag like this and stack them in the freezer.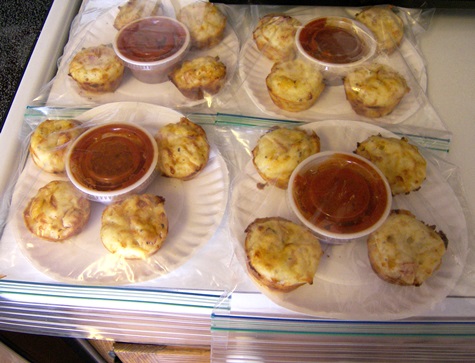 It's so handy to whip them out and throw them into lunch boxes. If the kids have access to a microwave at school, they can take the lid off of the pizza sauce, and microwave the plateful for 30 seconds.
I hope you like these as much as we do! Have a good day.
Comments