It appears that the cook around here is on strike, doesn't it? I think it's more a thing of needing to hire a scribe because I currently have pictures for 4 posts. I've made supper the last 2 evenings, and for some crazy reason, I can't remember back farther than that. Probably several snacky fend-for-yourself meals in there somewhere. Yeah, we do have those weekly, and then some more on the weekend… that's why I try to keep frozen pizzas, hot dogs, nacho stuff, cheese & pretzels, and cold cereal on hand. Anyway, the last 2 evenings, we've had grilled chicken salad and wet burritos, respectively. I like the grilled chicken salad because all I have to do is throw a couple salads together and possibly pop some refrigerated Pillsbury breadsticks in the oven… the rest is on the grill, which, if you've been reading Kitchen Scrapbook for any length of time, you'll know I don't touch the grill. I have the 4 plates of salad sitting out on the counter and Shannon brings the chicken in AND cuts it up and puts it on top of the salads. On the wet burritos, I read my post on that last night and thought it was strange that I served crescent rolls and salad with it. Huh? That sounds more like lasagna sides! I don't even remember serving that with it; now I serve tortilla chips salsa with it. And sometimes applesauce, just because I have a thing aboout that there's gotta be at least 3 different things on the table, not counting condiments, otherwise it looks skimpy.
I finally made my salad that I'd been craving a couple weeks ago. So, what does the word 'colorific' mean? I decided it must be a made up combo, merging colorful and terrific. And that would fit this salad. I got this recipe from Jolene. Thanks, Jolene, it's a keeper! Connie, thanks for your recipe too, I'd like to try it sometime… I don't go for feta cheese, but I'll bet that could be substituted for mozzarella.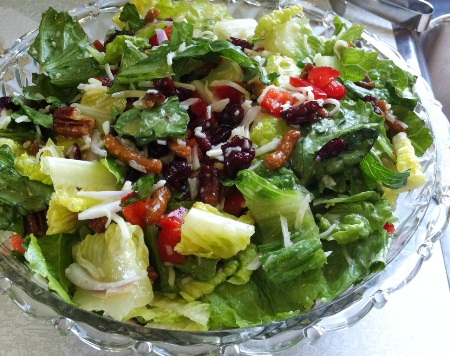 Colorific Salad
1 c. craisins
1 c. red peppers
1 c. honey roasted sesame sticks
1 c. pecans
2 c. shredded cheese
1/2 of a purple onion
1 head of romaine lettuce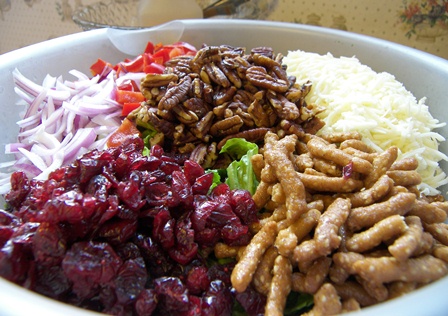 Mmmmm… you know it's gonna be a good salad when you have to say "Where's the lettuce?" ????
Oh, one little tidbit… I took the idea from Connie's recipe to saute the pecans… yum! I didn't sugar them though.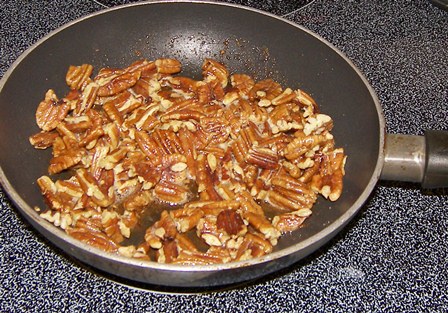 Dressing:
1 T. mustard
1 c. sugar
1/2 c. oil
1/3 c. vinegar
1/4 c. water
1 tsp. salt
1 Tbls. minced onion Blend dressing in blender. I put this picture on here so you can see what color the dressing is…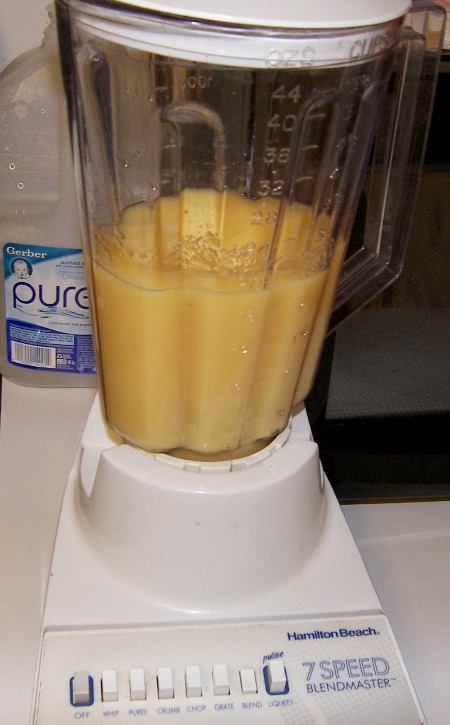 Toss with salad ingredients.
I was taking this to a carry-in meal at church, so I took it in this big bowl with a lid (more room for tossing) and put the dressing in a separate container… you can see it all in the background here.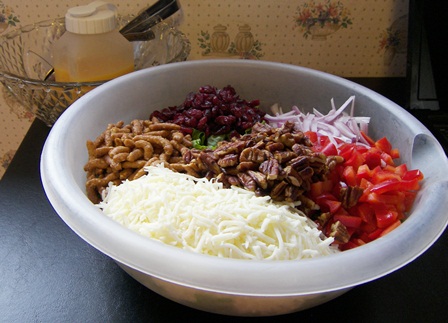 And then, instead of letting the kitchen help take care of tossing my salad, I went out when church was almost over to do it myself so I could get a 'done' picture. ????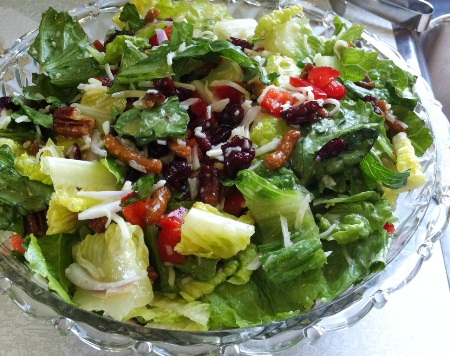 Next up… Megan's puppy birthday cake. How did my baby turn 1 already?!
And this afternoon, I'm planning to bake monster cookies. Yay! I just did last week, but who cares. In a perfect world, I'd bake 'em every week.

Comments