Posted on December 15, 2010
Filed Under Cookies and bars, Holiday cooking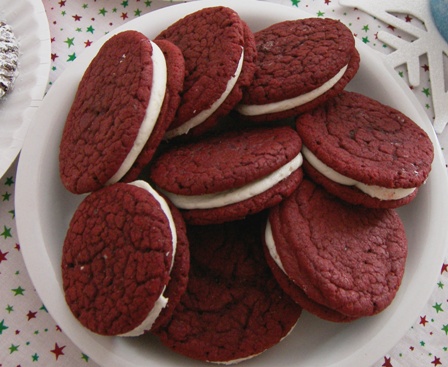 I was trying to picture a festive cookie plate to take to the cookie exchange. For awhile, I was waffling between White Chocolate Craisin Cookies and these. I ended up with these. I kinda got hung up on the white chocolate in the others, wondering if I wanted to 'waste' a couple batches of cookies on white chocolate… Shannon, maybe you should try them.

(Side note: This might be confusing to some of you because I have 2 Shannons in my life (my husband and one of my friends), both of which I refer to on here hit n miss, but if you know there are 2, you can usually tell which one I mean by the context. ;)) Back to these craisin cookies, I am planning to make a batch, and add the chocolate last, dividing the dough in half and adding white to one half and milk choc to the other.
Wow, I just spent a whole paragraph writing about something that has nothing to do with what this post is about. Good grief.
First, before the recipes, I'll give amounts: I used 5 cake mixes, which made 9 1/2 dozen filled cookies, so I actually baked 19 dozen individual cookies. Me and baking 19 dozen cookies goes great together, I loved it… if it wouldn't make me gain 100 pounds, I'd bake every day. On the other hand, Megan (my 6-month old) and baking 19 dozen cookies does NOT go great together. Let's just say her naptime was blissful. Although, she thought it was bliss sitting back in a corner up on the counter playing with everything within reach (except toys). It's amazing how far a 6-month-old can reach, I found out! Anyway, I made the frosting recipe 3 times and had about 1 cup left over. So, I'll break this down for you to save you having to get out the calculator… 2 cake mixes would make approx 46 finished cookies (mine were anywhere from 2″ – 2 1/2″ across) and one batch of frosting would do approx 38 cookies… could become one of those deals where you make more frosting to use up the rest of the cookies, then you have too much, so you make more cookies to use up the rest of the frosting, then you have cookies left, so you make more frosting…… and so on.

Red Velvet Sandwich Cookies
1 red velvet cake mix
2/3 cup shortening
2 eggs
Mix. Shape into balls.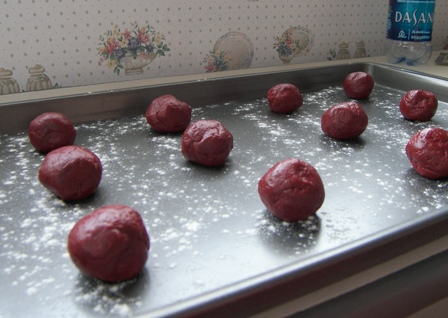 Bake at 375 for 7 minutes.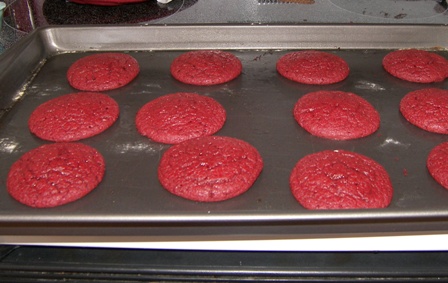 Meanwhile, this was going on…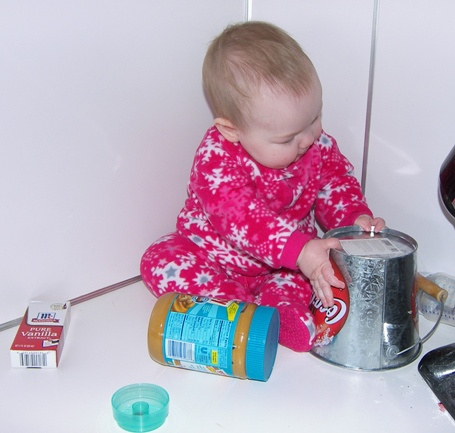 Marshmallow Creme Filling
2 sticks (1 cup) butter
1 7oz. jar marshmallow creme
3 cups powdered sugar
1 tsp. vanilla
Beat til creamy. Spread it on however you want, but I put it in a bag and piped it on. Easy and less mess!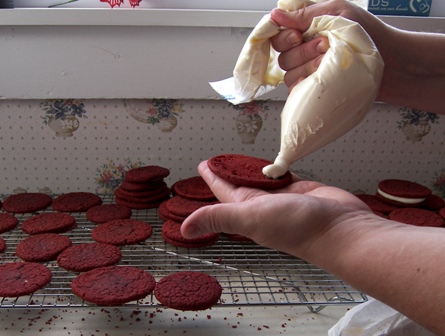 Put another cookie on top and you've got yourself a yummy little red velvet sandwich cookie!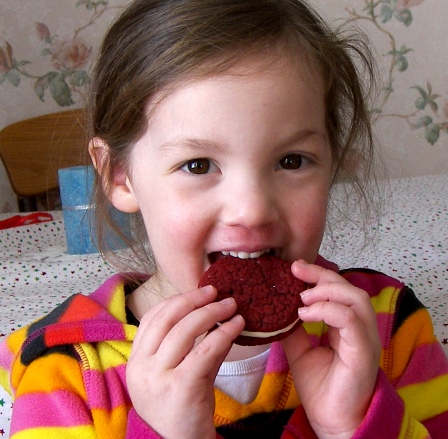 You know, I was just thinking, we could do all sorts of stuff with this because there are all sorts of cake mixes out there… use a white cake mix and put in green food coloring and have green sandwich cookies, make any kind of cake mix cookies and tint the frosting red or green, roll the assembled cookie in crushed red & white candy canes so it sticks to the frosting, dip half of a red velvet sandwich cookie in chocolate, mix up a white cake mix and a red velvet one and then fold them together til it's red & white swirled… any other ideas?
Comments