Posted on December 14, 2010
Filed Under Cookies and bars, Holiday cooking
It's that time of year when I need to unlock my extra reservoir of willpower. Here is what's sitting on my table RIGHT NOW…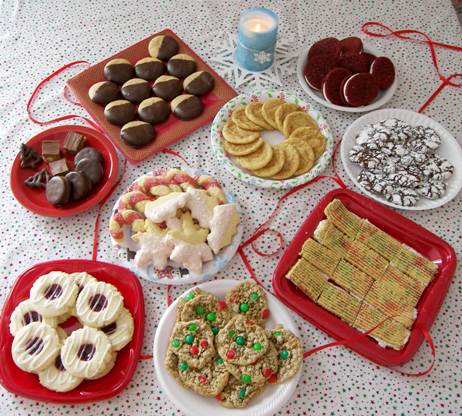 Seriously, the table these are on is 5′ away. I could stand up, take 3 steps, reach out and grab a handful. Or 2 handfuls (I have 2 hands). They are even all still uncovered from taking the picture. Thing is, I'm not even tempted. Nope. Huh-uh. Not me. Not at all. ????
I'm not even sure what they're all called, so I'll just make up a name for them if I don't know. Oh, and hey, I'm really curious. What's your favorite of all those cookies? If they were, say, sitting on a table 5′ away from you and you could only pick one, which one would you pick?
First, we have Monster Cookies made by Carla. Monster cookies are my all-time favorite… I'd better hide them, the others would never know.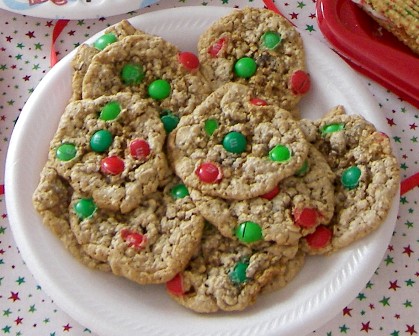 Next is Thumbprint Jam Cookies made by Julie. So pretty.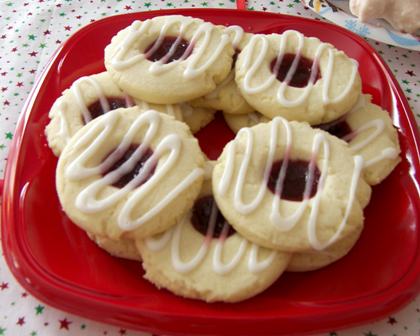 Here are Christmas Cutouts and Candy Cane Cookies made by Janae. Way too cute.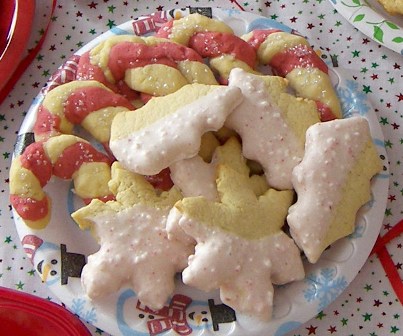 Then, we have Peanut Butter Cookies Dipped in Chocolate made by Linda. These call to me almost as loud as the monster cookies.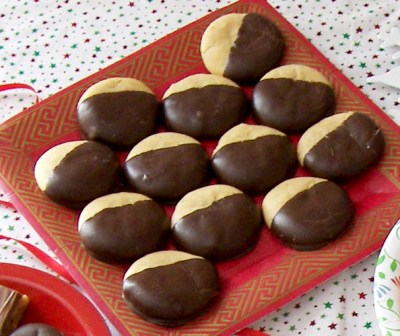 Next is Snickerdoodles made by Deb. Shannon will claim this plate.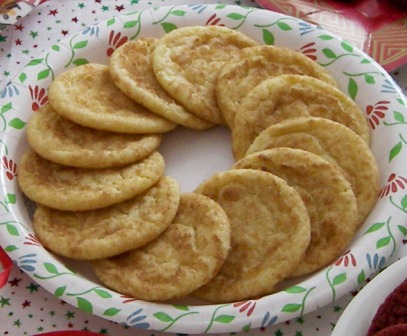 Here are Cream Wafers made by Renita. So beautifully Christmas-y.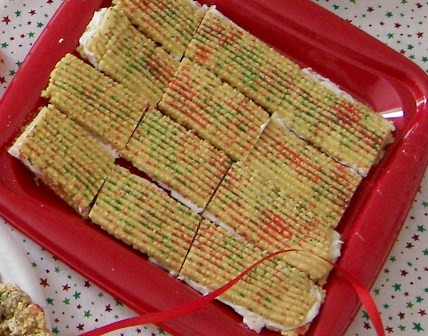 Next is Chocolate Crinkles made by Mary. Ohhhhh, yum!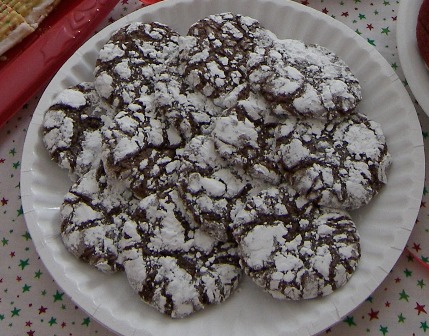 There are 2 plates left, one cookies and one candy. I made those. Here are Red Velvet Sandwich Cookies.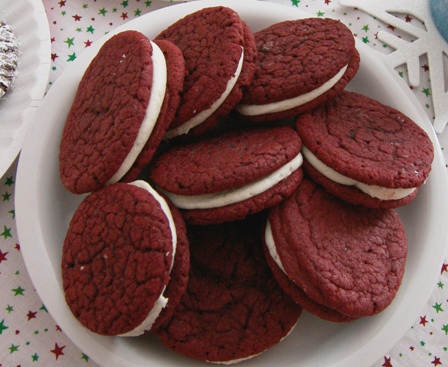 And this plate is Chocolate-covered Tree-shaped Pretzels, Chocolate-covered Ritz crackers filled with Peanut Butter, and O'Henry bars. The O'Henry bars recipe came from Lisa @ The Cutting Edge of Ordinary. Thanks, Lisa! They are awesome!!!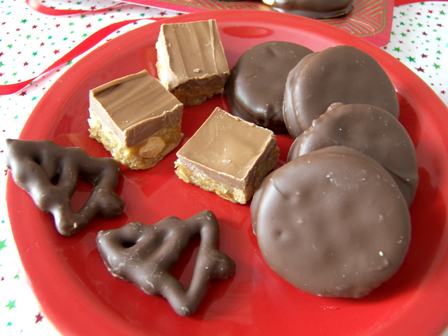 Oh, and I need to point out my candle and snowflake holder… don't you just love it? Julie (the one up there who made the jam cookies) gave it to me for my birthday this year. I LOVE it!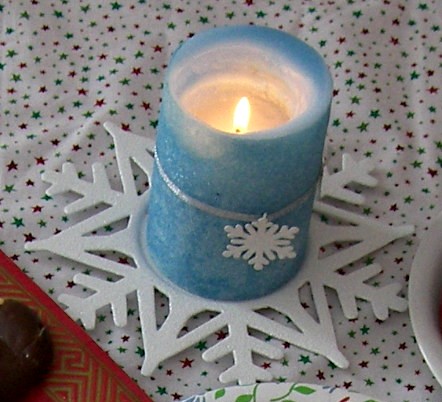 Ok, now I know I haven't been posting on here very much and I don't want anybody to faint, but I have some recipes to get in before Christmas, so I'm going to post one about every day for awhile. *thud* You fainted, didn't you?! Here are the planned upcoming posts, not necessarily in this order:
— Red Velvet Sandwich Cookies
— O'Henry bars (I know, you can get the recipe on Lisa's site, but I want it on mine, too

)
— Teacup Chocolates (excited about this one, this one happened only in my head so far, so hopefully they'll turn out!… I'm making them Thurs for another cookie/candy exchange on Friday)
— Chocolate-covered Ritz Filled with Peanut Butter (I know, you know how to do that already, just by the title, but I want to show you a trick that made the process faster and funner… more fun, whatever)
— Lexi's 8th birthday cake (it was a snicker bar with a fondant wrapper)
Don't forget to humor me with what kind of cookie up there you'd like best!

Comments