Posted on September 2, 2009
Filed Under Snacks
Well, it's that time of the year again. School has started, or is starting soon (unless you're in Peru, where I just found out that 'summer vacation' is in the winter).
The kids come home from school,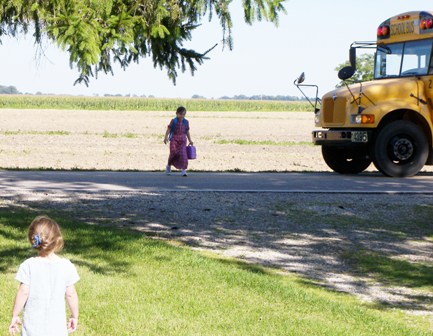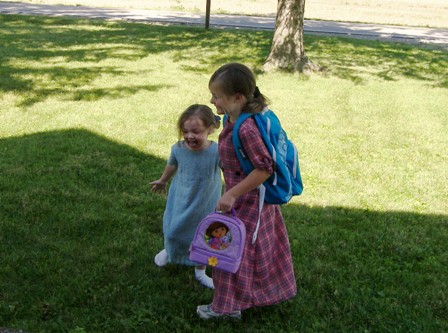 …and they are STARVING!!!!! Or so they think.
I remember that when I was a schoolgirl too. I NEEDED a snack. I was starving. We lived 1/2 mile from school and half of that distance was our 1/4 mile long lane. We'd often walk to school and sometimes Mom would put the snack on a platter and walk out to meet us, disperse the snacks, and we'd all walk together to the house, munching away. Good memories. My favorite snack of all is when she'd mix peanuts, chocolate chips, and marshmallows and put them in little cups.
Renita was telling me about an after school snack that she makes sometimes for her boys. So, yesterday I stole her idea and made it too. Here it is.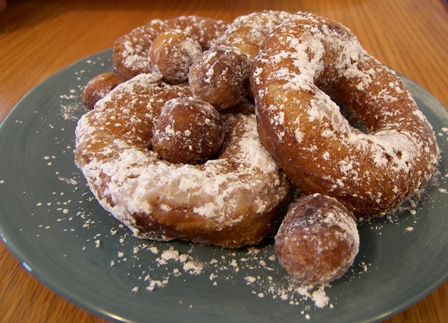 Biscuit Donuts
1 can refrigerated biscuits
Oil or shortening for frying
Powdered sugar
I put about a cup of shortning in a small pan and heated it to about 375 degrees. Take each biscuit and make a hole in the middle with something round.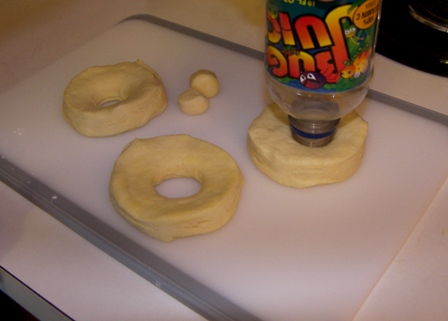 If you use the Grands biscuits with flaky layers, split them in half (where 2 of the layers meet)… makes so they aren't doughy in the middle when the outside is done. And it also makes twice as many donuts that way. ???? Is donuts spelled 'donuts' or 'doughnuts'? I've seen it both ways, not sure what the difference is except that one way is shorter, so I'll stick with that one. Fry the donuts in oil for 45 seconds – 1 minute per side.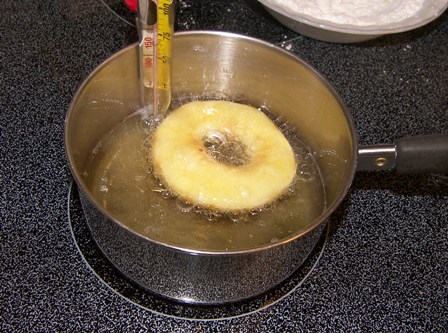 Drain on paper towel.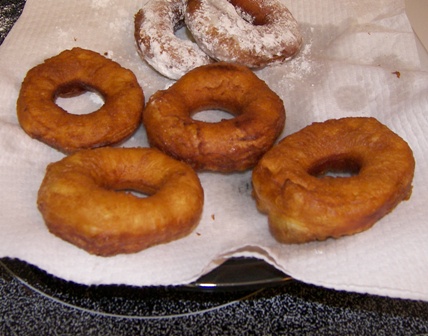 Coat with powdered sugar.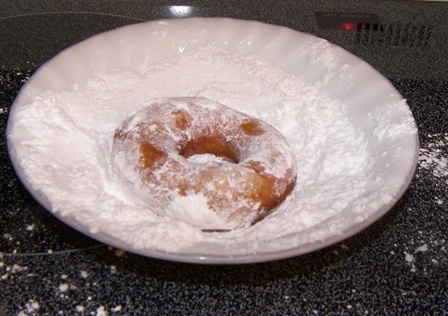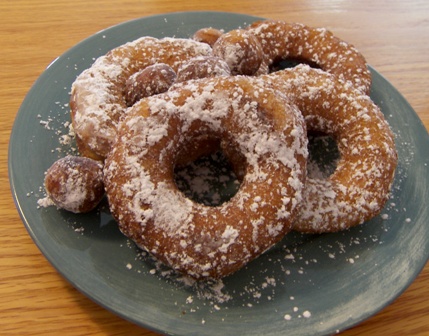 Easy.
Yummy.
Only 3 ingredients.
Other after school snack ideas:
— Apples with peanut butter
— Cookies and milk
— Their leftover lunch ????
— Nachos with salsa (serving of tortilla chips spread out on plate and sprinkled with shredded cheese and microwaved for about 20 seconds to melt the cheese)
— Fruit
— Pudding
— Graham crackers with milk
— Reeses Puffs ????
— Popsicles
— Salties (chips, pretzels, Cheetos, party mix, etc.)
That's all that came to my mind right now. What do you give your kids for an after school snack? Or do you say, "Go look in the kitchen, see what you can find."?

Today, I was in the middle of doing laundry, so I said that and they found goldfish crackers and drank chocolate milk.
Comments