Posted on September 22, 2009
Filed Under Pies, Snacks
Really mini. Not 4″ pie pans.
Smaller.
Not cupcake pans.
Smaller.
These were made in mini muffin pans.
These are perfect for a bring-a-salad-or-dessert church gathering. You know, there are 20 desserts to choose from and you have a hard time narrowing it down to 5 and one of the desserts calling to you is pie cut into 8 pieces. A piece of pie is a complete dessert, so there goes the rest of the selections. I decided to try making little individual pies instead of a couple big lemon meringue pies to take to the Fall Praise Social picnic this past Sunday evening. And it worked! With these little things, you can have a taste of lemon meringue pie without passing up the pecan bars, eclair dessert, monster cookies, and fresh peach delight.
Use your regular lemon meringue pie recipe or use my favorite recipe featured here. Roll the crust a bit thinner than usual, then cut out circles. The tube of my Pampered Chef Measure-All Cup was the perfect size for circle-cutting. Then, press them into the mini muffin pan and bake at 375 for about 10 minutes. Make the filling and spoon into crusts. Make the meringue and spoon on top of filling. Bake at 375 for about 10 minutes. Should be easy to remember… everything to bake gets baked at 375 for about 10 minutes.

Here's the process in pictures: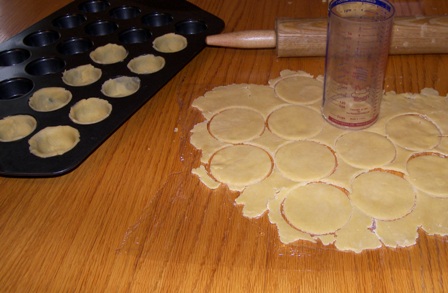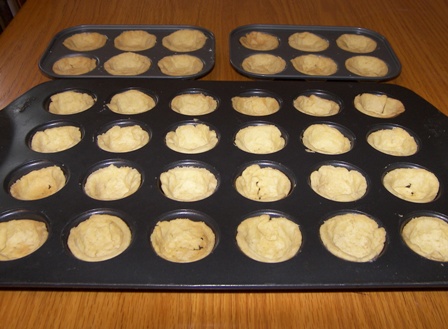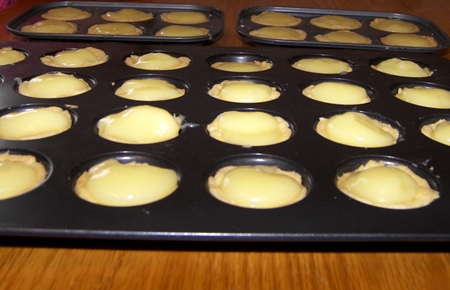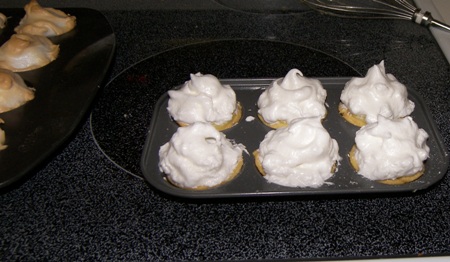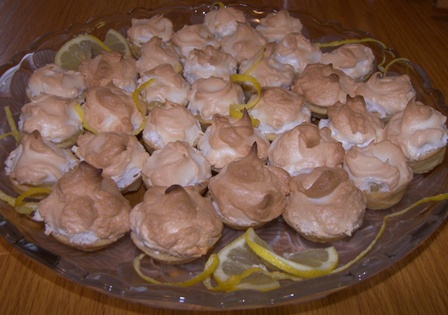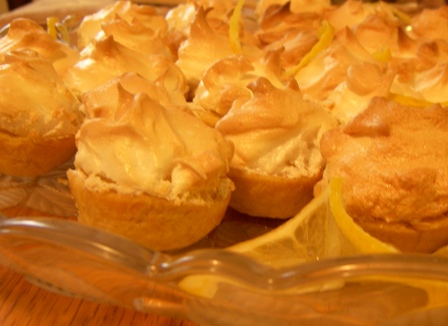 They tasted exactly like lemon meringue pie. I guess that would make sense, what with using that recipe and all. They're long gone, and I just feel like snitching one off the picture and inhaling it in 2 bites.
—————————————————————————————-
In other news, you may want to stay tuned. I think I might blog live this evening for a couple hours. Lexi is planning to make supper. She's 6. She feels quite capable and wants me to leave her alone in the kitchen with her cookbooks. Tiffany and I are allowed to help her by setting the table and we also may carry things to the table like bbq sauce and salt & pepper. I think she's in for a bit of surprise and will end up needing more help than she thinks she will. Here is the menu she picked out (going by pictures in cookbooks): Easy Mac n Cheese, Crunchy Chicken Tenders, Trees with Cheese, and Puddin' Cones. She gets home from school around 4:15. Supper is scheduled for 6:30.
Oh, and did I mention that she doesn't know the difference between a teaspoon and a Tablespoon?
Comments