Posted on August 21, 2009
Filed Under Snacks
I just realized I don't have an 'Appetizers' category on here! What's up with that?! Shows how often I serve an appetizer before a meal. Actually, I think I did it only one time so far this year. It was a couple Sundays ago. I called everyone to the table and set the appetizer down for them to eat while I dished up the meal. The appetizer was…
these Stuffed Mushrooms. ????
I love stuffed mushrooms, but have never made them before. Seems like every time I see a recipe, they always have crabmeat or are tomato-y or something. Not that there's anything wrong with that, it's just not my favorite kind.
Then, one day, as I was browsing Tasty Kitchen, I found a cheesy, cream cheesy, bacon bits recipe. Perfect! Here it is.
Stuffed Mushroom Caps
25 whole mushrooms
½ of a small sweet onion
1 Tbsp. minced garlic
½ of a bell pepper
5 Tbsp. grated parmesan
1 tsp. fresh or dried sage
4 oz. cream cheese
3 Tbsp. seasoned bread crumbs (I used cracker crumbs with some Italian seasoning mixed in)
2 Tbsp. shredded mozzarella
¾ cup hamburger or sausage or bacon (I used bacon)
Clean and stem the mushrooms. Preheat oven to 375 degrees and grease a foiled cookie sheet.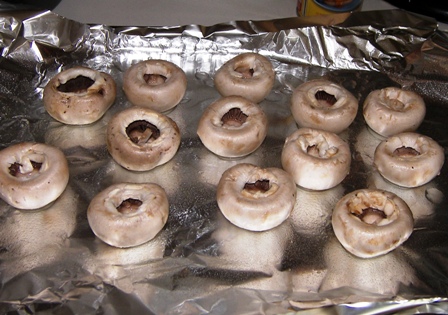 Dice the bell pepper, mushroom stems and onion and toss in a food processor with the garlic and sage. Process until all is mixed together well and remove. Heat a pan or skillet with a little bit of olive oil and cook the meat (of your choice) with the bell pepper and onion and garlic mix. When the meat is browned, remove and pour into a mixing bowl. To the bowl with the meat mixture, add three tablespoons of the parmesan, the mozzarella, and cream cheese. Season with salt and pepper to taste. With a melon scooper, fill each mushroom cap with the mix.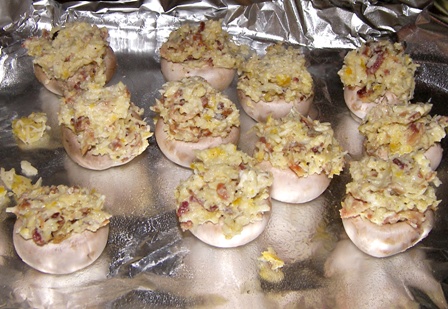 Mix the remaining parmesan and bread crumbs and sprinkle on top of stuffed mushrooms.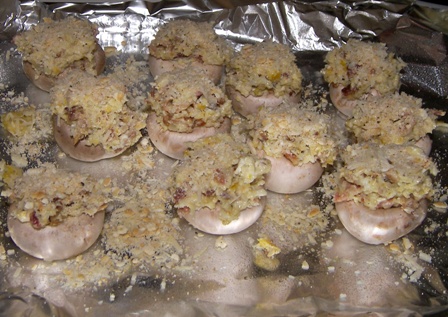 Drizzle a little olive oil on each one and bake for 15 minutes in the oven.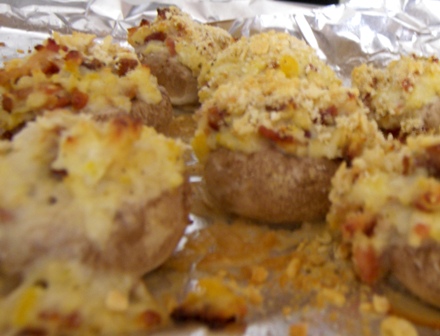 Mmmmm! These were rated 'Definitely make again'. I was afraid they'd be too garlicky because I could smell the garlic while they were baking. But… they weren't.
Comments