Posted on July 6, 2009
Filed Under Holiday cooking, Snacks
So… how many moms perked up at the 'no drip' part?

I was just going to freeze Koolaid into popsicles, but then I saw this recipe and had to try it. Really, how can there be a no-drip popsicle?!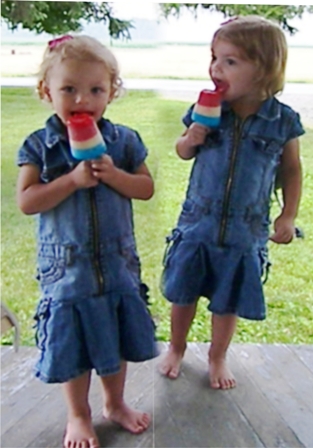 These are my friend Carrie's twins, Chloe and Jasmine. Aren't they just adorable? They are 2 1/2. You oughta hear them talk.
When I started thinking of how to make these popsicles, there was one problem… how to get the white part. The red is cherry, the blue is blueberry; both kinds are in the Koolaid dept and the jello dept. Well, what about white? The lightest thing I saw in the Koolaid was lemonaide, so I got that. And the lightest thing I saw in the jello section was pineapple, so I got that. When I mixed them together, it was yellow. Way too yellow. I still hadn't put all the water in, so I thought of evaporated milk and replaced some of the water with that. Worked great! And that layer actually tastes good too. That's always a plus.

No-drip Popsicles …recipe comes from here
1 3oz pkg jello, any flavor
1 pkg kool-aid, (same flavor as jello)
1 cup sugar
2 cups boiling water
2 cups cold water
Popsicle molds (I used 9 oz. plastic cups and popsicle/craft sticks)
Pour boiling water over jello, kool-aid and sugar. Stir till completely dissolved. Pour into molds; freeze. I did this recipe 3 times (once in red, once in white, and once in blue) and it made 16 popsicles. Freeze between each layer. When the middle white layer gets thick enough, put popsicles sticks in. Making these took all day (poured the first layer in around 9 am, and the popsicles were ready to eat by 7:30 pm).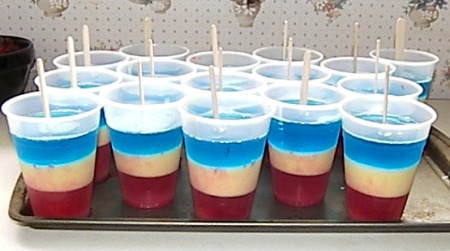 And here is our test crew to see if the popsicles are actually no-drip or not.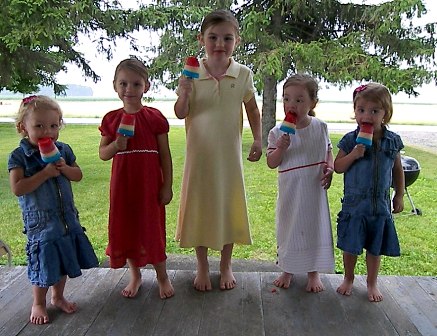 They, of course, did drip some, but I was pretty impressed. I've seen popsicles make alot bigger messes! I think the jello in there made it thicker… the juice didn't run too much. They're easy and quick to make (especially if you make them all the same color instead of layered).
What a great summertime treat! Send your kids outside with some!
Comments