Posted on July 2, 2009
Filed Under Holiday cooking
I'm going to an out-of-town birthday party for the day, but before I leave, I just wanted to let you know that I'm making a few things for July 4th posts in red, white, and blue. Here is one and I'll write more when I get back home this afternoon/evening.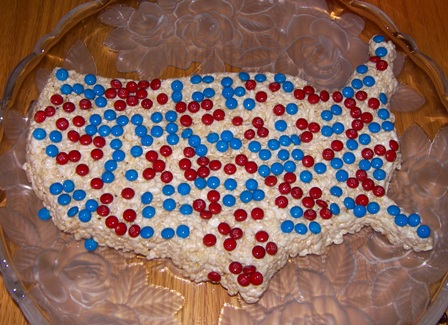 Have a good day!
—————————————————————————————-
Ok, back from the birthday party.
Speaking of the birthday party…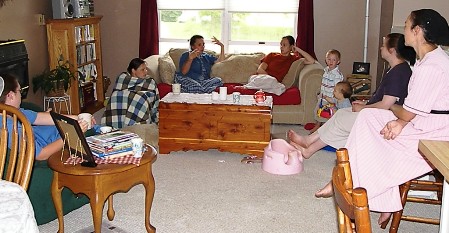 Yeah, Katrina, I did use the USA shape last year. It was with finger jello, pictured here and here, and recipe featured here. This year is rice crispy bars. I'm going to try to use it for something different every year. My options are a bit limited because it is plastic, so I can't bake anything in it. I may end up asking for ideas one of these years.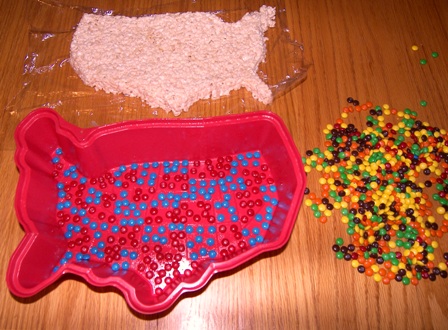 To make the rice crispy bars, I greased the mold and lightly pressed the rice crispy mixture in, then turned it out onto a piece of plastic wrap. Then, I took a bag of mini M&Ms and picked out the blue and red and filled the states with them, then put the rice crispy shape back in and pressed it down harder so the M&Ms would stick, then turned it out onto the serving plate.
So, now I have a bunch of little M&Ms left without red and blue. I just might make these Peanut Butter Dream Bars with them. ???? Everytime I think of mini M&Ms, I always think of these bars… kinda like every time you think of 4th of July, you think of fireworks.
I had some rice crispy mixture left over, so I flattened it out, then melted vanilla chips and colored half of it red and half of it blue and drizzled it over the rest of the bars. I forgot to take a picture of that part, but you can see a few of the squares at the bottom of this picture:

I'm going to make something else red, white, and blue tomorrow, so check back!

Comments