Posted on December 10, 2008
Filed Under Breakfasts
I love hot breakfast foods. Sometimes when we go out to eat to we-serve-breakfast-all-day restaurants, I never get past the breakfast section of the menu. So, there I am, eating an omelet or stuffed French toast while everyone else is eating a cheeseburger and fries. But I'm fine with that. I don't get hot breakfasts enough. And now that I think of it, I guess that's nobody's fault but mine, what with me being the cook around here.
I oughta start doing what my mom does… I grew up with having one evening meal a week a breakfast foods meal. With school and Dad going to work early, it didn't work out in the morning to have breakfast as a family, so that is how we got those good hot breakfast meals in… have them for supper. I know quite a few of my friends do that now and then too.
This baked omelet is what we had for a Saturday brunch recently. Mmmmmm, it was good! And quite easy too! It comes from the 2001 Quick Cooking annual cookbook. By the way, if you're keeping track of how often I've used this cookbook lately, awhile ago I sat down with it and whenever a recipe grabbed me, I wrote the recipe name and the page # on a separate piece of paper. Till I got to the end of the cookbook, I had 25 recipe names written down. So, little by little, I'm making them.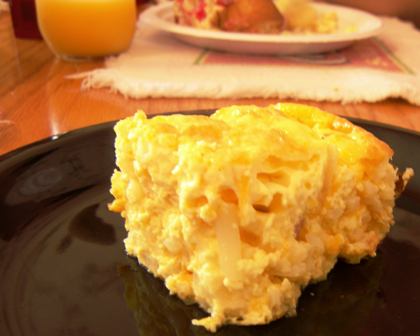 Oven Denver Omelet
8 eggs
1 cup milk
1/2 tsp. seasoned salt
2 cups frozen shredded hashbrown potatoes
1 cup diced fully cooked ham
1 cup (4 oz) shredded cheddar cheese
1 Tbsp. dried minced onion
In a large bowl, beat the eggs, milk, and seasoned salt.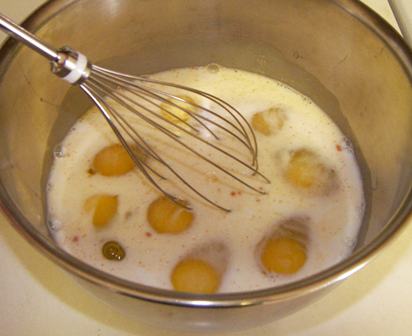 Stir in the remaining ingredients.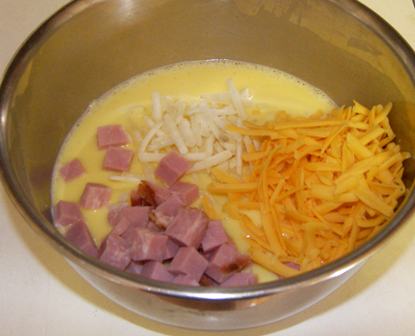 Pour into a greased 8″ square baking dish.

Bake, uncovered, at 350 for 45-50 minutes or until a knife inserted near the center comes out clean.
Yield: 6-8 servings.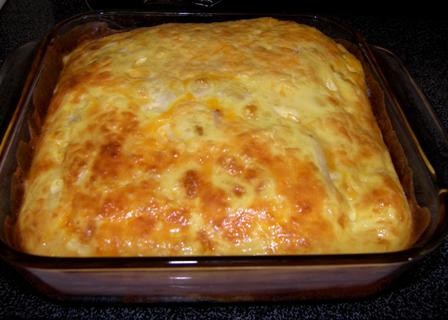 I'm going to have you all start helping me a little with serving ideas. I find a recipe I want to make and then get stuck on the 'What shall I serve with it?' question. I like to have a minimum of 3 things at each meal. What would you serve with the Oven Denver Omelet?
I know, it won't help for this time because I already served this omelet, but I want your suggestions anyway for future reference, in case I make this again or something like it. By the way, I served this with Raspberry Cream Cheese Cinnamon Rolls, fruit, and orange juice.
Comments