I've never made baked oatmeal. I think I've had it before (Mom might have even made it at home), but I don't really remember when. The only oatmeal I really liked (before this) is the stuff in packets, the maple & brown sugar flavor. I just saw this recipe while looking for something else and it kind of grabbed me, so I decided to try it. And, it was GOOD!!! It's filling too! (with seconds, that is) ????
It's easy and quick too… you can get out of bed, make it in your pjs, put it in the oven and by the time you're dressed and combed and have the bowls, spoons, and milk around, it's ready to pull out of the oven. Make it tomorrow morning!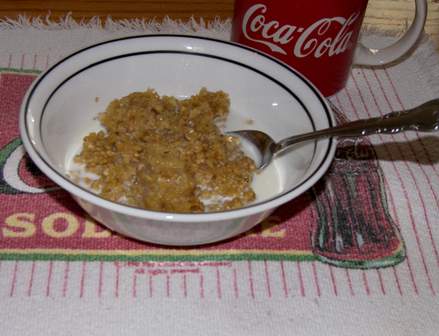 Baked Oatmeal    … recipe taken from the Simply with Taste cookbook
1 cup brown sugar
1/2 cup butter, softened
2 eggs, beaten
3 cups quick oats
2 tsp. baking powder
1 cup milk
1/4 tsp. salt
Cream sugar and butter together until light. Then add the eggs and mix well.

Add the baking powder and salt, then alternately add the oats and milk, mixing just until well blended. Pour into a greased 9×9 baking dish.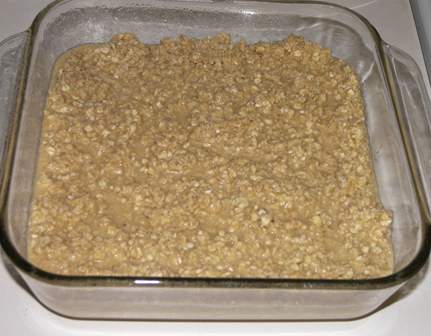 Bake at 350 for 30 minutes.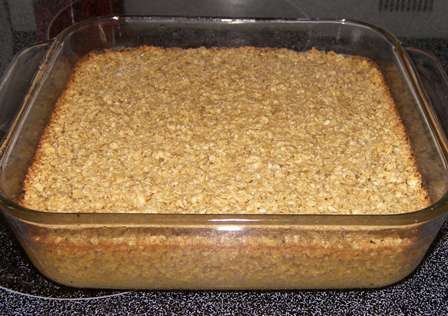 Serve this warm with milk for a breakfast dish or with ice cream for a dessert. When I got this out of the oven, Lexi thought I had made bars! We all really liked it, even the girls had seconds, which by the way is quite something… usually at mealtime we deal with "Do I have to eat all this?" instead of "Can I have more of that stuff?"
Up next on Kitchen Scrapbook: Super Pizza Subs (from the 2001 Quick Cooking annual cookbook, if you have it and want a sneak peek)
Comments