Posted on October 16, 2008
Filed Under Tidbits
Here I am, equipped with my feather-duster, ready to dust off this site again. Ah, how I missed it! I had a list a mile long that I had to get done before I was going to allow myself to start posting again. But, I'm pretty gracious, especially with myself (sigh!), and I let that little rule slide. Not totally slide though, I did get about 3/4 of the things done that I wanted to.
So, have any of you ever moved? Do you know how much WORK it is?! You have to still do the laundry, make meals, take care of the kids, go scrapbooking, clean the house, PLUS decorate the house, unpack boxes, and fit everything into cupboards and closets. And it doesn't all fit quite as good as it did… you know how when you go grocery shopping and you've got a full cart, then you put it all on the checkout counter and when you load it back into the cart bagged up, the cart is overflowing and you've still got 5 more bags to put in it. So, I have quite a few things that don't have homes yet. Like the Kleenex box. It is on top of the fridge, but how many guests will manage to spy it up there? And the spices, I need to figure out a better system for them. They have a home, but not a very organized one. …Not like I'm stuck on being organized or anything.
I think for the next while, my house will be like a Rubikscube (I have no idea how to spell that, so just sound it out and you'll know what I mean). Once everything is in place, I'll still be changing this and changing that till it feels right.
Anyway, I'm not posting a recipe right now, just checking in to say Hi and that you'll be seeing more action on this site again now.
And if you ever get bored, make a duck bill with Pringles chips…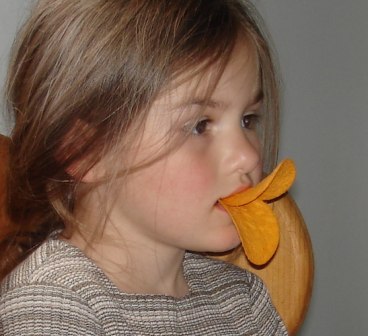 Comments