Posted on August 18, 2008
Filed Under Tidbits
*Digging myself out from under a mountain of boxes* All I've been thinking of lately is bananas and an occassional apple… maybe it has to do with the fact that I've been spending alot of time with banana boxes and an apple box now and then.
We are moving.
From
WISCONSIN
to
OHIO.
So, this website will be put on the back burner for the next month or so. Ah, how fitting to use the term 'back burner' in a kitchen-related post. You know, it is true that when I make a meal, I very seldom need more than 2 burners and always use the front ones. The back ones aren't used near as often. I wonder if they keep that it mind when they're making stovetops. Not sure exactly what they'd do to make the front ones better and last longer, I guess that was just a weird random thought.
Anyway, for tonight, I'm making, er, WE'RE making Grilled Chicken Breast Salad. It's 'we' because the grill is not my territory, and I'm quite happy to keep it that way.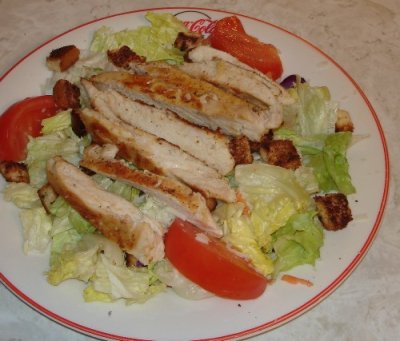 Comments