Posted on August 11, 2008
Filed Under Breads Biscuits and Rolls
As I was saying in the last post, we had breadsticks with our ham meal that was featured and they went into the 'don't make again' department.
And as I've said hit-n-miss in previous posts, me and making yeast breads from scratch don't go together too well.
I don't know, do you think those 2 facts had anything to do with each other?
Parmesan Breadsticks …recipe from an Easy to Bake Easy to Make recipe card
Printable recipe
3 cups all-purpose flour
1 envelope (.25 oz) quick-rising yeast
3/4 tsp. salt
1 cup warm water (120F – 130F)
2 Tbsp. olive oil
1 large egg white, lightly beaten
2 Tbsp. grated Parmesan cheese
Combine 1 1/2 cups flour, yeast, and salt in a large bowl. Mix water and olive oil in a small bowl; add to flour mixture. Beat w an electric mixer on low speed until moistened. Beat on medium speed until well blended, about 2 minutes. Gradually add remaining flour until a soft dough forms. Turn dough onto floured work surface. Knead until smooth and elastic, about 6 minutes.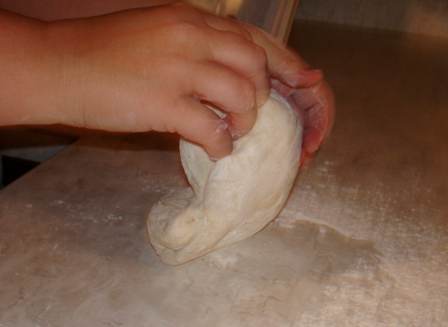 Cover; let rest 10 minutes. Coat 2 large baking sheets with cooking spray. Divide dough into 16 equal pieces. Roll each piece into a 12″ rope. Place on prepared baking sheets.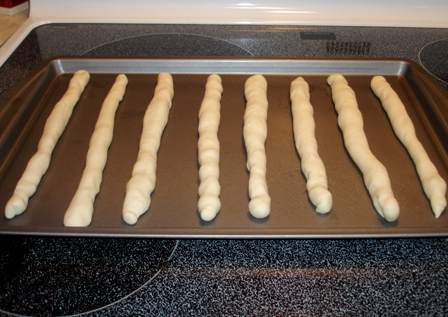 Cover; let rise until almost double in size, about 20 minutes. Lightly brush breadsticks with egg white.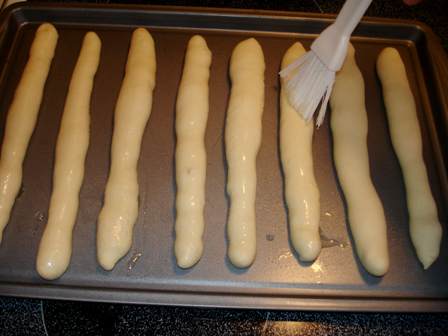 Sprinkle with Parmesan cheese.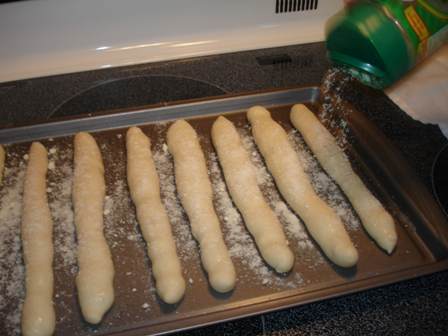 Bake at 400 until lightly browned, about 15 minutes. Transfer to wire racks to cool completely. Makes 16 breadsticks. I made an entire batch of 16 breadsticks and put the other half (unbaked) in the freezer to see if it works to get them out, thaw them, let them rise, put egg white and Parmesan on them and bake them for fresh breadsticks at another meal.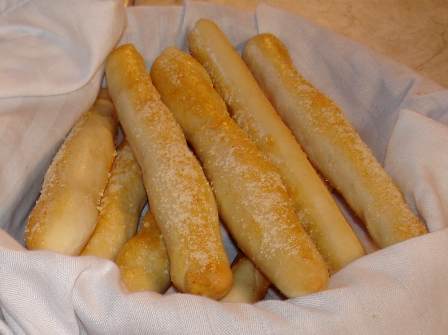 Ah, don't they look just delicious?! Well, they're not. They were dry and not very flavorful and you could smell the olive oil.
Soooooo…
After we were done eating, while I was cleaning up, I made the rest into croutons. I think there were 4 or 5 left over out of 8. I cut them up into chunks with a scissors…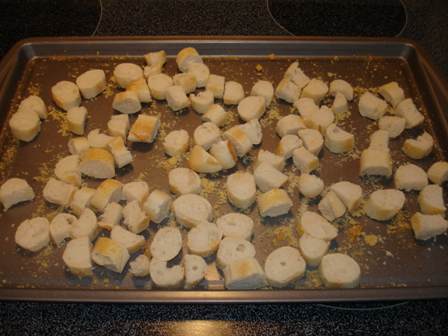 then added about 1/2 tsp. of Italian seasoning and a couple shakes of salt to 1/4 cup melted butter and poured it over the bread pieces and tossed it till they were all coated.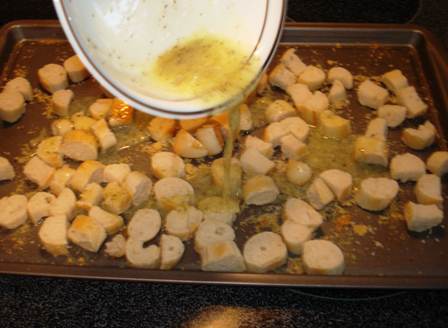 Then I baked them at 400 for 10 minutes, turning them over once during baking.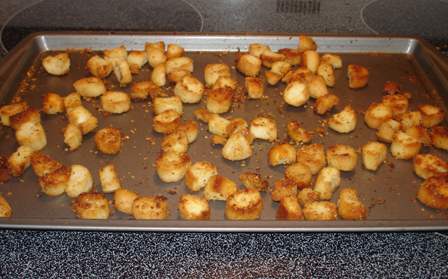 Mmmmm! They were great! Probably the BEST croutons I've ever had! Kind of a roundabout way of making them though. Maybe they were so good because I may have gone a little overboard on the butter. And what isn't good, laden with butter?!
Oh, and by the way, those extra breadsticks I put in the freezer, you know, the other half of the batch? Someday, I'll get them out, thaw them, let them rise, put egg white and Parmesan cheese on them, bake them, chunk them up, drown them in butter and Italian sesoning, and eat them on a salad or in soup. Or just plain.
Comments