Posted on May 28, 2008
Filed Under Cookies and bars
There are just some recipes you fall in love with when you read over them and you know you've just gotta try it. The recipe today was one of them. Most of the recipes like that for me are cookies, bars, or a dessert of some sort.
Sometimes I wonder why I didn't just do a dessert site instead of a general cooking site. But, on second thought, that might not be a good idea because think of all the desserts and cookies and stuff I'd have to make to keep it updated! That wouldn't be good for the wasteline.
In case you wonder, you pretty much get stuff hot off the press here. So, you know what we've been eating within the last day or two. I'm not a plan ahead person in any other area of my life (it's something I'm trying to work on though!), so I'm not with this site, either. I have no posts made ahead. For example, I'm planning to make my 'Out of my Comfort Zone' lettuce salad with fruit in it today and post it tomorrow. And no-posts-made-ahead is why my site died the week I went with Shannon on a business run to PA and also over Memorial Day weekend.
Anyway, I don't know why I said all that just before saying this: these bars are an exception, I actually made them last week! I think it was maybe Thursday. So they are long gone by now. I only made half a batch because I didn't want a huge pan of them around here. Way too tempting! I got the recipe from Michelle. She said, "I think the title doesn't do them justice. I think a better name would be Peanut Butter Dream Bars. See what you think." And I agree! Oatmeal Bars sound like a healthy something with raisins in. These would NOT fit that mental picture!!! See what you think.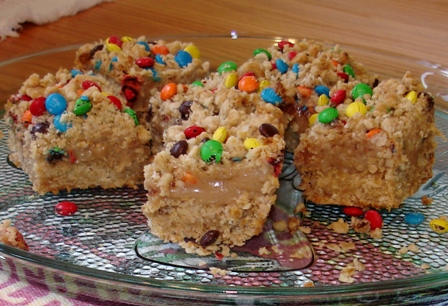 Oatmeal Bars
2 cups melted butter (starting out with melted butter… you KNOW they're gonna be good!)
2 cups brown sugar
2 tsp. soda
4 cups quick oats
3 cups flour
1 tsp. salt
2/3 cup peanut butter
2 14-oz cans sweetened condensed milk
2 cups mini choc. chips or mini m&m's
Mix together melted butter, sugar, soda, quick oats, flour & salt until it's crumbly.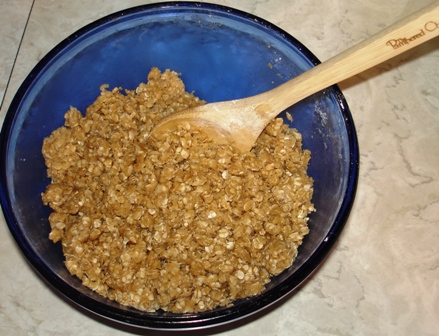 Set aside 3 cups. Press the rest into a greased 15×10 pan. Remember I made a half batch. I couldn't decide what size pan would be half of a 10×15. That's 150 square inches, so half would be something that's 75 square inches. An 8×8 is 64, a 9×13 is 117. So I picked the 8×8. Maybe I need more baking pans. Or maybe they don't even make 8×9 pans (72 sq in) or better yet, 7 x 10.5, that would be perfect. Um, let's see, I forget, were we baking or having Math class?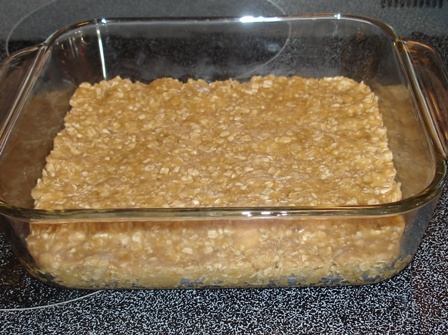 Bake at 350 for 10 minutes.
Mix peanut butter and sweetened condensed milk. Spread over the baked crust. Pour/drizzle worked great. Yum, doesn't that mixture look good?! It is. I licked the spatula afterwards.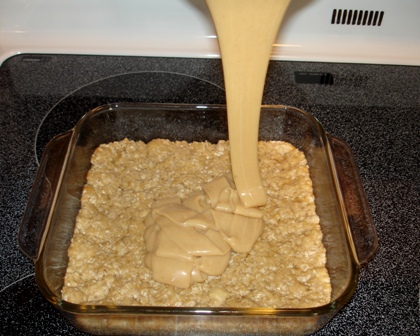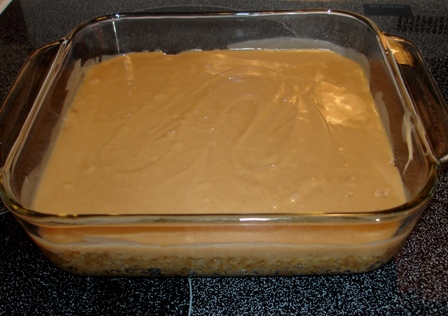 Mix mini choc chips or m&m's with the reserved crumbs. Sprinkle the reserved crumbs on top of the peanut butter and sweetened condensed milk mixture. Bake at 350 for 20 minutes.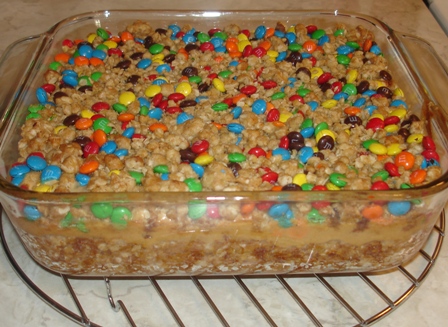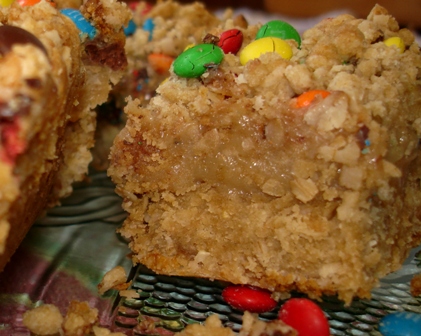 Enlarged to show texture. And that creamy caramelly peanut buttery layer. These definitely do not fit the 'Oatmeal Bar' name. In a recipe that has peanut butter and M&Ms and oatmeal, WHO would pick out the oatmeal and name them THAT?! So, Peanut Butter Dream Bars they will be. They are, of course, irrestistably good. They're a bit crumbly, for example, you wouldn't want the kids to walk around in the house eating them. But then, who'd ever let their kids do that anyway. Thanks for the recipe, Michelle! It's a keeper.
Edit: I made them again and put a half recipe in a 9×13 and that was perfect, they were not as crumbly as they were with the 8×8 pan.
Comments