1. I usually put fat free half & half or skim milk in my coffee. But once in awhile, I put chocolate milk in it. It gives it a mocha flavor. Try it sometime!
2. I made finger jello for the school picnic this past weekend. To make the plate more colorful, I made 2 pans of jello and made sure that the colors on the bottom and top of the pans were all different. Then, when I went to put them on a plate, I flipped some one way and some the other way and it looked more colorful with red, yellow, purple, and green on top. Do you have no clue what I mean? Here's a picture: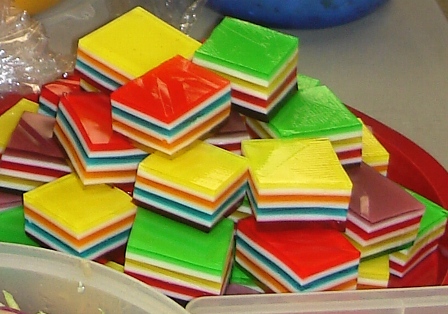 As opposed to less colorful, like this: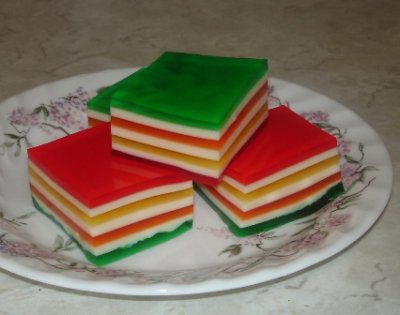 3. I just found out that if you want an egg at room temperature because it beats nicer and fluffier, you can put it in the microwave for 10 seconds, shell and all, instead of letting it sit out till it's room temp. I tried it and it does feel room temp when I comes out. I didn't check if it's that temp the whole way thro' though.
4. And because this is a cooking site, I'll post a couple pictures of the tables laden with food at the school picnic. The food was inside, but we ate outside. At the other end of the table in this first picture is the hot stuff… chicken breasts and shish-ka-bobs both off the grill, baked beans, hot dogs, and macaroni and cheese.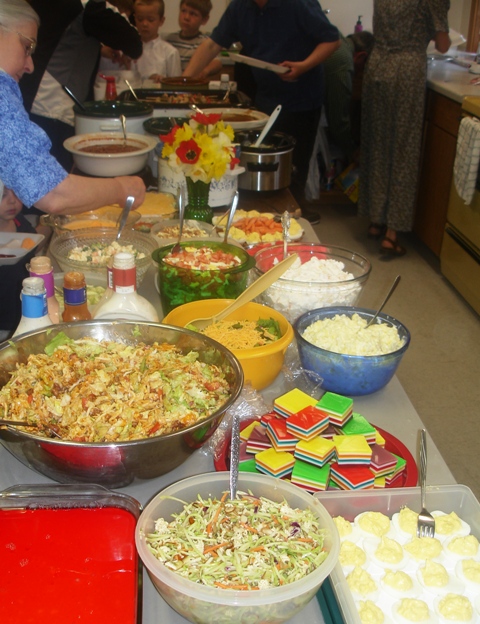 Then the salads.
Then the desserts.

What would you fill your plate with?
5. And even though this has NOTHING to do with cooking, I'm putting it on anyway. We church ladies made and quilted this friendship quilt for our school teacher this year. The school teacher is on the right. Her talented mom, who is on the left, handpainted those beautiful roses around the edge and the ones at the top. She used fabric paints and it is just so beautiful!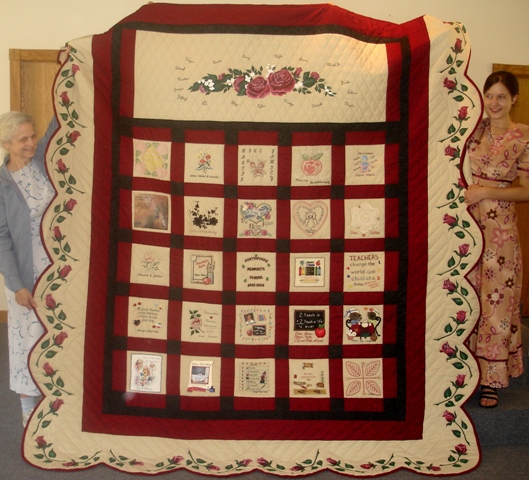 Ok, we'll stick to cooking now, just couldn't resist that one. I do see an apple on that one quilt block, though…
Comments