Posted on May 15, 2008
Filed Under Main dishes
At least mine didn't turn out square! And there's nothing else square about them except the chunked up chicken, so I'm pretty sure the ending shape was supposed to be square. But, I don't want to get hung up on trivial details. The taste, of course, is what's most important and that passed with flying colors! Although, depending what you're talking about, square versus round would not be a trivial detail… for example, the tires on your car or the boxes you're stacking.
Three things were just going on in my kitchen simultaneously (none of which were the chicken squares, so why am I writing this?)… I just got done doing the first major step of this week's "Out of My Comfort Zone" recipe that I'll post Friday p.m. or Saturday a.m. (by major, I don't mean major like butching a chicken). I also just got done making layered finger jello for the school picnic tomorrow. And I just got done making a pumpkin roll, also for the school picnic. We're supposed to bring 2 things and the hot dogs and hamburgers will be provided. If we'd have a beautiful warm day tomorrow like today was, that would be so perfect. Can you believe that we've already had to cancel the school picnic ball game because of snow?! And then the next year, we go home sweating and sporting sunburns! That's Wisconsin weather for ya!
Now, back to our chicken squares. This recipe is taken from the 500 Years in the Kitchen cookbook. Isn't that just a catchy name for a cookbook? I'd say they added up a group of women's years in the kitchen. Or maybe they figured up how long it took to make each recipe, added it all together, and discovered that if you'd make every recipe in the book, starting with the 1-2-3-4-5 Spare Ribs on page 1 and ending with Vanilla Foaming Bath Oil on page 136, that it would take you 500 years. Ok, just kidding on that one. It would make more sense that the ladies' years of cooking would be added up because it was compiled by the Badger Women's Club from Hayward, WI. Wisconsin is called the Badger State, if you didn't already know that. I know it because I live here, but I might not otherwise. I know a few others too though, like the Sunshine State and the Buckeye State and the Keystone State, but that's pretty much it. I'd do better on states and capitals, just so you know I'm not a total geography dropout!
Chicken Squares
1 3-oz pkg cream cheese
2 Tbsp. butter
2 cups chicken, cubed
1/4 tsp. salt
1/8 tsp. pepper
2 Tbsp. milk
1 Tbsp. onion, chopped
1 8 oz. carton crescent rolls
3/4 cup seasoned croutons
Tip: Fry the chicken rather than cooking it… tastes better.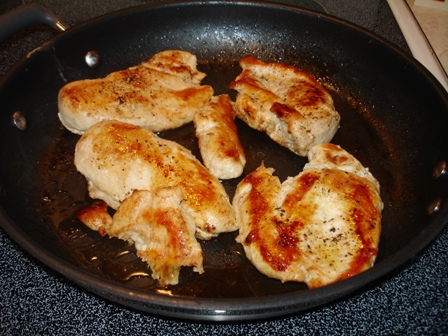 Mix together everything except the crescent rolls and croutons. I mixed everything else first, then added the chicken.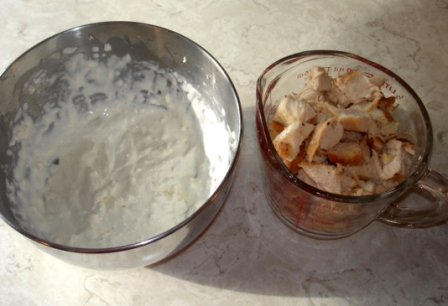 Separate rolls into 4 rectangles. Press perforations to seal. Spoon a half cup of meat mixture onto each rectangle. Or just divide it out evenly among them, that's easier.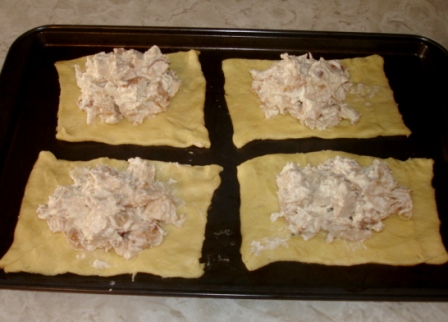 Pull the 4 corners of each rectangle together and twist slightly to seal.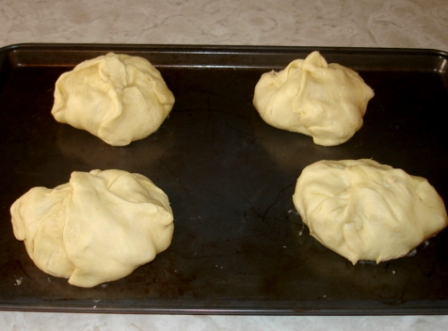 Brush tops with melted butter.

Dip in crushed croutons. Huh?! Dip them? Wouldn't the chicken stuff fall out? Sprinkling worked great.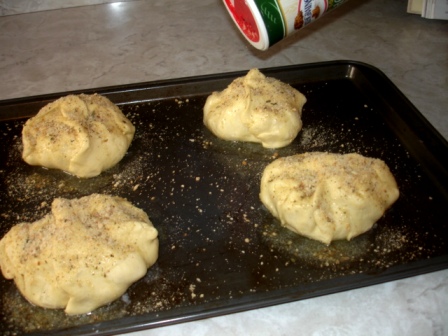 Bake 20-25 minutes at 350. And here they are, just out of the oven.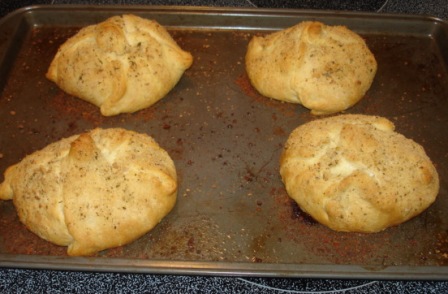 We had sugar snap peas and applesauce as sides.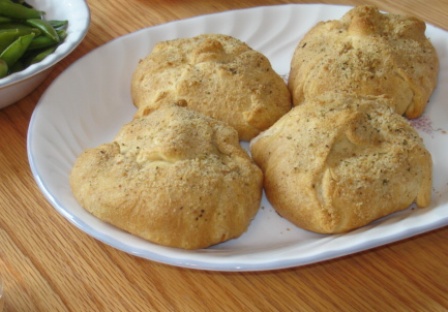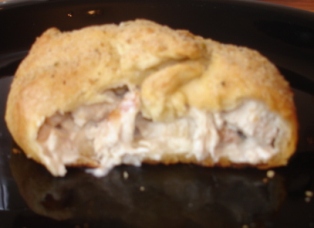 It bugged me that the 'cut-away' view pictures all got blurry, but here is one anyway. I hope it doesn't make you rub your eyes or squint.
These were great! Just great! My usual How-would-you-rate-this? question to Shannon got a "Make again, for company' rating. So, come on over, we'll serve you some chicken squares rounds.
Are you kind of curious about those 1-2-3-4-5 Spare Ribs? Me too. I wasn't curious about the bath oil recipe since I can buy that at Walmart, plus I don't even know what glycerin is, but I had to read the ribs recipe… it's ribs plus 5 other ingredients (sherry, soy sauce, cider vinegar, sugar, and water), which make the sauce. You cook the ribs in the sauce for 40 min covered, then uncover and turn it on High and stir till no liquid remains. Doesn't say how long it takes till the liquid is gone. Maybe 500 years or so.
Comments