Posted on May 14, 2008
Filed Under Cookies and bars
These cookies don't have chocolate or nuts in them, so I'm not cracked over them, but I live with people who are. That's fine with me though because it gives me a chance to bake something that doesn't tempt me. I could inhale half a batch of monster cookies or s'mores sandwich cookies in, well, I guess I don't really want to say how fast I could do that. Anyway, I was just looking thro' my Cookies and Bars category and I was surprised how varied the selection is! It's not ALL just the kinds of cookies and bars I love. There are some others in there like gingerbread men and Mary's cream cheese cookies. And now these: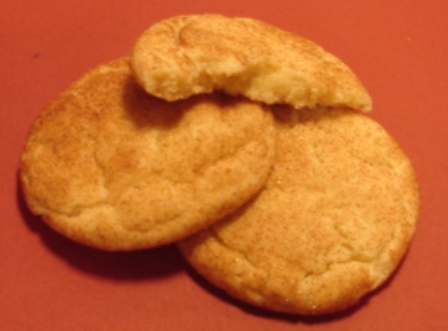 Classic Snickerdoodles
A bit of trivia first… did you know that Snickerdoodles originated in New England and the origin of the name is still a mystery. It may come from the German word Schneckennudeln, which were cinnamon-dusted sweet rolls. Anyway, I've often wondered where the name came from and always thought it was kinda fun to say, it just rolls off your tongue… Snickerdoodle, snickerdoodle, snickerdoodle.
2 3/4 cups flour
2 tsp. cream of tartar
1 tsp. baking soda
1/2 tsp. salt
1 3/4 cups sugar, divided
1/2 cup butter, softened
1/2 cup shortening
2 large eggs
1 tsp. vanilla
4 tsp. cinnamon
Preheat oven to 375. Coat baking sheets with cooking spray. Combine flour, cream of tartar, baking soda, and salt in a medium bowl. Combine butter, shortening, and 1 1/2 cups sugar in a large bowl. Beat with an electric mixer on medium speed until light and fluffy, about 1 minute. Stir in eggs and vanilla. Mix well. Stir in flour mixture. Beat with mixer on low speed until combined, about 1 minute. Mix remaining sugar and cinnamon in a small bowl. Shape dough into 1″ balls; roll balls in sugar mixture. Place balls on prepared baking sheets.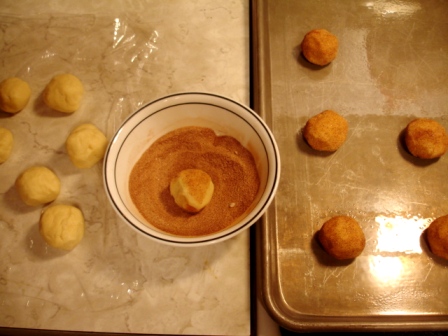 Bake until lightly browned, 10-12 minutes. Remove from oven; let stand 1 minute.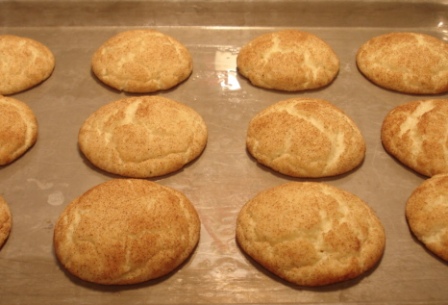 Transfer cookies to wire racks to cool completely. Makes 4 dozen cookies. I must've made mine too big because it made just under 3 dozen.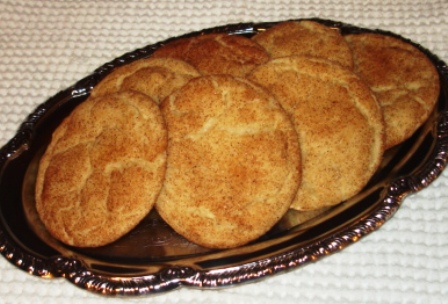 They were good. I asked Shannon how he'd rate them and he said, "They're 'make again frequently' quality". And judging by the way the girls ate them/asked for more, I think they'd agree!
Comments