I hope there aren't alot of perfectionists reading this site… for more reasons than one! I am the total opposite of a perfectionist. This post will be sort of along the lines of playing "Do Re Mi Fa So La Ti" on a piano without playing the last 'Do'. I have progress pictures, but not a finished product picture.
The reason for that is because I don't make this unless I'm making hotdish for a fellowship meal at church. So, I have pictures of it up until we left for church, then no more. And I don't have the guts to go in the kitchen and take pictures and get strange looks from the food committee people. I and my family are used to me taking pictures of food. In fact, I literally take more pictures of food than I do of my own kids! The only time most people take pictures of food is when it's the 4th of July and they just took a mean steak off the grill or when the baby stuffed his mouth too full or got applesauce or speghetti all over the place or when it's a birthday and your 3-yr-old is blowing out candles on a birthday cake. But wouldn't you think it a bit strange if you were on the food committee and someone would come to the kitchen, stir a regular ol' hotdish, take a picture, sprinkle toasted bread crumbs on, and take another picture? It's not exactly the definition of a Kodak moment.
El Paso Casserole
1 lb. 2 oz. Velveeta cheese
1 1/2 lbs. ham
1 lb. noodles (I use the homemade Amish noodles, as opposed to regular brands)
White Sauce:
11 Tbsp. butter
2/3 c. flour
5 1/3 c. milk (I always use whole milk)
Buttered bread crumbs or cracker crumbs, browned in oven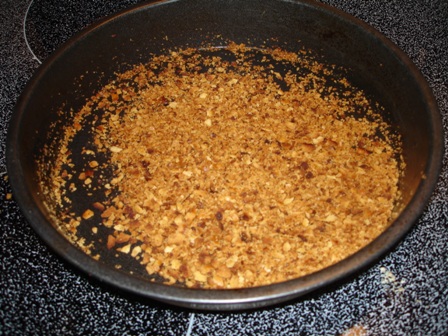 Cook the noodles and dice the cheese and ham.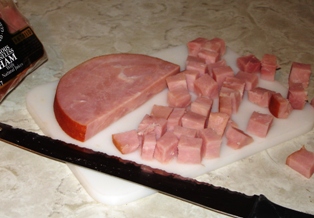 Bring the white sauce almost to a boil in a pan. Mix the noodles, ham, cheese, and sauce all together and dump into a 4-qt. crockpot. Fits perfectly.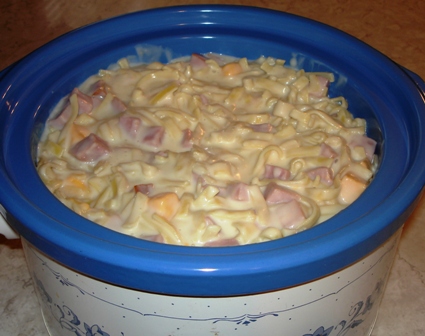 Turn on High till you leave for church. At church, turn it on Low for the 2 hours till lunchtime, stirring several times. Just before serving, sprinkle browned crumbs over the top. You'll have to use you imagination for how it looks, but it looks about like it does on the last picture, only the sauce is yellower from the cheese chunks that have melted and been stirred in. Then the crumbs go on top. It tastes really good! And it's so creamy!
If you want to do it in the oven, bake it (covered) at 350 for 1/2 hour, then stir, put buttered crumbs on top and bake another 10 minutes.
Comments