Posted on May 9, 2008
Filed Under Beef
This is one of those things that you CAN'T do last minute because it takes the crockpot, yet it doesn't take much of your time and you CAN do it on a busy day. Or on a day where you'll be gone all day… say, if you'd go scrapbooking about every Tuesday or something. And it would also work great for a crowd. And they are just tops!
Hey! Wait! Did someone say scrapbooking? How about we skip the beef sandwiches and just talk about scrapbooking. I love scrapbooking! And someday, I'm going to start putting scrapbooking on here now and then. Scrapbooking recipes, that is. This is, after all, Kitchen Scrapbook. To me, the definition of Kitchen Scrapbook is: The best of both worlds. I have done a few recipes and it's actually a bit harder than scrapbooking people because there isn't alot of personality going on, but it's still a load of fun. But, since I wasn't actually serious about skipping the beef sandwiches and talking about scrapbooking instead, let's get on with them…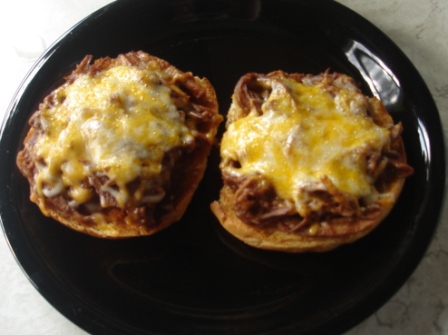 There is no recipe, but the ingredients are:
Beef roast
About 1/2 cup of water
Salt & pepper
Chef Paul Prudhomme's Meat Magic seasoning (or seasoning of your choice)
2 bay leaves
Half of an onion, sliced
Barbeque sauce
Hamburger buns
Shredded cheese
Here's what I did for a 6:00 supper. Around noon, I put the roast, water, seasonings, onions, and bay leaves in the crockpot and turned it on High. It wasn't frozen. If you're using a frozen roast, you may want to start it a couple hours earlier. It was also only about a pound of meat. We have my husband, a 5-yr-old, a 2-yr-old, and me, around here for diners and since I don't like leftovers, I usually cook small.

Let it go all afternoon and around 5:00, take the bay leaves out, trim off the fat, and shred the beef. As you shed it, most of the liquid will 'disappear'.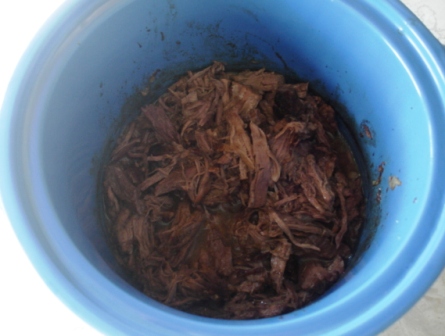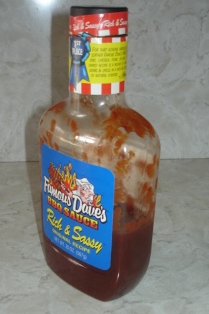 This is how much barbeque sauce I used. I dumped it in, then put a little water in to rinse out the bottle (I know, so thrifty… I'll bet I kept from throwing away a whole Tablespoon of sauce!) and dumped that in too. A little more barbeque sauce and a little less water would've been ideal for more flavor, but I guess that's the thing of always just doing it without a recipe… it'll always get a little different. Plus, to do that, I'd have had to break open a new bottle of sauce, just to get a little more. Oh, what a bother.

Cover and turn the crockpot to Low.
Around 5:50, toast the buns (I used the toaster). I did not take a bit out of that one piece, part of it stayed with the bun beside it in the bag.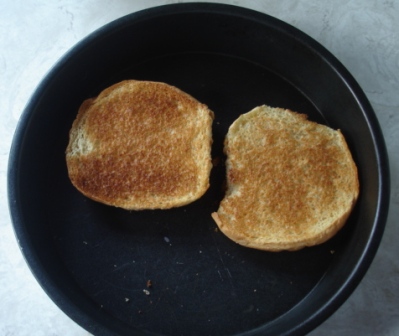 Oh, now would be a good time to turn the broiler on High.
Top bun halves with some beef.

Then the cheese.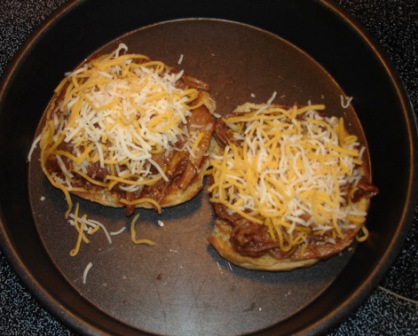 Then put them on the top oven rack under the broiler (which has already been turned on High). Let them in there for 1 minute and 20 seconds, then take them out.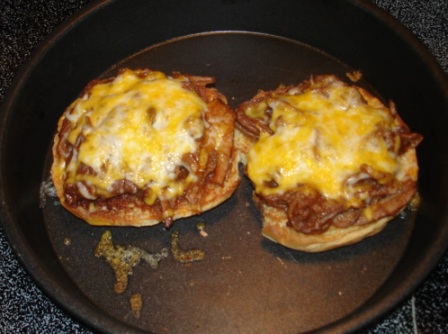 Perfection! Now eat them with a fork.
You could also top it with another toasted bun half if you'd prefer a regular sandwich, as opposed to open-faced. These are really good and very little effort! And it's a hit around here… both with the cook and the diners.
Comments