Posted on March 13, 2008
Filed Under Beef
This was the first time that I've ever bought cube steaks. Maybe I'm kind of a creature of habit, but I don't really venture away from my 'norm' too much. In fact, I didn't even realize until I found this recipe that cube steaks were just thinner steaks run thro' a tenderizer… at least that's what they look like.
I should know these things because I used to work at a butcher shop with a meat case/deli out front. But, that was 13 years ago, 2 or 3 days a week, for 4 months, in MS. We ran stuff thro' the tenderizer, but I don't remember calling anything cube steaks. Anyway, what still makes my toes curl is thinking about that meat slicer and how we cleaned it. I don't know how you're supposed to clean the meat slicer blade, but we'd take a bucket of hot soapy water and a rag, turn it on, and hold the rag against it as it's spinning around. First on one side, then the other. Any little slip and you'd have had a finger chopped off. I hated cleaning the thing and cringed every time I did. And to this day, 13 years later, I still shivver when I think of it. Oh, we had LOTS of fun working there though… assembly lines of packing meat, getting good at knowing how much burger a pound is, frying thick bacon in the microwave, and Leroy keeping things lively and fun. Ah, good memories! And I still know that when I'm holding raw hamburger, 1 pound is when both hands are around it, but the fingers of the one hand can't quite touch the other hand.
Pizza Steak Bake …taken from an Easy to Bake, Easy to Make recipe card
1/2 cup flour
1/4 tsp. salt
4 beef cube steaks (4-6 oz each)
2 Tbsp. vegetable oil
2 cups (6 oz) sliced fresh mushrooms
1 cup sliced onion (1 medium)
1 can (15 oz) pizza sauce
1 cup shredded mozzarella cheese (I used pizza cheese because I didn't have mozzarella on hand)
Preheat oven to 350. Combine flour and salt in a shallow dish.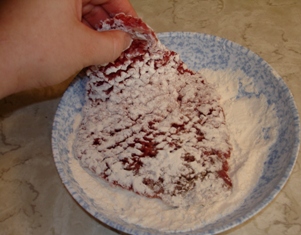 Dip cube steaks into flour mixture, coating well. Heat oil in a 12″ skillet over med-high heat until hot.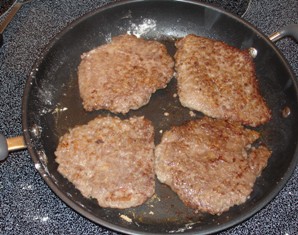 Add cube steaks, reduce heat to medium. Cook until browned on both sides, 4-6 minutes.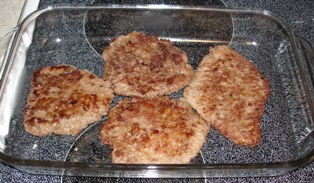 Place browned cube steaks in a 3-qt baking dish (9×13 pan worked great).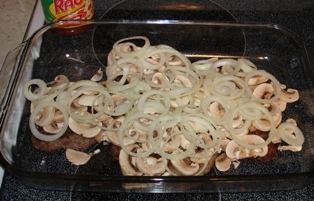 Top with mushrooms and onion.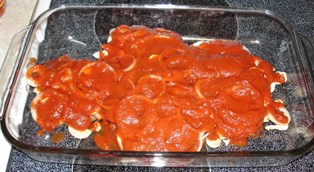 Spoon pizza sauce over top.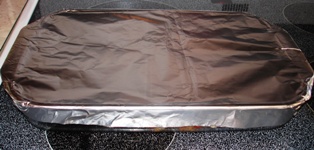 Cover tightly with aluminum foil. Bake steaks 30 min.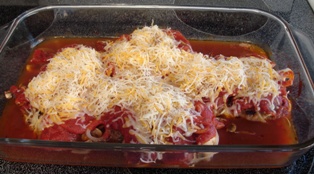 Uncover; sprinkle with cheese. Continue baking, uncovered, until steaks are fork-tender and sauce thickens, about 30 min. Yield: 4 servings.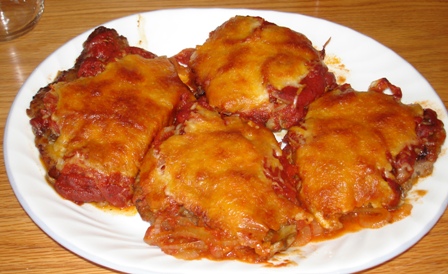 These were tender, we didn't need knives to cut it. They were really good and I'll probably make them again, but next time, I'd add some seasoning in with the flour mixture. Not sure what, maybe some Chef Paul Prudhomme's Meat Magic.
Comments