I have a cookbook holder and always have an open cookbook on it. I change it now and then for a different view. The last while, it was open to this page: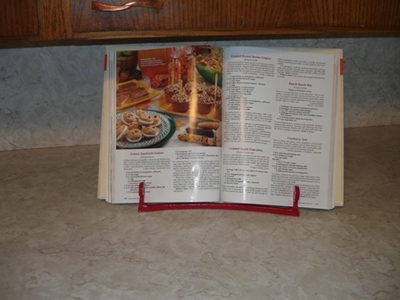 Those s'mores cookies were really grabbing me every time I looked at them. Finally, one day I made them. If I would've been paging thro' the cookbook, they probably wouldn't have grabbed me, but sitting on the counter every day for awhile, it grew on me. Then, I thought back and I remember doing that several times before… making something on the page that had been opened for awhile. Anyone know anything about psychology?!
My husband could use this… find a recipe he wants and change it to that on the cookbook stand. Who knows though, he might be after the Ranch Snack Mix and here I'd make the s'mores cookies!!!
S'more Sandwich Cookies …2002 Quick Cooking Annual cookbook


I'm gonna be lazy this time and see if it works to just 'clip' the recipe and put it in here. Hopefully you can read it. Part of the stand is covering a bit of the ingredient list… that's 1 tsp vanilla extract under there.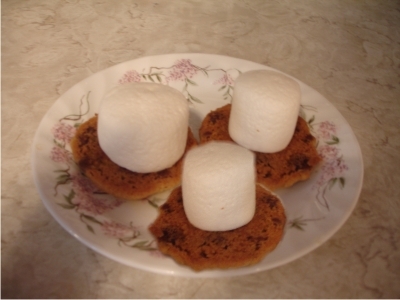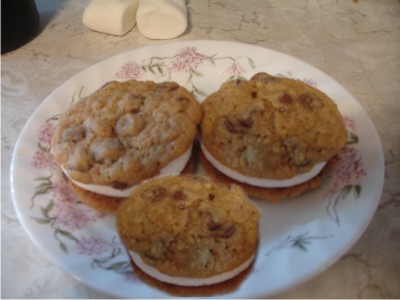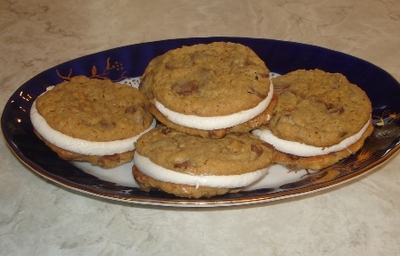 Side note: That oval plate they're on is from a set of dishes that my brother brought home for me from Romania when he was over there for a few years. Very beautiful set! I'm almost scared to use them for fear I'll break one.
These cookies were great, although not as good and gooey as real s'mores ! You could really taste the graham crackers. I might sub grahams for some of the flour in other cookie recipes sometime, just for something different. I made some bigger cookies and some smaller cookies… the bigger ones were best because the ratio of cookie to marshmallow was better (not as much marshmallow per cookie). Maybe your preference would be the other way. Mine made 18 sandwiches, the recipe says about 2 dozen.