On a more serious note…
This dish, on the other hand (as opposed to the last post), graces our table quite often.
Even the kids love it… at the end I'll show you how to make it kid-friendly!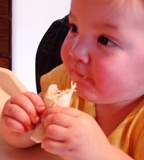 Did you ever have steaks on the grill?
They were just delicious, but you had 1 steak leftover… now, what to do with it.???? If you keep it, it might get tough when you reheat it. If you throw it away, it might bug you that something you spent good money one just went in the trash. Here's what I do: Slice it thin and put it in a bag in the freezer. Then, the next time you make fajitas, pull it out and add it to the other meat.
Steak Fajitas
1 lb or so of thinly-sliced steak (I either buy it thinly sliced or slice a couple steaks up. If I have any left over from grilling, I add that too.)
1/3 each of a green, yellow, orange, and sweet red pepper, sliced into strips (Or 2 or 3 colors, whatever you have on hand.)
1/2 of an onion, sliced and separated
Tortillas
Shredded lettuce (I don't keep shredded lettuce on hand, I just cut it thinly off of a head of lettuce.)
Tomatoes, cut up
Shredded cheese
Sour cream
Salsa
Spray the skillet with cooking spray or use oil, depends on if you want it more healthy or not. I've done it both ways. Add the steak, peppers, and onion. Sprinkle with some salt and pepper and seasoning. I use Chef Paul Prudhomme's Meat Magic seasoning .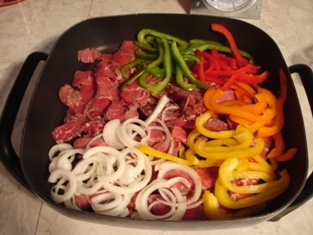 About 15 minutes before serving time, turn skillet to about 300. Cover. Stir about every 3 minutes. Fry for about 12 minutes total or until it looks done. While it's frying, get the other things around… cut the tomatoes, shred the lettuce, etc. Stack tortillas on a plate with a paper towel between each one. Microwave until warm and soft, about a minute or so.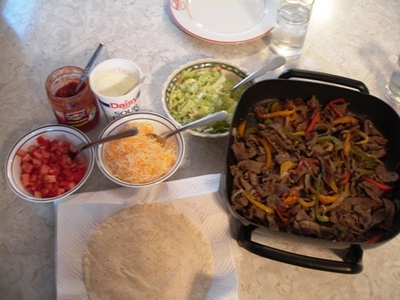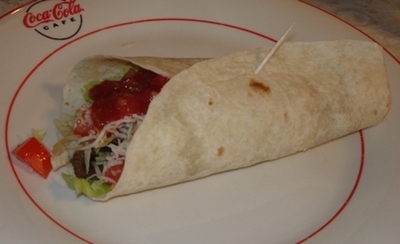 Now you're ready to eat! How's that for a ready-in-15-minutes meal! …which is one reason why I like it. If your supper time varies (like ours does), you can get everything cut up and in the skillet awhile, then it's pretty fast from there. And now, for the kid-friendly version… Cut 3 1/2″ circles out of a tortilla.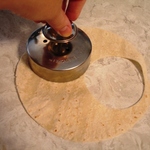 Fill it and roll up.
Fits in their hands nice and works great,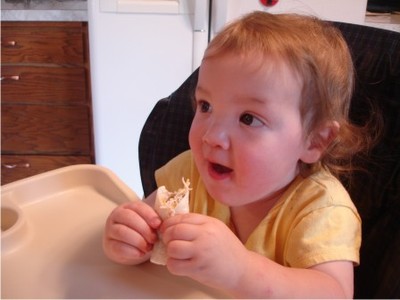 until they start playing with it!


There are a bunch of different variations to making fajitas, I'm sure. We don't have the fried rice and refried beans and guacomole (ok, I can't make that word look right, where's my dictionary?!). All that stuff would make it more complicated, plus we don't really like 2 or 3 of those things.