Tried and True
Not a new recipe. Just one that's so good, you've gotta have it!

It's from the Derstine cookbook .
Taco Salad
1 lb hamburger
1 chopped onion
Salt and pepper
2 cans chili beans
Taco salad seasoning, 1 envelope
Lettuce, chopped (I use about 2 heads)
4 med tomatoes, diced
8 oz cheddar cheese, grated (I use taco cheese or Mexican cheese)
TACO DRESSING:
Sprinkle on crushed taco chips
2 c. oil
2 c. sugar
3/4 c. vinegar
2 tsp. salt
2 tsp. Worcestershire sauce
1/2 c. ketchup
Fry hamburger, add rest of ingredients, serving over lettuce, tomatoes, and cheese. Blend dressing thoroughly. I do an all-in-salad side dish out of this recipe. When we were on food committee at church, I got the idea from one of the ladies (actually she's one of the Derstine's who compiled the cookbook) who makes it whenever she's on for salad.
Pictured below is a half batch. Fry the hamburger and onion. Add taco seasoning and salt and pepper. Drain the beans a little and put them in a large bowl.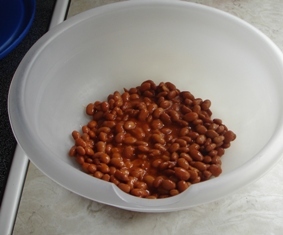 Put in the hamburger mixture next.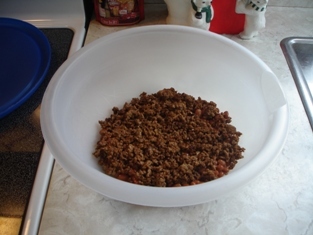 Put cheese over that (the hamburger should be cold so the cheese doesn't melt).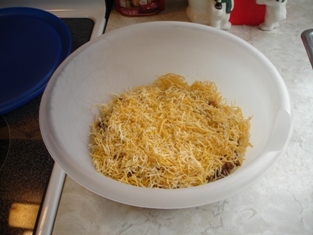 Put diced tomatoes on next (forgot to take a picture).
Then the lettuce.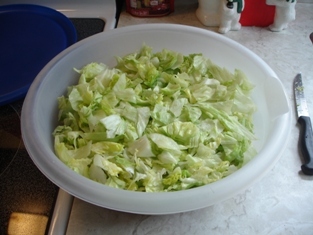 Then the crushed chips (again forgot a picture). I make the chip layer at least 1/2″ deep. At this point, you can put the lid on and it can be refrigerated for at least a couple hours. Mix all the dressing ingredients in the blender.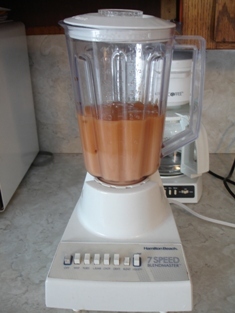 Toss the salad and mix the dressing in (I don't use quite all the dressing). Serve immediately.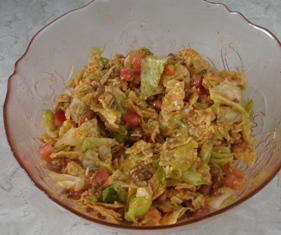 Forgot a finished product picture, so this is what was left after the meal. Leftovers are not good… If you make it for lunch, the lettuce will be wilty and the chips will be soggy by suppertime. If served as a side dish, I'd say a whole batch would serve about 25 people. We had grilled brats and hot dogs with it… I know, kinda mixing all-American with Mexican, but that's what we were in the mood for.
Comments