Here is my dear Grandma…

…and here is her delicious pie recipe…
Brown Sugar Pie
1 egg
1 cup brown sugar
2 heaping Tbsp flour (Grandma says by heaping, it means to heap it so much that you have about another whole Tbsp on top!)
2 cups whole milk (Grandma says 'whole' is VERY important!)
Beat egg good. (That's an understatement, one of Grandma's tips is to beat it like crazy.) Add sugar and flour and beat some more. Gradually add milk. Pour into 9″ unbaked pie crust. As you can see, it's very thin batter.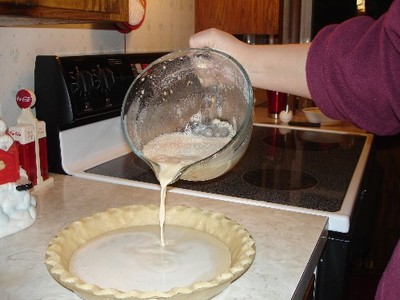 Bake at 350 until set, about 45 min -1 hour. Middle will be shaky. Not kidding when it says shaky… we're talking nearly making waves when you get it out! No, but I always think 'This will never set up!' and sometimes it never has .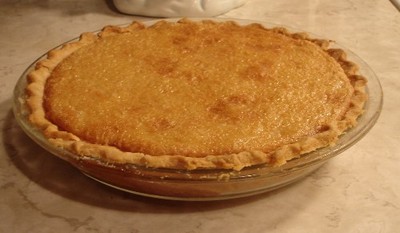 Grandma's brown sugar pies always seem so much better, just the fact that she made them and they came from her kitchen. This pie actually turned out pretty good though. It's supposed to turn into 2 layers like you see in the piece below, that's not a mistake! The top lighter layer melts in your mouth and the bottom darker layer is about the consistency of fudge.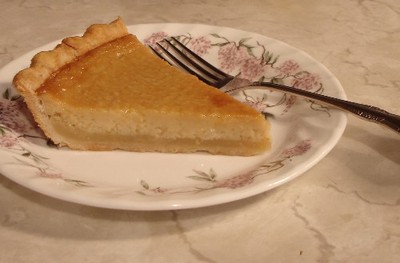 So delicious! I ate one piece, then within 10 minutes, I went back for another . You should really try this… it takes very common ingredients and doesn't take long to make. You can add Whipped Cream if you want, but that's actually against the rule… one time at a Graber get together, one of my aunts, I think it was, was putting whipped cream on pies and put some on a brown sugar pie and got alot of hassle for it!
Adding an edit here: Someone asked in a comment about storing it in the fridge… yes, you do. Grandma usually bakes them the same day and they cool, then we eat them at room temp. I actually think it tastes better cold, so I put it in the fridge after it cools… but I have a room temperature piece first! Oh, and you may have caught on already, but this recipe is for one 9″ pie.