Cookies!
Lexi (my dau, just turned 4) and I made some cookies last night. She seemed to sort of need some "mom time", so we put Tiffany (9 mos) to bed, Shannon (my husband) had a late hockey game, and Lexi and I had alot of fun baking. Baking with her is interesting… She dumped all the ingredients in the bowl, except the eggs, of course. It always amazes me how the mixing bowl can be 10″ across and the measuring cup is 2 1/2″ and she still dumps part of the sugar, flour and choc chips over the edge onto the counter!!!!

She also decided we should wear "cookie baking beads". She had some in her toybox, so we each wore them… you can see hers on a picture.
This recipe comes from the Mrs. Field's Best Ever Cookie Book . Did you ever see "Mrs. Fields" in a mall (cookies, candy, etc.)? Well that's her. This cookbook is written by her, Debbi Fields. Her store/bakery has been going for over 20 years. Shannon got the cookbook for me for Christmas 2 years ago.
Double-Chocolate Peanut Butter Cookies
6 oz, semisweet chocolate, coarsely chopped
2 cups all-purpose flour
1/2 tsp baking soda
1/4 tsp salt
3/4 cup packed dark brown sugar
3/4 cup granulated sugar
2 sticks (1 cup) unsalted butter, softened (I didn't use unsalted because I only had salted, maybe I should've omitted the 1/4 tsp of salt then)
1 cup creamy peanut butter
2 large eggs
2 tsp vanilla extract
12 oz milk chocolate chips (about 2 cups)
24 – 30 whole shelled peanuts (we used 55 because that's how many cookies we had)
Preheat the oven to 300. In a double boiler, melt the semisweet chocolate over hot, not simmering, water. (My microwave worked great for this.

) Set aside to cool to about room temperature. In a small bowl, combine the flour, baking soda, and salt. In a medium bowl, combine the sugars, then add the butter and beat until well combined. Add the peanut butter and beat until smooth. Add the eggs and vanilla and beat until just combined. Add the flour mixture and the milk chocolate chips and beat until no streaks of flour are visible. Pour in the melted chocolate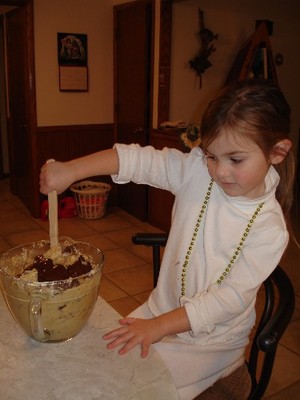 and mix partially with a wooden spoon until marbleized. Drop the dough into 3-Tablespoon mounds (that would be huge, I made them smaller), 2 in apart, onto an ungreased cookie sheet. Top each with one whole peanut. I thought the one peanut thing was kinda 'yeah, whatever', but it turned out to be a really fun job for Lexi.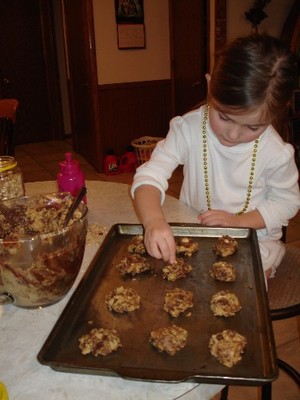 Bake for 23 min, or until just set but still soft. Cool on the cookie sheet for 30 seconds, then transfer to wire racks to cool completely. Yield: About 2 dozen. M ine made about 4 1/2 dozen.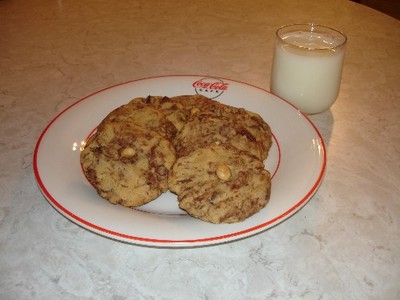 These taste GREAT, but they beg for a glass of milk! I prefer chewy cookies, these are kinda dry. Maybe it's because they bake so long at a lower temp. They don't melt down into a flat cookie… however you put them on the cookie sheet is how they'll look when they come out of the oven, so I smashed them down a little before putting them in the oven, after the first batch came out and I saw that's what they do. Another thing, semisweet chocolate chips are not my thing… if semisweet was the only chocolate, I would not be a chocoholic. Chocolate would tempt me about as much as, let's say, raisins (I like them, but nothing special.), so next time, I'd do ALL milk chocolate in these cookies.

————————————————————————-
I'm also going to feature a tried-and-true recipe here. Iced tea . I try to keep it on hand in the fridge. If I do, we go thro' at least one pitcherful a day. It's so easy and fast… in about 10 minutes, you can go from no tea anywhere around to drinking a cold glass of iced tea. For the taste, it's comparable to meadow tea , if you know what that is. When I first started making it, I thought it wasn't as good as meadow tea, but was well worth it for less work and time being put into it. Now that I'm used to it, I like it better than meadow tea. My mother-in-law makes it too and I forget who started making it first, so I'll give her credit in case it was her.

Maybe we don't even make it quite the same anymore, I haven't compared notes with her on it lately.
Iced Tea
Put a coffee filter in a coffee maker (sometimes little pieces of leaves somehow get out of the tea bags, so the filter catches them then). Put 1 Mint Medley tea bag in it.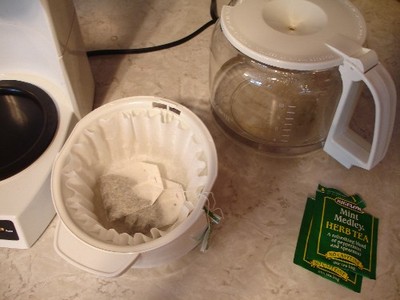 Fill the coffee pot with water to 8 cups and pour into coffee maker. Turn it on and run it thro' just like you'd be making coffee. While that's being made, put a little over 1/2 cup of sugar into a 2-qt pitcher. When the tea is done, pour it into the pitcher (I don't know if piping hot liquid is good for a pitcher, but I've used the same 2 Pampered Chef pitchers for this for a few years and they're holding up great… putting in a plug for Pampered Chef, you'd love the plunger thing to stir it with too). Stir it to disolve the sugar,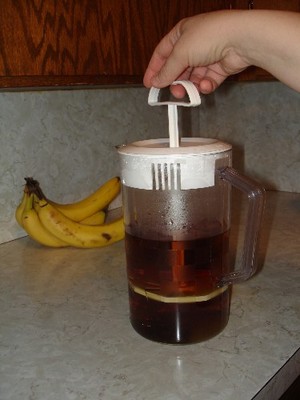 then fill it up with ice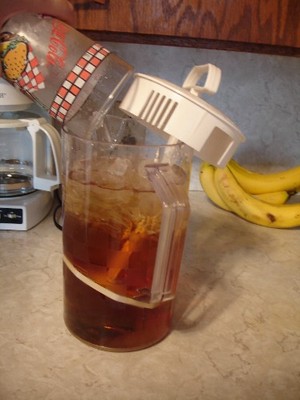 to within 1″ of the top. Stir till ice is about all gone. It's cool, but not cold by this time, so if we drink it right away, we serve it "on the rocks", as my dad would say.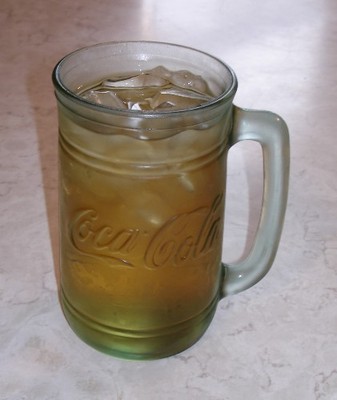 I really need a lemon slice to put on the side of this mug!

By the way, if you rinse out the coffee pot and filter holder thing right away each time, you can make coffee and tea in the same coffee maker and the tastes don't cross over… at least WE don't notice a coffee taste in our tea anyway.
———————————————————————————-
Also, the 'What's your kitchen theme/colors' is SO interesting! In a couple weeks, I'm planning to compile a post with excerpts from all your comments (anonymously… people will have to go back and read the comments if they want to see who said what) on what your kitchen is. So, I'd still love to hear more!