Hi again! It's been awhile! The 'famine' on here doesn't mean we haven't been eating! It means that the last 2 weeks have been abnormal weeks as far as cooking goes, with company and then being busy with a booth at a Home and Garden show. Not a cooking show booth, by the way. 😉
We were selling these: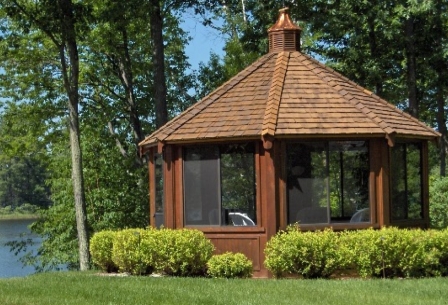 Anybody need a beautiful cedar gazebo in your yard?
I do love those little cooking show booths at shows though, even though the chefs always use the same lines and the same jokes. It just amazes me how they can talk AND cook at the same time! I think I'm a bit too absent-minded for that. And the cookware that cooks stuff without water… Wow! And the food doesn't burn… Wow! I have a hard enough time WITH water! Tonight while we were making supper, I even burned a piece of toast (not in water though… see, that's what happens when I cook without water)! Yeah, WE were making supper, not ME… because it involved grilling and that is my husband's territory.
Here, I'll show you what we ate tonight: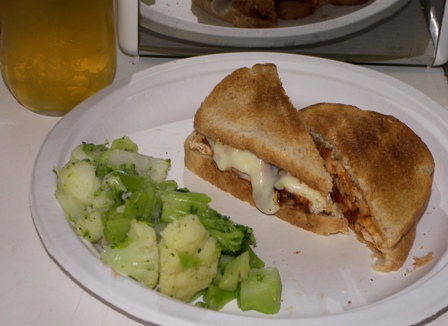 We're always trying to think of new things to do with grilled chicken breast besides chicken breast salad, shishkabobs, or just eating it plain w\ bbq sauce. This sandwich is actually along the lines of the Open-faced Pork Chop Sandwich that is a specialty around here.
Grilled Chicken Sandwich
Bread
Chicken breast
Provolone cheese (or cheese of choice)
Barbeque sauce OR dijon mustard
Toast the bread. Season and grill the chicken, then chunk it up.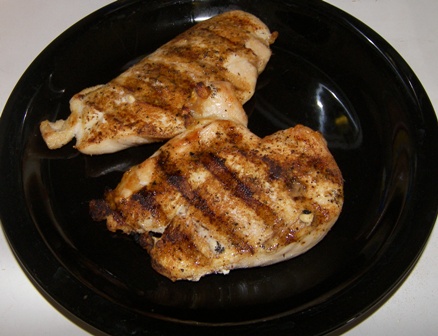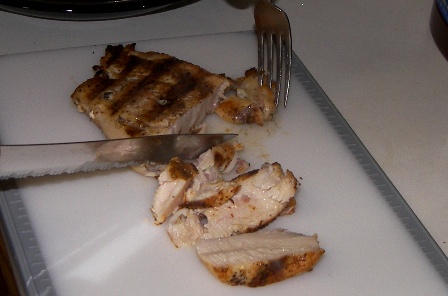 Assemble in this order: Toast, chicken, bbq sauce or dijon mustard, cheese, toast.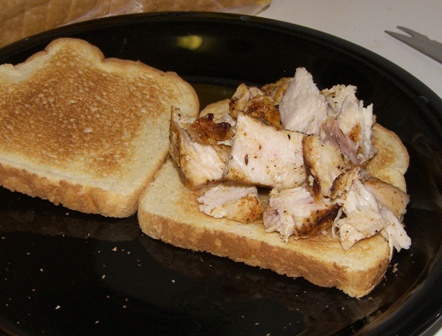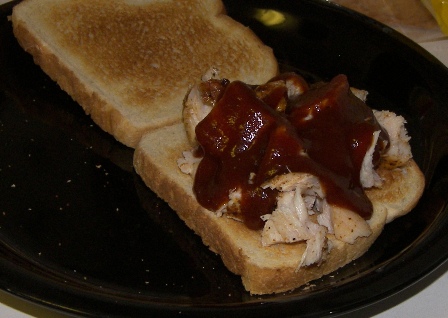 OR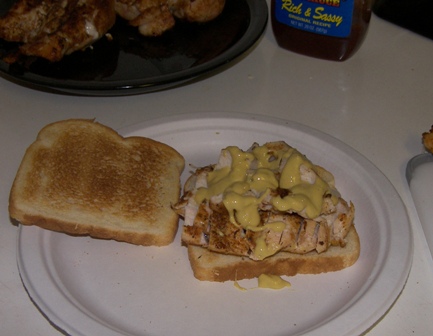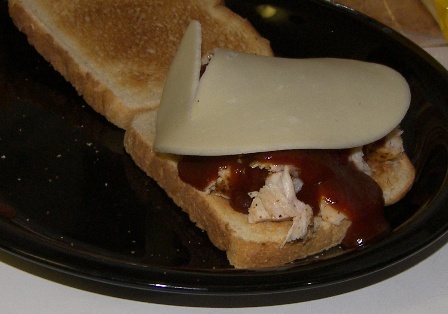 Microwave for about 1 minute, 2 min if you're doing 2 sandwiches.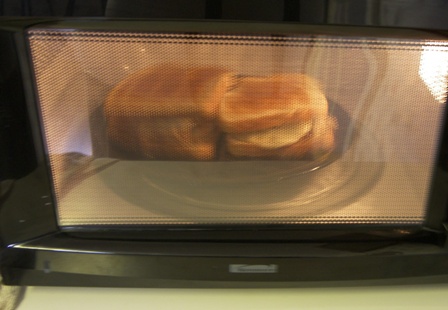 And… enjoy!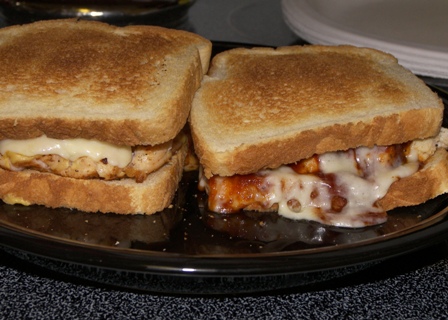 Mmmm, so good and so easy and so quick and not much cleanup!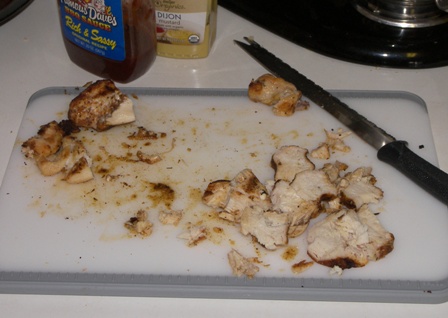 Wouldn't you just like to snitch a piece? It's flavored SO good and is nice and juicy! Not sure what seasonings he used.  Edit: He just said he used Cajun Black'n seasoning from the Bayfield Spice Company in Rhinelander, WI.
Once again, I've attacked my pile of loose recipes, which grew since the last time I got it out back when I did this post. I went thro' and categorized them all and am planning to be cooking alot from them the next while and will either paste them into my 'blank' cookbook or pitch them. In order to keep them, they've gotta be 'would definitely make again' quality. If it tastes good, is easy to make, and looks good, then it's a keeper. If only two of those three qualities are true, then I make a decision of whether those two outweigh the other one and still keep it.
So, here's the recipe I chose out first and I'll tell you at the end if I kept the recipe or threw it away. Yeah, I chose a recipe that starts with the word 'petite'!!!???!! When I think of 'petite', I think of things like little dainty delicate teacups with little BREAKABLE saucers under them. And I usually shy away from anything like that because I get all thumbs when I'm around those types of things.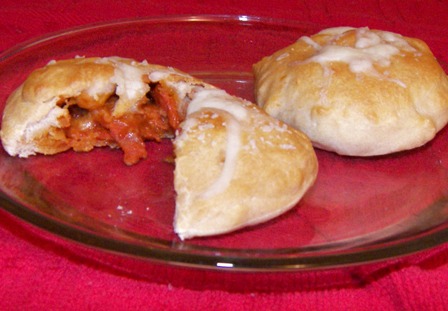 Petite Pizza Puffs …recipe comes from a card that came with my Pampered Chef Cut-N-Seal.
12 slices pepperoni
1/4 cup shredded mozzarella cheese
2 Tbsp. chopped mushrooms
2 Tbsp. pizza sauce
1 pkg. (10 oz) refrigerated pizza crust
Preheat oven to 375. In Small Batter Bowl, combine pepperoni, cheese, mushrooms, and pizza sauce. Roll out pizza dough to 11″x15″ rectangle, using Dough and Pizza Roller. Cut 12 circles in dough using Cut-N-Seal.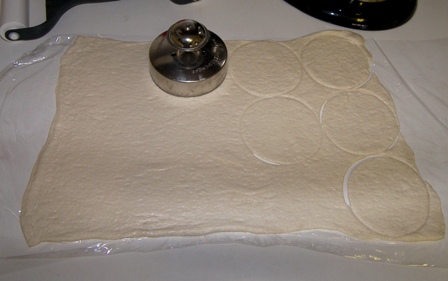 Using Medium Scoop, place 1 scoop (2 Tbsp.) pepperoni mixture in center of 6 circles, spreading slightly.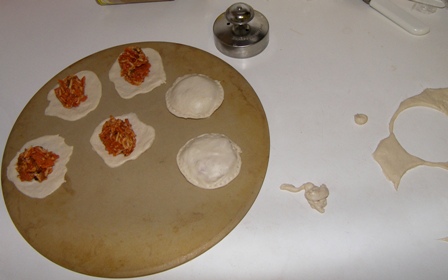 Place second dough circle on top. Lightly seal edges with fingers; seal with Cut-N-Seal.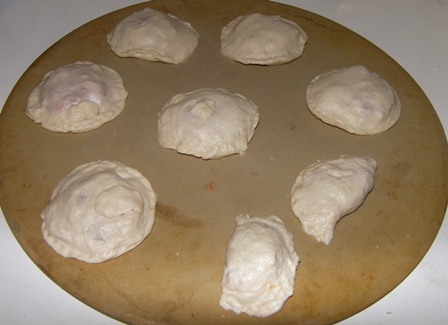 Place on flat Baking Stone. Bake 15-17 min or until light golden brown.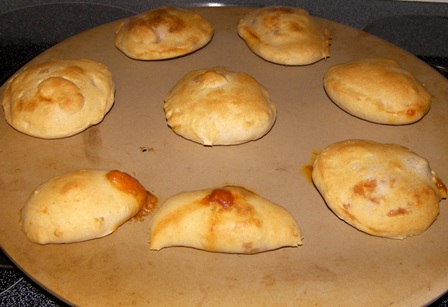 Serve with additional warm pizza sauce, if desired. Yield: 6 pizza puffs
I put a little more cheese on top and put them back in the oven for a couple minutes. Not sure why, I guess I just thought the tops looked a little plain or something. And more cheese is a good thing. 😉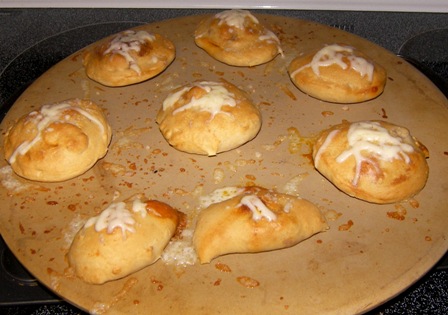 And there you go. Petite Pizza Puffs. Simple as that.
Or not!
So, the question: Will I keep this recipe? Yes, and decide for sure after I make them again. I saw afterwards how I should've done it to make it easier. How I did it was quite time-consuming and what a mess! I tried to assemble them on the stone and you cannot pick up a circle of thin sticky pizza dough and keep it from shrinking or ripping or losing its round shape. I should've assembled them right where I cut out the circles (which is how I think the recipe means that it should be done), then the whole puff may have been easier to move onto the stone. I should've also used some flour underneath the dough before rolling it out.
The taste was all there (I mean, really, how can you go wrong with those ingredients?). And the finished look was great.
So, here is the recipe. They really are perfect for something snacky or a lunch. Go ahead and try it and let me know some tips if you have any. If you don't have a Cut-N-Seal, a round cookie cutter and a fork or your fingers oughta work fine.
I'm not just being gushy about the pizza subs by adding the word 'super' in the title… that's actually the official name of them in the cookbook that I got the recipe out of, which is the 2001 Quick Cooking annual cookbook. They do live up to their name, though, and the 'super' in the title is very fitting.
Another fitting name would be Meat Lover's Sub, what with having 4 different kinds of meat on them.
The recipe called for 6 9″ sub rolls. What I had was 7 6″ sub rolls… don't do the Math because the inches won't hold out. (If any perfectionists out there wonder why I had a 7-pk of rolls instead of an even #, it's because I had stolen one out of there before to make a sandwich because I was out of bread.) I know this is one of those things that you can just throw together and don't need a recipe for, but I wanted to follow the recipe (ingredient-wise) to see if I thought the ingredients went well together and then I'd add or delete stuff from there.
Super Pizza Subs
6 submarine sandwich buns (about 9″), split
1/2 lb. bulk Italian sausage, cooked and drained
1 lb. shaved deli ham
1 can (8 oz.) pizza sauce
1 lb. sliced mozzarella cheese
1 medium onion, halved and thinly sliced
36 mild banana pepper rings
2 pkgs. (3 1/2 oz. each) sliced pepperoni
1/4 lb. thinly sliced hard salami
I toasted the buns first because I thought a little extra crunch would be nice. On bottom half of sandwich buns, layer sausage, ham, pizza sauce, cheese, onion, banana peppers, pepperoni, and salami. Replace tops. Wrap each sandwich in heavy duty foil; place on baking sheets. Bake at 425 for 12 – 15 minutes or until cheese is melted. Serve immediately. Yield: 6 servings.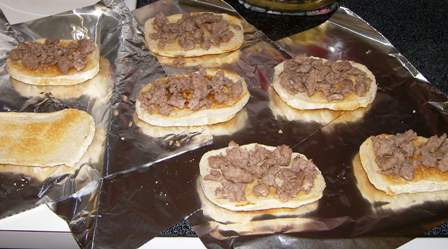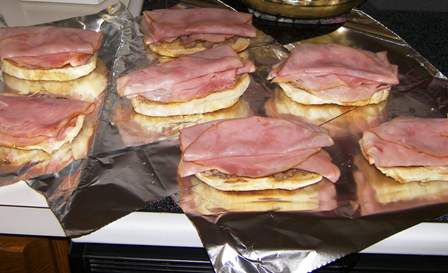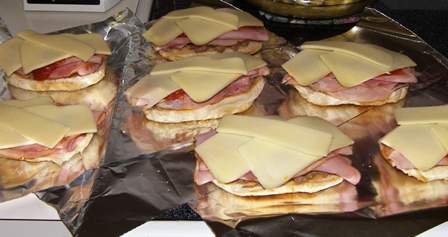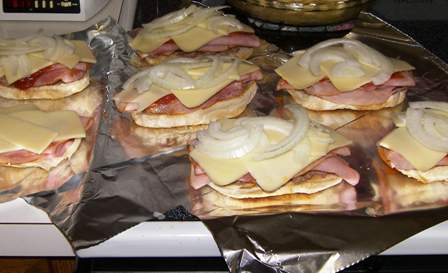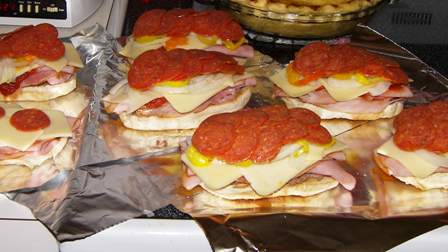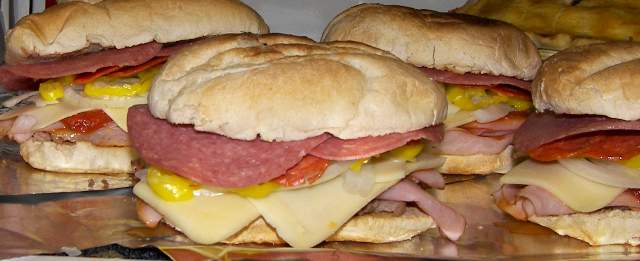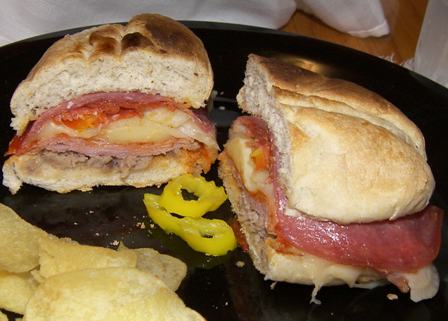 They were great! Yum! Here's what I would change though… use more pizza sauce, go easy on the onions, and sprinkle on some Italian seasoning. Or, I'd saute the onions first, then use the full amount… we're not cracked over raw onions, even though they were baked a little. And then if I'm sauteing onions anyway, I'd throw some sliced raw mushrooms in the pan too. 😉 By the way, if you notice that the one sandwich in the front on the far left didn't get all the ingredients, it's because that one is for my picky little eaters to split.
I served them with chips and then had fresh warm apple pie (recipe posted here) and ice cream for dessert…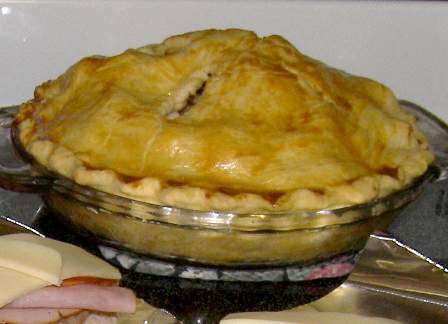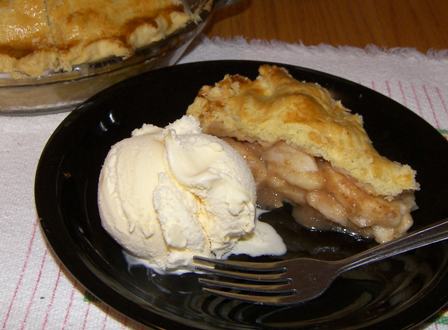 Whenever there's a microwave recipe, I usually shy away from it. Here's the reason. It's because of my microwave… sounds like a good reason, huh? My microwave is a half-pint. I can't fit a 9×13 pan in it and when my girls were babies on bottles, I always had to lay the 8-oz bottles down to warm up the milk because they wouldn't fit in there standing up. The size isn't the only reason. The other reason is that it takes SO long to cook stuff in it. We joke that the microwave has only one setting and that's DEFROST. True, it does have only 1 setting, but it is a bit hotter than defrost. It takes forever to boil water and it literally is faster to throw a pan of water on the stove rather than do it in the microwave, like when I make finger jello. But the microwave works great for warming up serving-sized portions and thawing meat, but other than that, I don't use it for general cooking. Oh, I guess I do cook half a bag of frozen veggies in there sometimes.
But, you can't beat the deal we got on it. We got married about 12 years ago (in fact our 12th anniversary is in a couple weeks) and a little bit after we got married, we realized we need a microwave, so we found one at a pawn shop for $25 and it's still the same one we use today. Not sure why it doesn't give out! Here it is: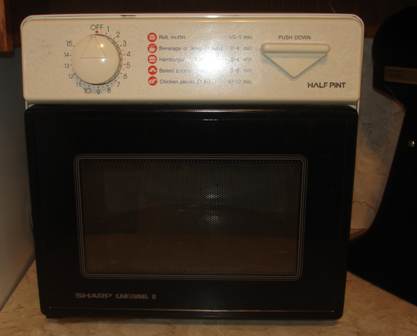 Anyway, having said all that, I decided to try a microwave dish. For the Cooks in Training foods, I don't like to use the stove because my little cooks might burn themselves, even with adult supervision, but the microwave is fine. So, here you go, a food that kids like… and made by them.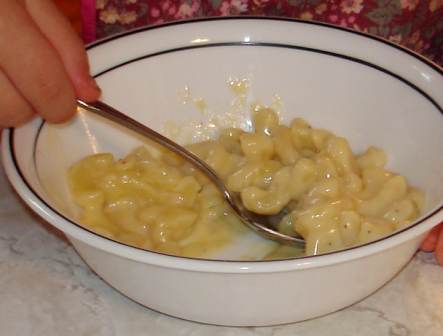 Microwave Mac 'n' Cheese  …taken from the 2000 Quick Cooking cookbook
2 cups uncooked elbow macaroni
2 cups hot water
1/3 cup butter or margarine
1/4 cup chopped onion (I had to do some fast talking to get that in there because I couldn't sneak it in! I said we wouldn't put in as much as it says, we only put in a couple tablespoons)
3/4 tsp. salt
1/4 tsp. pepper
1/4 tsp. ground mustard
1/3 cup flour
1 1/4 cups milk
8 oz. process American cheese, cubed (we used Velveeta)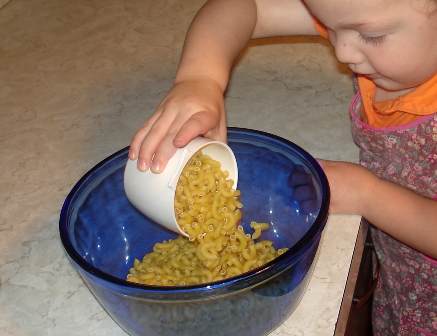 Hmmmm, I may have to outlaw the aprons! We don't really plan ahead and suddenly decide to cook or bake and away they dash for the aprons, putting them over whatever clothes they already have on! In this cooking session, Tiffany's combo clashes even more than usual.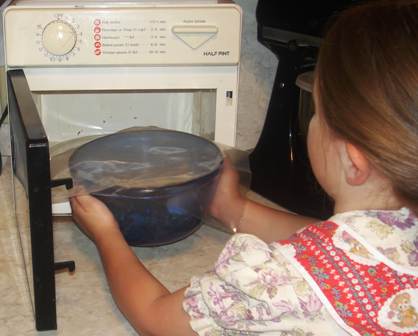 In a 2-qt microwave-safe dish, combine the first 7 ingredients. Cover and microwave on high for 3 1/2 minutes; stir. Cover and cook at 50% power for 4 minutes or until mixture comes to a boil, rotating a half turn once. (I didn't rotate at all because my fashionable microwave has a turntable, and it still works.)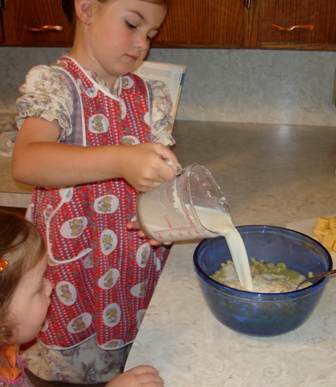 Combine flour and milk until smooth; stir into macaroni mixture.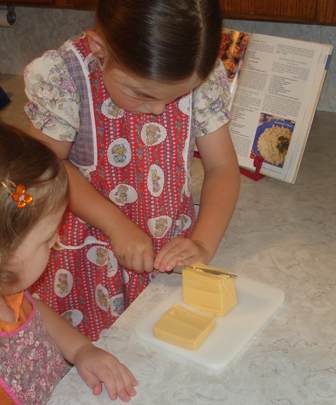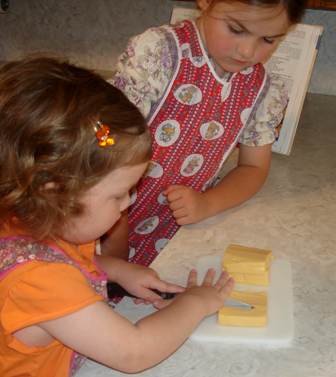 Yeah, I was watching this process very closely, and it was one of my duller knives. Velveeta is soft… a butter knife may have even worked.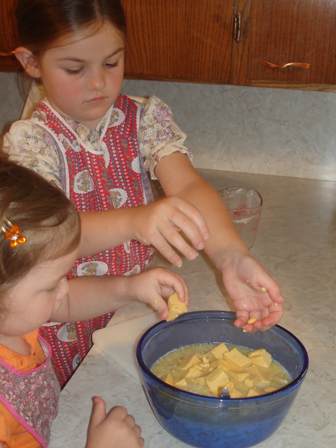 Add cheese. Cover and cook on high for 6-8 minutes or until the macaroni is tender and sauce is bubbly, rotating a half turn once and stirring every 3 minutes.  Yield: 4 servings.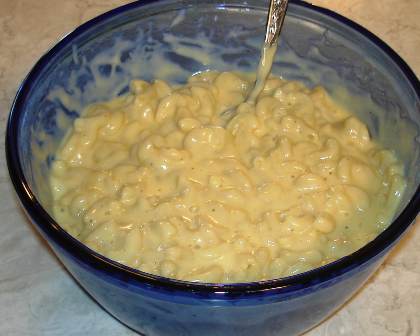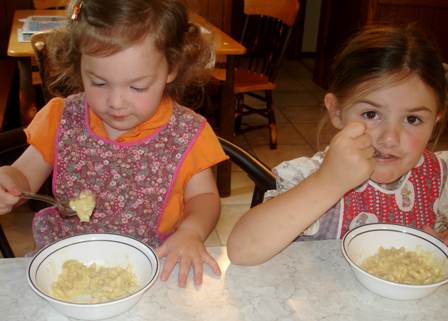 This was really good, although I've tasted better made-from-scratch macaroni and cheese. I missed the buttered crumbs that are usually on top of macaroni and cheese. This definitely beats the stuff from a box though and got rave reviews by the girls. Plus, Lexi thinks it's more fun to eat food that they made themselves.
The title actually sorta gives away what most of the ingredients are! Cheese (actually a can of cheese soup), chicken, and if it's quesadillas it's gotta have tortillas, and water. I got this recipe off of the soup can. Southwest Style Pepper Jack soup.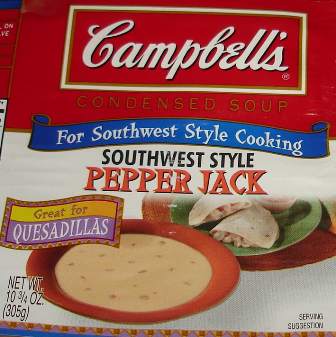 It was kind of hard to find… have you ever stared and stared at shelves, just knowing it was there, but you couldn't lay your eyes on it? I did that with this. I did it in the jello section looking for watermelon gelatin too just lately, but that's for another time and another post. There is a difference though… with the watermelon gelatin, I was only hoping it was there, with the soup, I knew it was there.
The reason I knew it was there is because my sister-in-law Liz makes these quesadillas and she said Marketplace has the soup, but Walmart doesn't. After I finally found the soup, I immediately looked on the label to see if the recipe was there and sure enough, it was. Then, I wondered HOW, out of all the soup can labels there, Liz found this soup and tried this recipe. And it was a hit with the family! Wonder how much more I'm missing out on by not trying other soup can label recipes.
There are 4 more recipes on the back (you have to cut the paper off of the can on the specified line and flip the paper over to see them, this is not something you should be doing in the store before purchasing). I think it's the manufacturer's trick to getting you to buy more… you can't see the other recipes till you get home and cut the paper off of the empty can before throwing it away. Then some of the recipes grab you and "Southwest Style Pepper Jack soup" goes right back on your shopping list. The other recipes are: Nachos Grande, Cheesy Pepper Jack Tacos, Mexican Meatloaf, and Cheesy Southwest Potatoes. I'll bet some of those would be good too. Especially the nachos, meatloaf, and potatoes. They all have 5-7 ingredients. The reason you don't need many ingredients is because this soup has got LOTS of flavor and kick.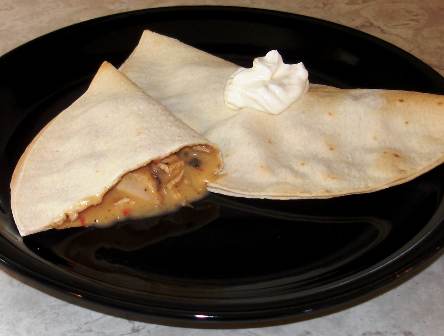 Cheesy Chicken Quesadillas
1 lb. boneless chicken breast halves, cubed
1 can Campbell's Southwest Style Pepper Jack soup
1/4 cup water
8 flour tortillas (8″), warmed (I used 9″ tortillas, and only 6 of them) 
Preheat oven to 325. Cook chicken in nonstick skillet until done and juices evaporate, stirring often. Add soup and water and heat through. Shannon grilled the chicken on the grill while I mixed and heated the soup and water. When the chicken was done, I chunked it up and mixed it into the soup.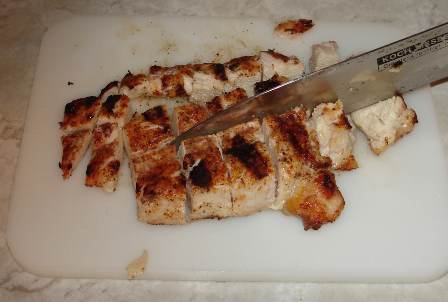 Spoon about 1/3 cup chicken mixture on half of each tortilla to within 1/2″ of the edge. Moisten edge with water.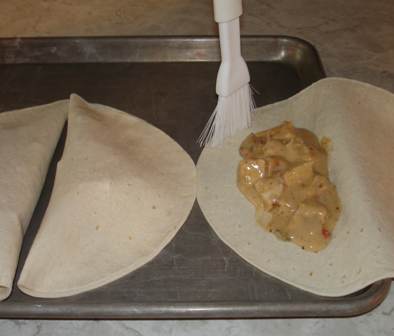 Fold over and seal. Place on 2 baking sheets (or 1, in this case). Bake 5 min. or until hot. I baked them for 7-8 minutes, until I saw a bit of browning.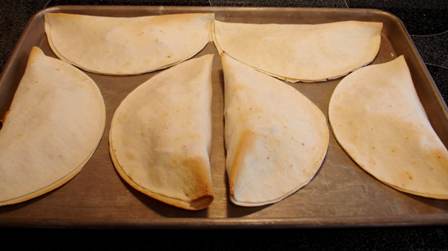 Cut into wedges and serve with salsa. And/or sour cream. I ate mine with sour cream. It was spicy enough without the salsa.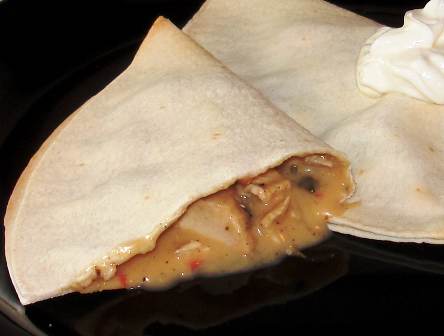 Just delicious for something so simple! If you have a full-time job and need to come home and make supper, this would be a good thing for the main dish! It takes about 20 minutes from start to finish. For a quick idea of something to serve with it, how about tortilla chips and applesauce. Or peanut butter pie (I'm so hungry for peanut butter pie!). Or ice cream. Or something else cold and creamy to cool the mouth. Tiffany's take on the quesadillas after a couple bites was, "I don't wike da spicy."