Posted on February 14, 2014
Filed Under For special occassions, Garnishing, Holiday cooking
Happy Valentines Day!
I'm actually not sure yet what I'm going to do for our meal tonight. Can you say "last minute"? I like to at least acknowledge Valentines Day each year with a meal, but for tonight I'm kind of thinking regular food with Valentine décor and dishes. I'm really in the mood for Parmesan Chicken and I don't know how to make that heart-shaped without being too corny and chicken-wasting with a large cookie cutter and chicken breasts.
I'm not even sure why I said the corny part… that ship already sailed. Half of the stuff at Valentines is corny because we use our imaginations and anything goes as long as it involves hearts and red and love and "awwww". I think you'll see what I mean if you keep reading this post. ????
Today I'm posting a meal that I made on a previous Valentines Day. So, if you're looking for some last minute ideas for tonight, here you go.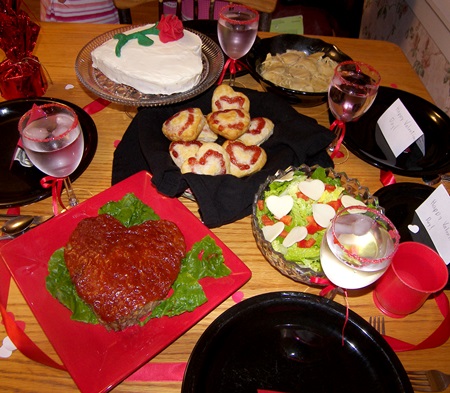 The menu was:
-Meatloaf
-Amish noodles
-Salad
-Biscuits
-Red velvet cake
Meatloaf
I used this recipe because it's THE *personal opinion alert* best meatloaf ever!! And I baked it in a heart-shaped pan. My mom used to always do that with meatloaf on Valentines Day.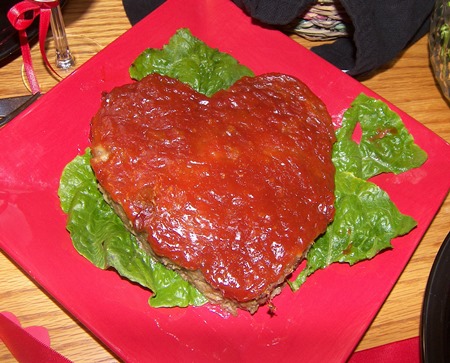 Amish Noodles
I made regular noodles and cooked a couple pieces of lasagna in with them. After it was cooked, I took a heart cutter and cut hearts out of the lasagna pieces and threw them back in with the noodles. When I dished it up, I pulled some of the hearts up to the top.
Here is the recipe for the noodles in case you'd like it:
1/4 c. butter
1 1/4qt. chicken broth
1 Tbsp. chicken base
1/2 tsp. Lawry's
8oz. homemade egg noodles
1/3 of a can of cream of chicken soup
Brown the butter. Add the broth and seasonings. Bring to a boil. Add the noodles and cook for 10 minutes. Add the cream of chicken soup, stir, put on lid, and turn off the burner, and let set 20 minutes.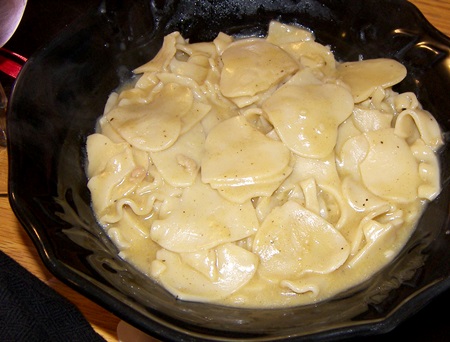 Salad
Another one from my childhood that Mom did… it's simply lettuce salad with little heart-shaped cheese tossed in it.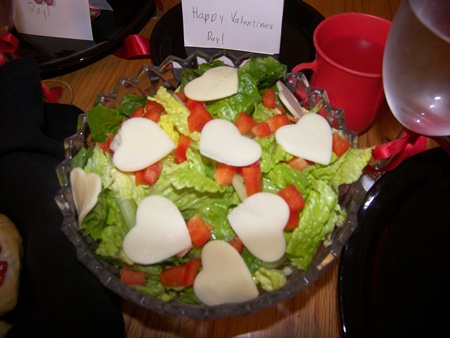 Biscuits with jam
I made regular biscuit and cut them out with a heart-shaped cookie cutter, and then just for extra color, piped a heart shape of jam on top before baking them (we ate more jam and butter with them at mealtime). The jam kind of got messed up in the baking process, but you could still tell what I was trying for.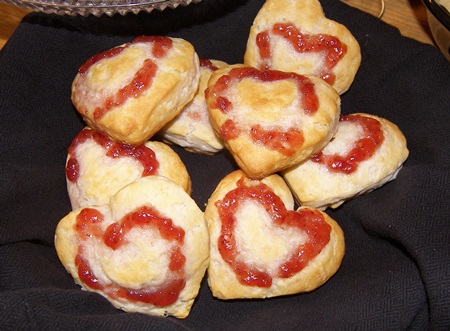 Red Velvet Cake with cream cheese frosting
I used this recipe, made only a 1/2 recipe and 1 layer, and made it heart-shaped instead of round. The rose is red and green candy melts. The rose tutorial is here and then I just sorta winged it with the stem and leaves.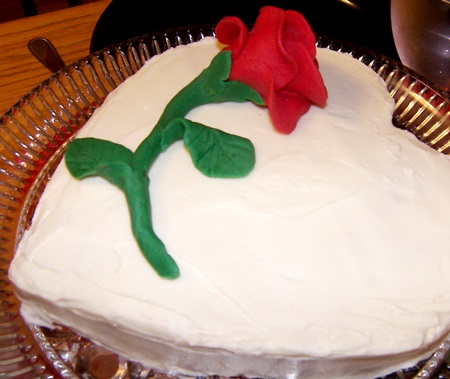 For the décor:
We put red ribbon around on the table and the girls used a heart punch to cut out hearts to sprinkle around.
We used goblets, dipped the tops into colored sugar, and tied red ribbon around the stems.
We had a red centerpiece (you can see the base of it on the first picture up there) that looked more or less like an explosion of spikes and hearts. Festive, but we didn't end up using it because the table was too full.
Lexi sneakily made Valentines for each of us and put it on our plates.
I really wish I'd have seen this Valentine note that I made to myself earlier because now it's too late because I don't plan to (or feel like) going anywhere today, but here is an idea I had tucked away for this Valentines Day and just found a bit ago. I'll put it on here though, because we're in the Valentine mode.
Remember what I said up there about corny? Well, here's a huge *corny alert*!
The idea was to put these on each plate:
For my husband: chocolate candy from our local bulk foods store that looks exactly like rocks, along with a note that says "You ROCK my world"
For Lexi (11): Starbursts and "I'm BURSTing with happiness that you're my girl"
For Tiffany (7): Gummy bears with "I love you BEARy much"
For Megan: (3): Suckers or smarties or anything sweet with "You're my little SWEETie"
Wishing all of you a wonderful Valentines Day, and thank God for all the ones you love!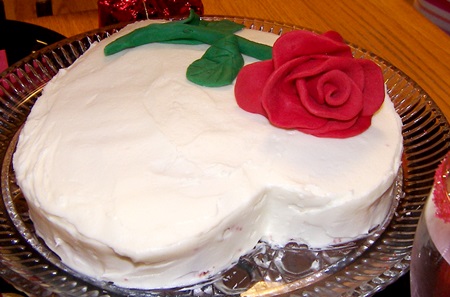 Comments