Posted on December 7, 2009
Filed Under Cookies and bars, Holiday cooking
Other than listening to some Christmas music, this is the first thing "Christmas-y" thing I've done this year… Christmas cookies. (Decorating my house will hopefully happen this week yet.) These were for a cookie exchange, so I *ahem* didn't let my eager little helpers in on the fun because I have to say "No licking!" about 273 times in the course of the project and that just sorta wrecks the Christmas spirit. So, I got up early and made & frosted them myself.
I'm not a fan of sugar cookies, butter cookies, or any frosted cookies like that because I think they're rather dry and messy and not very tasty. Having said that, these would be about at the top of the list of good frosted cookies that I've had. The only better ones I can think of were some that my friend Kim made one time. They had cream cheese in them.
Sour Cream Cutouts … recipe taken from the Christmas Cookies & Candies cookbook
1 cup butter, softened
2 cups sugar
3 eggs
6 cups flour
2 tsp. baking soda
1/2 tsp. salt
1 cup sour cream
FROSTING:
1/2 cup butter, softened
4 cups powdered sugar
3 Tbsp. milk (I added more so it would be faster/easier spreading)
Food coloring, optional
In a mixing bowl, cream butter and sugar. Add eggs, one at a time, beating well after each addition. Combine dry ingredients; add to the creamed mixture alternately with sour cream (dough will be sticky). Cover and refrigerate for 2 hours or until easy to handle. (It's not kidding about this… impatient me tried it without chilling. Bad idea. So, I chilled it for about an hour and the process went MUCH better!) On a floured surface, roll out dough to 1/4″ thickness. Cut into desired shapes with cookie cutters dipped in flour. Place 1″ apart on greased baking sheets. Bake at 375 for 8-12 minutes or until lightly browned. (I set the timer for 10 min and they were perfect.) For frosting, beat the butter, powdered sugar, and milk until smooth. Add food coloring if desired. Frost cookies. Yield: about 9 dozen.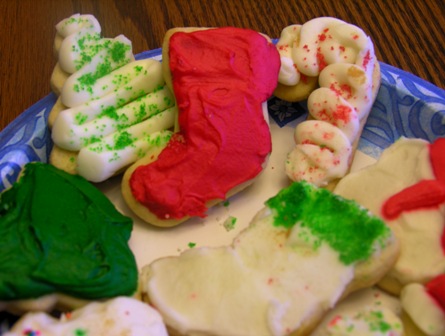 Up next: Lexi's 7th birthday cake. Her birthday was actually today, the party is tomorrow… 7 of her friends are coming after school.
Comments