Posted on May 13, 2009
Filed Under Cookies and bars
Usually when I'm flipping thro' a cookbook and a recipe JUMPS out and grabs me, it's a recipe with chocolate chunks or melted milk chocolate in it. This time, it wasn't though. I think what grabbed me about these bars was the cream cheese. And the fact that when there's a brown sugar/oatmeal/butter mixture, it's always good… like these Peanut Butter Dream Bars, for example.
This recipe comes from the Tasteful Delights cookbook. The committee behind this cookbook includes a couple of my friends, Michelle and Monica. Good recipes in there! Sometime, I want to try the stuffed mushrooms, bacon cheese chicken, frozen mocha dessert, and a bunch of others. But for now, we've got some scrumptious jam bars…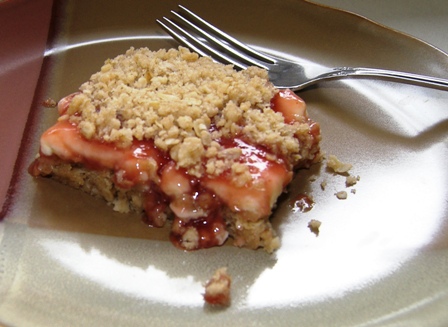 Jam Bars
2 cups rolled oats (I used quick oats)
1 3/4 cup flour
1 cup butter
1 cup brown sugar
1 tsp. cinnamon
3/4 tsp. salt
1/2 tsp. baking soda
Desired amount of cream cheese filling
Any flavor jam
Combine all ingredients in a bowl.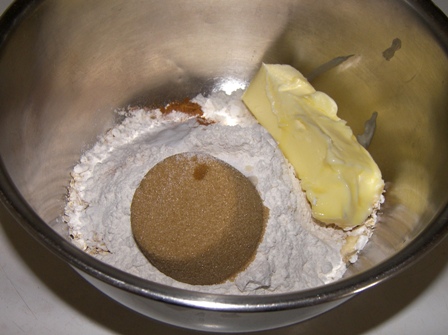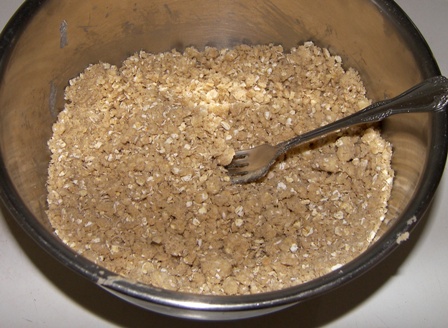 Reserve 2 cups crumbs and press the rest in a 9×13 pan and bake for 10 minutes.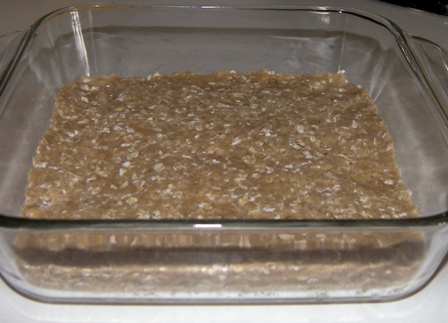 Spread cream cheese evenly over crust, then jam over cream cheese.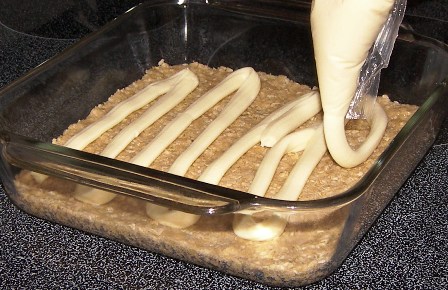 I used about 1 cup of cream cheese filling.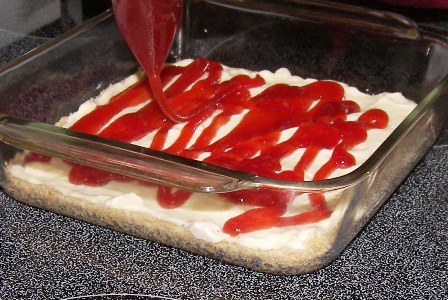 I used about 1/2 cup of jam. Next time, I'd use more like 1/4 cup of jam. It was a little too sweet and the strawberry flavor over-powered the cream cheese flavor, I thought. And that's not good when fruit over-powers cream cheese! ????
Sprinkle crumbs over jam.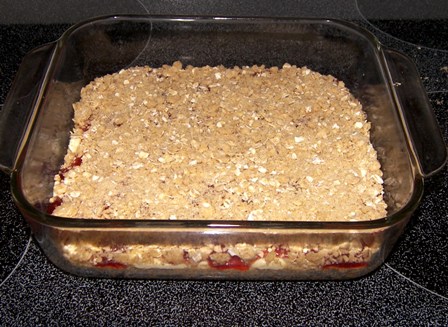 Bake until crumbs are golden. After 17 minutes, it looked like this, so I got it out of the oven… looks great to me!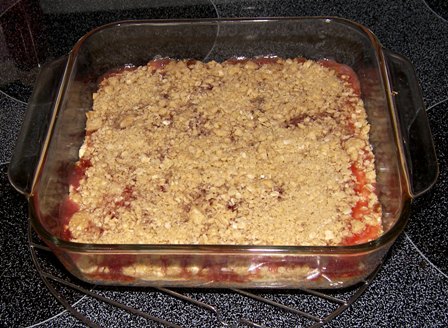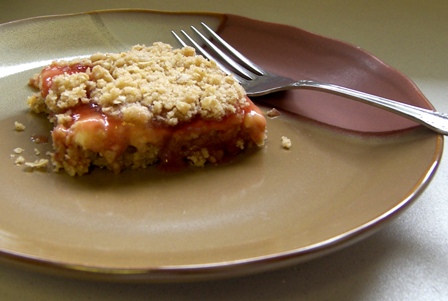 These didn't last long around here! They're pretty easy too. They oughta cool before cutting and eating though. They didn't hold their shape very well while still warm. They are THE best out of the fridge. I don't think they'd need to be stored in the fridge, but they were extra good when they were chilled. By the way, I made only a half batch (and used an 8×8 pan) because I didn't have enough of one of the ingredients and I wanted to make them NOW.
About the cream cheese filling, I buy it in tubes at a local bulk foods store, but if you don't have access to it or would rather make your own, here's a wonderful cream cheese filling recipe:
8 oz softened cream cheese, 1 egg, 1/4 cup sugar, and 1/2 tsp. vanilla. Beat till smooth.
Comments