#15 'takes the cake'!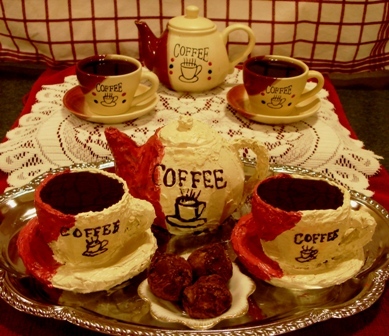 The congratulations go to Jan from MO. You will not be disappointed in how she made it! And the neat thing is that she asked someone to take progress pictures of the project… ah, progress pictures, a lady after my own heart!

Another neat thing is that she is my sister. Her site is jan_n_dan.
The real set is decor in her coffee-themed kitchen. It's smaller than normal size… the tea set, I mean.

(Someone else with a coffee-themed kitchen was wondering where you got that little set, Jan, and wants one like it for decor in her own kitchen.)
To make the cake, Jan wrapped plenty of tin foil around each piece, then gently pulled each piece out of the tin foil form, filled the forms with cake batter (not just ordinary cake batter, she used a mocha cake recipe so it would be more fitting when they eat it

) , then baked them. When she took them out of the oven, let them cool, and peeled the tin foil off, what she had was this…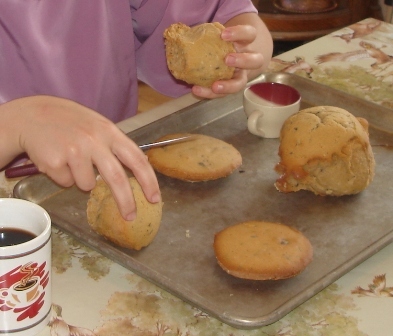 So, she set to work, carving…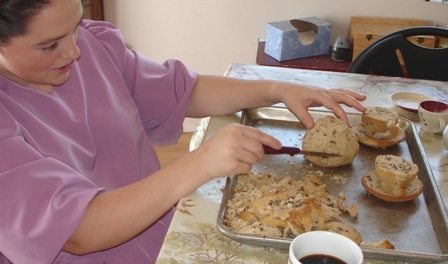 Then came the frosting…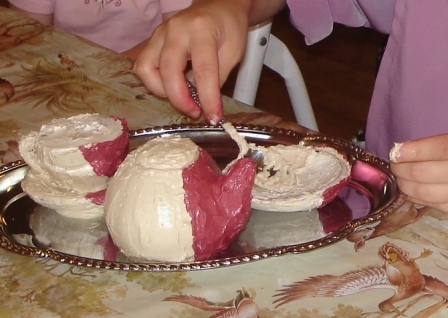 The lettering and drawing was tedious, esp on the little cups…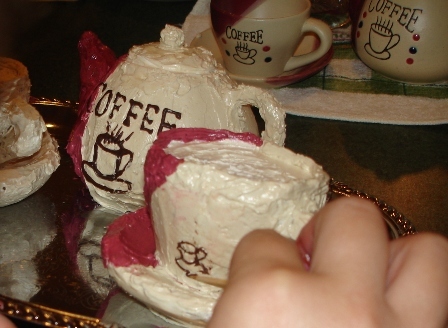 Done!…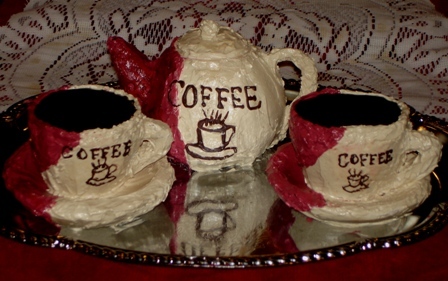 The 'coffee' in the cups is chocolate syrup. Everything else is cake and frosting except the lettering and decals were done with melted chocolate and the handle on the teapot was made with chocolate, then covered with frosting. Definitely a work of art!!!! Made just for the contest… and for fun and because she's adventurous and likes to take on challenges.

Nobody helped her. Completely edible. Very creative. Good job, Jan!
————————————————————————————————
One day last week, I decided to add a runner-up prize …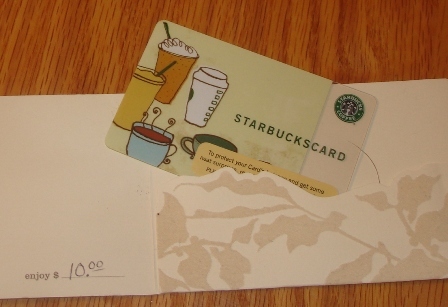 A $10 Starbucks gift certificate.
This prize was won by #7 , the 'grilled cheese sandwiches' made from pound cake and frosting…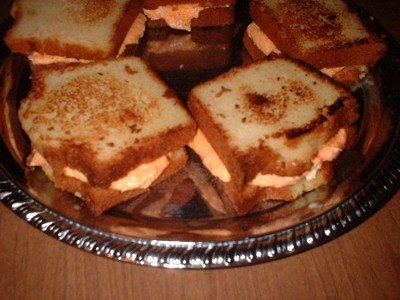 They really do look real! Great job, Evangeline !
———————————————————————————————–
And now, the top 4 honorable mentions…
#9, the teapot cake (for those of you who wondered, she shaped the handle and spout with rolled fondant that was tinted pink to match the frosting).
#2, the frosting and apricot 'eggs'
#12, the kitty litter cake with appropriate props
#19, the barn cake
————————————————————————————————-
Thanks so much to all of you who took the time and effort to enter something! You're the ones who made it a success! I'm anxious to try some of your foods, esp ones that look like main course, but are actually a dessert.

And thanks to all the voters! Contagious enthusiasm and a surge of votes the first 2 days was exciting and fun!

And thanks to the 13 new subscribers who subscribed to seasoned_to_taste last week!
—————————————————————————————————
Next up on seasoned_to_taste:
A series of fun stuff to do for adding a bit of flair to entertaining and food presentation… tomato roses, lemon roses, chocolate leaves, napkin folding, place setting ideas, etc.