I know this is now very out of season, but…
Featuring: Our family Valentines meal (for a bit of history, go to the next page to the Feb 11 post).
Menu:
Cupid breadsticks
Lasagna
Robust Italian Salad w tomato roses
Red hot salad
Broken Glass Salad
Punch
White Chocolate Mousse
Cheesecake (regular and mocha)
Here's the action…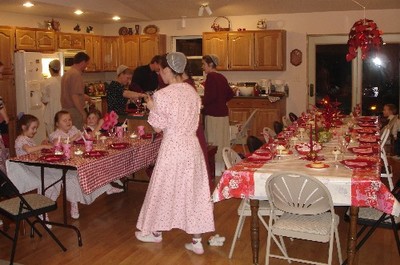 Breadsticks… it's Pillsbury popable breadsticks, shaped into hearts and arrows. Don't ya love the towel? That would be Kris'… she's crazy about coffee. She made the breadsticks…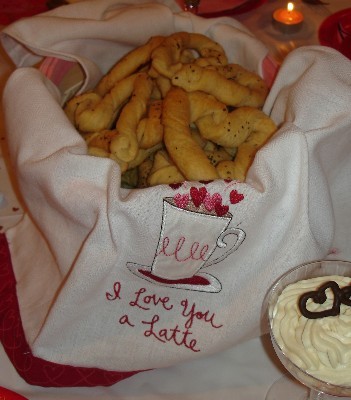 Lasagna… We all brought ingredients for the lasagna and Kris put it together. She put a heart shaped tin foil piece on before putting the last layer of cheese on. Then when it was done baking, Seth took the tin foil off and this is how it looked…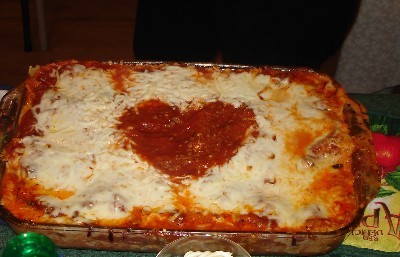 Robust Italian Salad… I made this…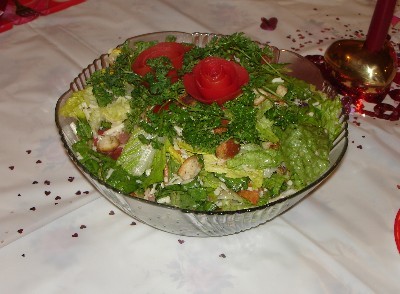 The tomato roses were easier than I thought they'd be. I discovered the secret is to peel the tomatoes as thin as you can. Here's a closer up of a rose…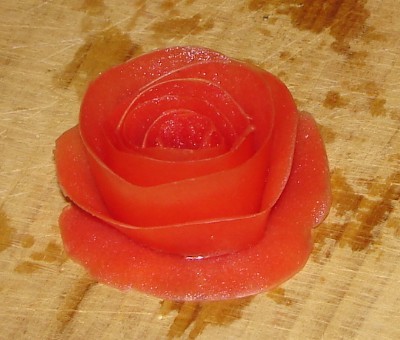 Red hot salad… Galyn made it. (She also made a sugar-free cherry delight for Tom for dessert, which I don't have a picture of)…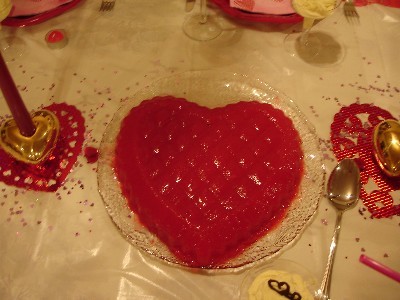 Broken glass salad… Kris made it…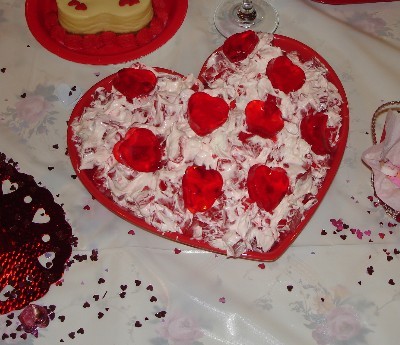 Punch… Bruce and Sheila made the punch… I brought strawberries for the goblets (actually an idea off of th3rdtimesacharm's site)…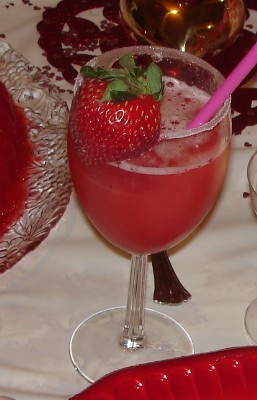 White Chocolate mousse… Kris made it…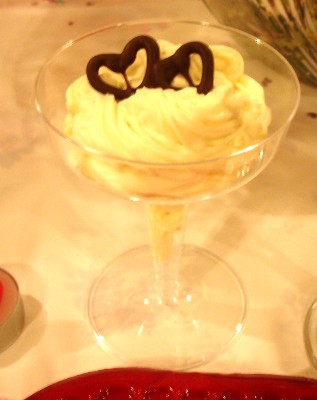 Cheesecake… these were set between each couple and we shared them. There were also regular round cheesecakes for the unmarrieds and for seconds. Bruce made all the cheesecakes…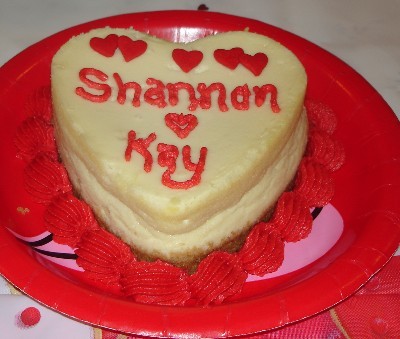 Candy baskets on the table… I think Sheila did those… actually, most of the decorations are Sheila's…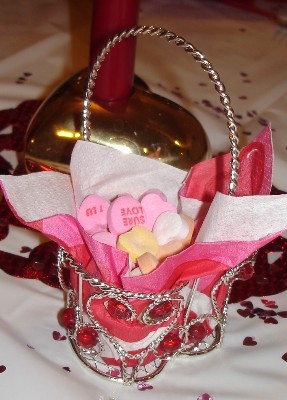 A place setting…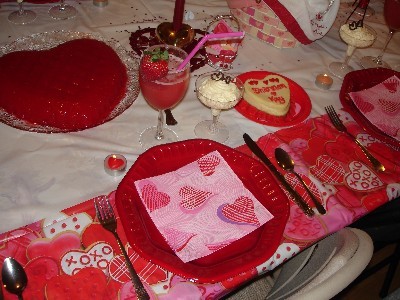 We ate by candlelight. Partway thro' the meal, Sheila put more candles on.

There is always no end to jokes from the guys about not being able to see what they're eating, etc. Last year, Tom and Shannon got their cell phones out, lit the little screen, and propped them up beside their plates for extra light. It's actually plenty bright. Dad says he likes it because it saves on electricity and heating. That's the type of things we have to put up with from the guys.

Mom is busy with school teaching, so this year Sheila, Galyn, Kris, and I did the meal, but it was at Mom and Dad's house. Dan and Jan couldn't make it because they just had a baby. For those of you who know our family, but are wondering who Seth and Kris are… they're 'part of our family'. They fit right in and it would seem very weird without them!