Just recently, Shannon said, "You oughta put some meat on Kitchen Scrapbook again." As I thought about it, it did seem like it had been awhile, so just for kicks, I checked… and was surprised… in the last 27 posts, the only thing with meat in it on here was Haystacks! And that's not a dish where the meat is really monopolized on. So, here we go, something with meat… a main dish, for something different. I know it's not a CHUNK of meat, but hey, there IS meat here.
One main dish in 27 posts shows you a bit where my interests lie. I don't churn out full course meals as often as you might think. I like cooking meals, I really do. But you know what I LOVE? Baking, desserts, decorating cakes, and playing around with food. It's hard to do fun stuff with main course dishes. And main course dishes are necessary… the sweet things aren't… and we all know that somehow there's always more fun and passion in unecessary things. I should add in a clause here about meat… I've heard and seen enough from the guys I'm around that I DO understand that there is fun and passion in smoking and grilling chunks of meat… but I don't know a flippin' thing about doing it, so I'm quite happy to stay on the eating end of it rather than on the fire end of it.

This is the first time I'm posting one of Pioneer Woman's recipes on my site, even though I've made quite a few of them. One I still need to try is the cinnamon rolls. I just need to see for myself that it's just as good or better to sprinkle on white sugar instead of brown sugar just before rolling them up. When I do try them, I think I'll do some with white and some with brown… and compare. The best part of all that is that it entitles me to TWO cinnamon rolls.

Anyway… why am I talking about cinnamon rolls?! Back to the thing of posting a Pioneer Woman recipe on my site… It's sorta like what's the point because it's already posted in much more finery and humor already on her site. It's not that I feel threatened by her… because you can only feel threatened by people or things that are in your league.

So, here is the link to the recipe on her site: Pioneer Woman's Sloppy Joes. And in case you don't feel like clicking to go over there, I'll post it here, too.
I actually just grabbed my cell phone to take pictures of these because, well, my camera battery needed charged.

Also, I made a half batch, in case the quantity in the frying pan looks small to you… you know what I thought of right now, I should've made a full batch and put half of in it the freezer for another meal!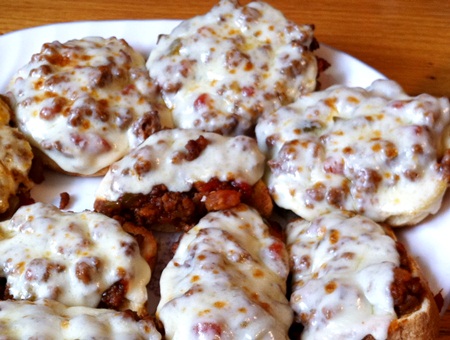 Pioneer Woman's Sloppy Joes
2 Tbsp. butter
2 1/2 lbs ground beef
1/2 onion, diced
1 green bell pepper, diced
5 cloves garlic, minced
1 1/2 cups ketchup
1 cup water
2 Tbsp. brown sugar
2 tsp. chili powder (more to taste) I actually cut back on this because I wasn't sure how much kick it would give it.
1 tsp. dry mustard
1/2 tsp. red pepper flakes (more to taste)
Worcestershire sauce, to taste
2 Tbsp. tomato paste (optional)
Tabasco sauce (optional; to taste)
Salt; to taste
Black pepper, to taste
Kaiser rolls
Butter
Add butter to a large skillet or dutch oven over medium high heat. Add ground beef and cook until brown. Drain most of the fat and discard. Add onions, green pepper, and garlic. Cook for a few minutes, or until vegetables begin to get soft. Add ketchup, brown sugar, chili pepper, dry mustard, and water. Stir to combine and simmer for 15 minutes, adding salt and pepper to taste.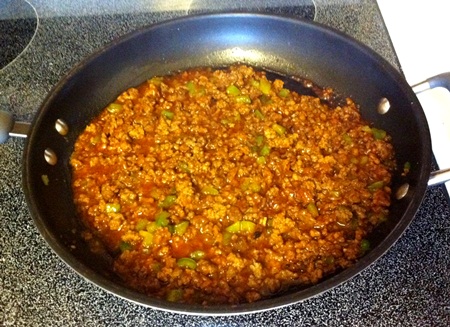 Also add tomato paste, Worcestershire, and Tabasco if desired. Taste and adjust seasonings as needed. Spread rolls with butter and brown on a griddle or skillet. Spoon meat mixture over the rolls. And then I added a slice of provolone cheese and put it under the broiler for a few minutes.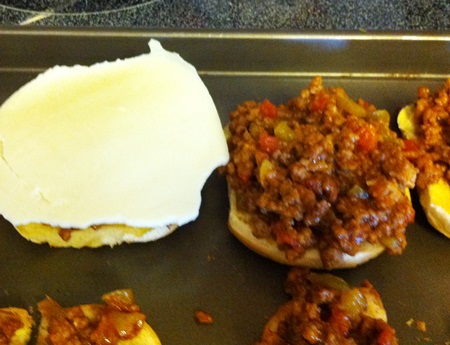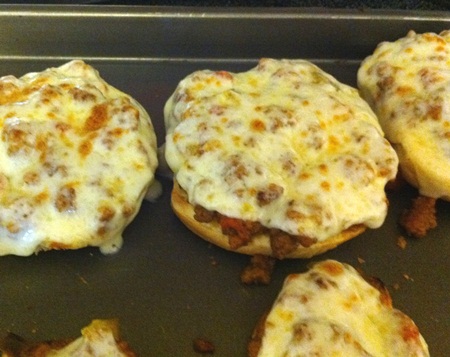 These are hands down THE BEST sloppy joes I've ever made or eaten! Dancing with flavor. I backed up the spicyness a little and I think it was just right… in my world, sloppy joes aren't supposed to be spicy. But a little zing was perfect. So, anyway, this will now be my sloppy joe recipe unless I find another one to kick it out of 1st place.
In other news, we're grilling tonight. Not sure what we'll grill, but I think I'll feature it in the next post, whatever it ends up being. The meats we have on hand to choose from are: burger, chicken breast, fish, and a 1.14-lb sirloin steak. Oh, and when I say "we're grilling", I am, as usual, using the term 'we' very loosely.
What are you grilling tonight? And feel free to use the term 'you' very loosely.

Comments