Posted on August 2, 2008
Filed Under Pies
I get cravings for this pie. And it's so easy to make. And you can make it and put it in the fridge and it cools down and firms up in less than 3 hours. I've already got the craving in the morning, made it, and had a piece for lunch. Mmmmm, now I'm thinking afternoon snack today…
This recipe comes from the Derstine cookbook. But I skip the meringue. Meringue on peanut butter pie?! No way! What's crazy is that most regular peanut butter pie recipes have meringue. One time I tried it and it just seemed really weird. Maybe because Mom always made it without the meringue. I guess people put it on because the filling takes egg yolks and then what do you do with the eggs whites?
I should actually study up on eggs a bit. When I make something that takes yolks only, I throw away the whites. When I make something with whites only, I throw away the yolks. I do wonder how long yolks or whites would last in the fridge if I'd save them. And I also wonder about freezing them… on that laminated substitution chart that I have (part of it is posted here), for the "when you're out of eggs" part, one of the substitutions is 3 Tbsp + 1 tsp thawed frozen egg. Probably they would only work in baking or cooking. I'm out of eggs right now and couldn't even make pancakes this morning! And I can't even make that peanut butter pie that I'm craving! Oh, hey, speaking of peanut butter pie…
Peanut Butter Pie
1/3 c. peanut butter
3/4 c. powdered sugar
1 9″ baked pastry shell
Filling:
1/3 c. flour
1/2 c. white sugar
2 c. milk (always use whole milk, it turns out much better)
2 tsp. butter
1 tsp. vanilla
1/8 tsp. salt
3 egg yolks, slightly beaten
Combine filling ingredients and cook in heavy saucepan over medium heat until thick, stirring often.

Blend peanut butter and powdered sugar. Sprinkle 2/3 of mixture into baked shell. Pour filling on top.

Sprinkle with remaining peanut butter crumbs.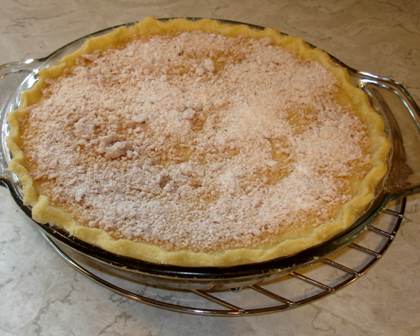 I think I'll just leave the meringue details off of here because I'm afraid then you'd be tempted to make it with the meringue.
Note of interest: That picture up there where I'm pouring the piping hot filling into the crust was taken at 8:54 a.m. on July 10. And this picture was taken at 11:39 a.m. on July 10. That's how fast it cools down and sets up!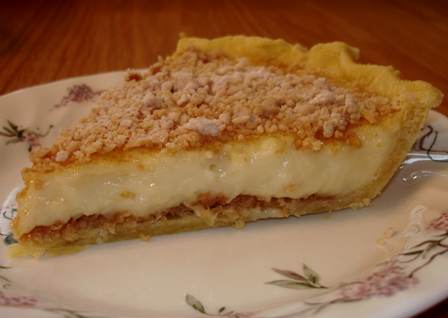 I won't clutter this post with it, but sometime I want to feature making a pie crust, how I do it anyway. I'm not a pro and don't really have secret tips and techniques, but they don't shrink and they taste fine. I counted up what I can remember and I've rolled out about 20 pie crusts in the last 2 months, and enjoyed every minute of it. Most of those pies were for bake sales, we don't eat THAT much pie! Two of those pies were peanut butter pies, um… not for bake sales. But I did give one of them away. I made one to go with a meal for a new mom and then got home and was feeling like I had slighted myself by not getting to eat any (I could not figure out a way to take a piece without her noticing it, that's what's nice about bars… you can bake a panful, put them out on a plate, snitch a few, and the recipient will never know ???? ). So, anyway, this no-peanut-butter-pie-for-me thing was still bugging me the next day, so I made one for me… the very one that's featured above.
———————————————————————————————-
Edit: (This will make more sense if you've read the comments on this post.) I tried peanut butter pie with Cool Whip…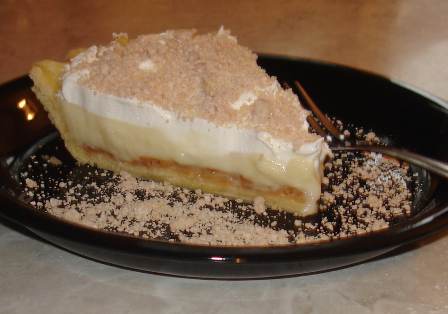 It was great. It added something to the looks of it. I still prefer the taste of it without the Cool Whip though. I'll put it on now and then, especially if I'm taking it away somewhere. But if I'm making it to settle a craving for me, it'll be without. Richer-looking: WITH. Richer-tasting: WITHOUT. That is, of course, just my opinion.

Comments