Making and decorating gingerbread men … plus! (We didn't just stick to the men.) After the cookies were baked and cooled, but before we decorated them, I told Shannon that it never occurred to me that I don't actually know how to do this! I hadn't decorated cookies for YEARS!!! So anyway, don't laugh too hard! Here are some of them…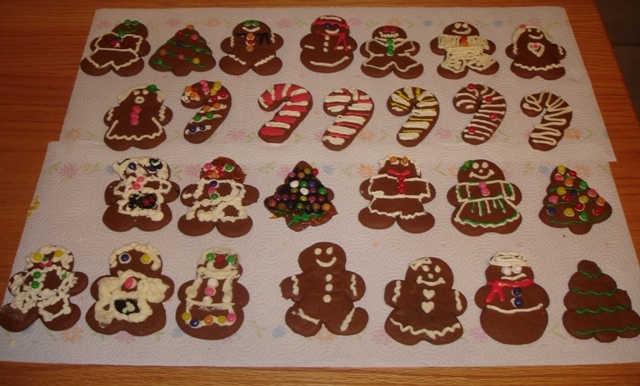 My aunt Ruthie makes the best gingerbread cookies around, so I got the recipe from her. It actually comes from the Mennonite Community Cookbook.
Old Fashioned Ginger Cookies (Leb Kuchen) That's how the recipe title is written… makes it seem authentic, doesn't it?
2 cups shortening, melted
3 cups sorghum molasses
1 cup sugar
8 – 10 cups flour
1 tsp. salt
2 Tbsp. soda
1 Tbsp. ginger
1 Tbsp. cinnamon
1 1/2 cups buttermilk or sour milk
Heat molasses and sugar together. When sugar is dissolved, add shortening and stir until melted. Remove from heat. Cool to lukewarm. Sift flour, soda, salt, and spices together. Add sifted dry ingredients alternately with sour milk. Stir until a medium-soft dough is formed.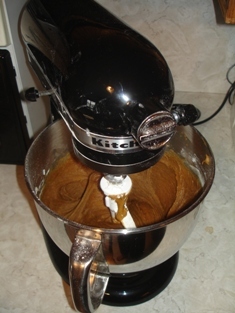 Work dough with hands for 5 min. Let chill in refrigerator for several hours. (They're not kidding about that. It's a soft dough. Ruthie said she usually lets it chill overnight.) Turn dough onto lightly floured board and roll 1/4″ thick. Cut with large round cookie cutter.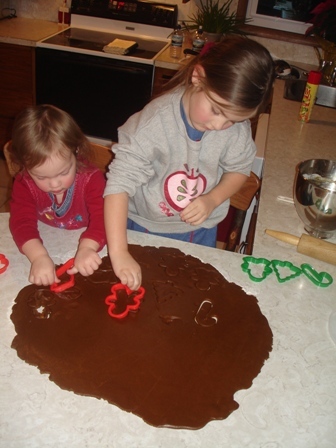 Glaze with a beaten egg; dip a small piece of cheesecloth in beaten egg and rub lightly over cookie. Place 1″ apart on greased cookie sheet. Bake at 350 for 20 – 25 min. (I didn't bake them quite 20 min.) This is the soft chewy cookie that was a favorite of grandmother's day. It is still very popular among many Mennonite families. (I didn't write that, it says that right in the recipe.) Makes 8 dozen large cookies.
Then, let the decorating begin!