This happens pretty often. I hope when they have kids they have to eat ugly food sometimes too. 😉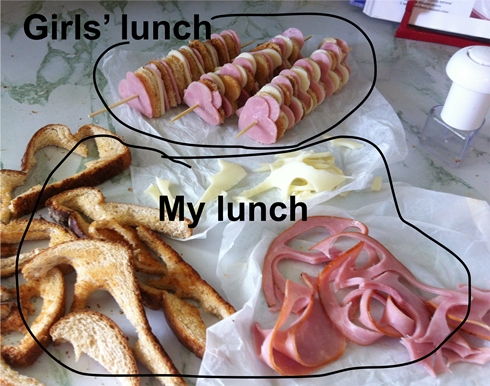 Wow, my backspace key is smoking. It's like I don't know how to write anymore. It all sounds weird, so I keep starting over. So, I'm just going to write, even if it sounds rusty. I missed this site. And my mom and my sister Jan say they're tired of looking at the kid lunches now. Time to dust it off and start posting again.
My afternoon was spent cooking yesterday. And thinking. And not thinking about taking pictures of what I was cooking! I need to get into the habit again! What I was thinking about is how working in the kitchen is what I want to do with my life in the future. I think I could probably find people who'd take a meal or birthday cake or bucket of cookies now and then. 😉 Problem is, the ladies who are the age that I picture being when that happens in the future are still so crazy busy. They're not exactly sitting around knitting. If that's me at that age, I guess I'll just have to hire a maid.
I was going thro' some pictures a bit ago to find a recipe to feature or at least pictures of some sort. What I found was miscellaneous pictures.
First, we have an unidentified cheesecake. I have no idea where this recipe comes from, which is sad because it looks so sinfully good. It's layered and swirled and chocolate chippy. And it's in my kitchen and I vaguely remember making it. Oh, if I'd only know where I got the recipe! Any ideas?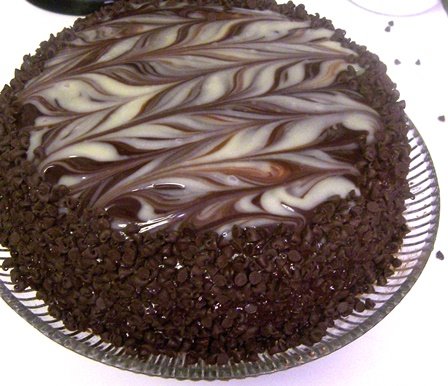 Here is a slice so you can see the layers.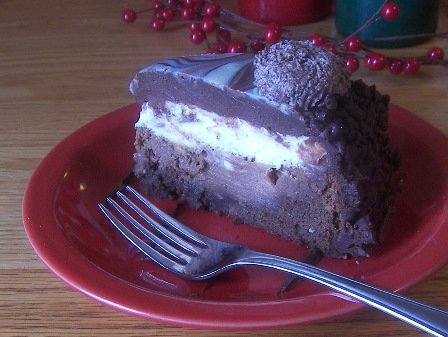 Next, is another mysterious recipeless dish. This might be a bit easier to identify, so let me know if you know what it is!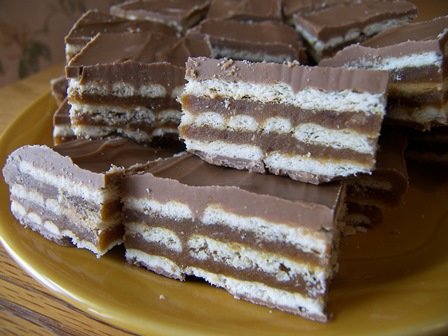 Here is a progress picture. The light layers are crackers. The other layers look carmelly and then chocolate on top. Mmmmm!!! You can bet I'll make these again if I figure out what recipe it is!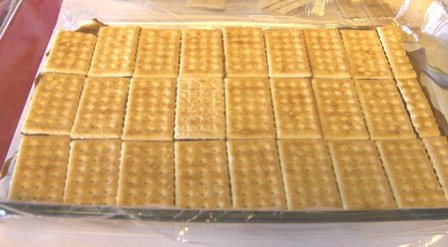 Here is just a way to change up peanut butter pie. Like, for example, if you don't like to make pie crusts. The directions are very complicated, so pay attention: crumbs, pudding, crumbs, pudding, crumbs, pudding, crumbs.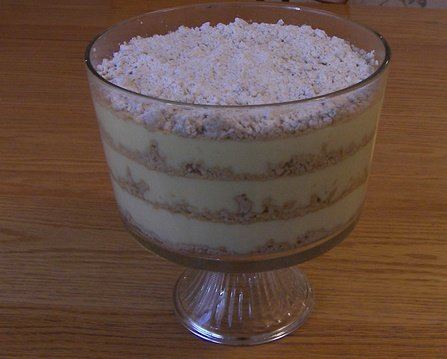 I'm not saying the OSU fans in this Kroger grocery store are crazy about their football team or anything, they're just selling pop.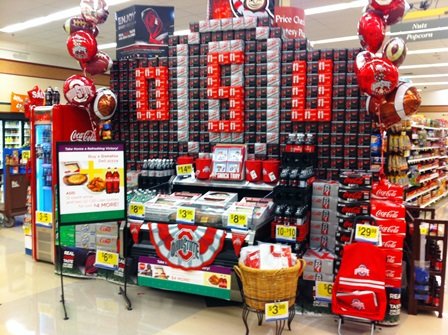 This next picture says more than just cookie baking going on.
One thing it says is that we moved to a different house. My kitchen quadrupled in size. So did the cupboard space and the countertop space. I'm fine with that.


Another thing it says is that there is someone in the picture who hasn't been in my blog before. That is Bonnie. Bonnie and Tommy are special and live in an attached apartment here. They are a part of our life. It hadn't really crossed our minds before that someday we'd become houseparents to mentally handicapped adults, but an opportunity came up and here we are. They are pretty independent and like to do a lot of things for themselves like cleaning and simple cooking and laundry. Then, they do other things on the farm like chores (raising calves, chickens, rabbits), cleaning a rental cabin, and mowing. Their mode of transportation is a golf cart and do they ever put on the miles in the summer!

Transportation around the farm, that is. Their mode of transportation off the farm is us. They also work a couple afternoons a week at a local thrift store. They love it… it helps them feel useful and needed.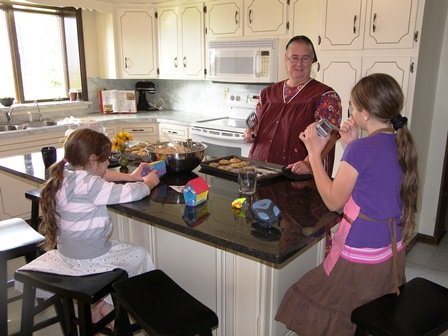 Fall is in the air. I love this time of year.
And I leave you with a reminder to always add lots of whipped cream to your hot chocolate…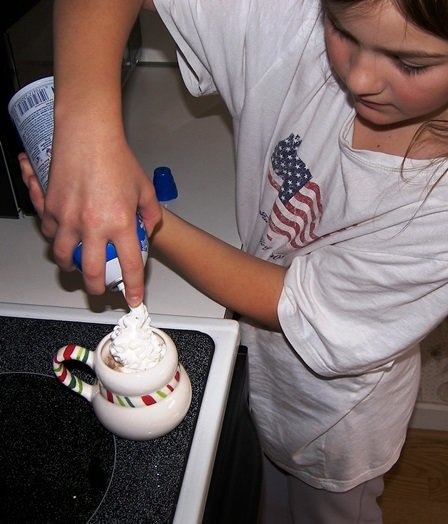 I'm not sure who has more fun with this… me or the kids. The thing about kids is that they're so forgiving. For example, if your lion lunch looks more like a sun with whiskers, they'll love it anyway. And they'll even call it a lion, and they'll grrrr while they're eating it. Those of you reading this will probably fall into one of 3 categories:
1. Think "That's a waste of time."
2. Think "That would take too long, but I'd like a few easy ideas to do someday… maybe one day when I have nothing else to do *hahaha, laughing at your own joke of nothing to do*, or for a birthday party for one of the kids or something."
3. Think "I need to make lunch anyway, so instead of cutting a sandwich in half corner-to-corner and throwing it and chips on a plate, I might as well take a couple extra minutes and cut a roofline at the top of the sandwich and place some Doritos here and there to make it a house-on-fire lunch. Not saying I do it all the time… just hit n miss for fun. Because psssssst *whisper* Sometimes I fix lunch in 30 seconds flat and my kids' lunches look like this:"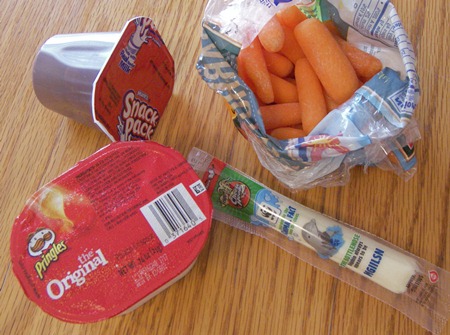 If you are person #1, I don't care, I won't try to change your mind… I'll just feel privileged that you're still putting up with me on here. 


If you are person #2, do it, find that 'someday', seriously, I can't tell you how much the kids will love it.
If you are person #3, ahhh, let's just remember that strengths and weaknesses lie side by side… because I'm pretty sure that spending time playing with food instead of folding laundry would be considered a weakness. 😉
You may notice that this is almost all grilled cheese sandwiches. Nothing fancy. No special recipes or anything.
I'm just going to put up 10 or so pictures here of ones I've remembered to take pictures of. Most of them were quickly snapped with my cell phone… without necessarily planning to post them, just more for my own interest. I thought of redoing them all and getting decent pictures, but you know what? I don't specialize in the photography line like a few of my talented friends do. (My talented friends' first piece of advice would probably be "use a camera, never a cell phone!")

I think the pictures are pretty self-explanatory, but I'll try to explain sorta what I did under each picture. I just used whatever I had on hand… nothing was planned ahead, so sometimes I had to improvise, like using melted chocolate on a ham and cheese sandwich… it wasn't very much though, I just needed something dark for eyebrows. I think you'll notice the improvising as you look at the pictures. 😉
1. Let's Go Fishing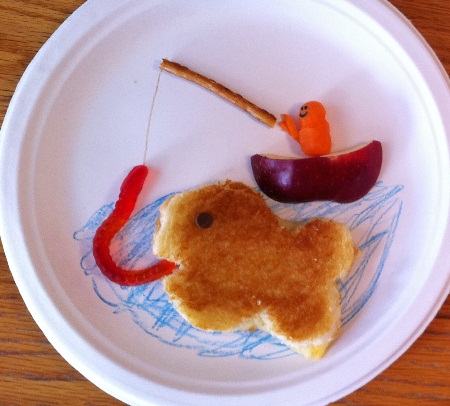 Apple boat, fish-shaped grilled cheese sandwich, carrot fisherman, gummy worm, pretzel fishing pole, brown crayon fishing line, blue crayon water, edible marker face (well, just the ink is edible, not the whole marker 😉 ), chocolate chip eye.
2. House on Fire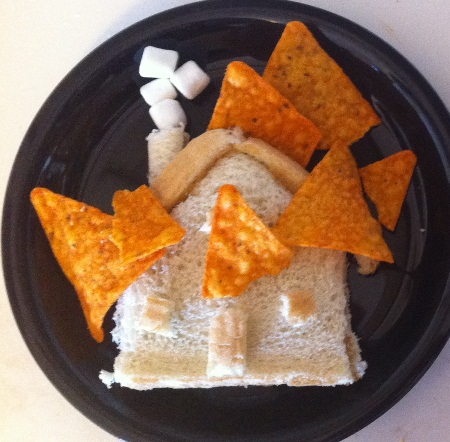 Sandwich cut into a house shape, windows doors and roof line out of crust, chimney cut from scraps, marshmallow smoke, Doritos fire.
3. Pig with Mudhole and Feeding Trough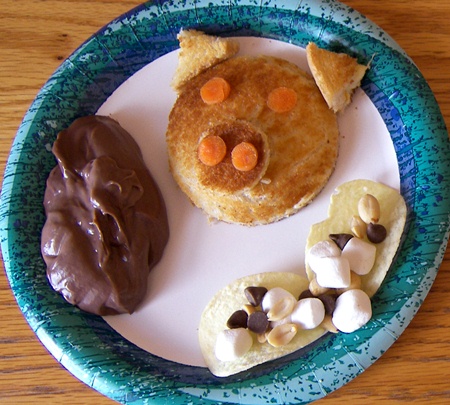 Grilled cheese pig with ears from scraps and snout from one side of another sandwich, carrot eyes and nostrils, Pringles trough with snack mix pig food, chocolate pudding mud.
4. Caterpillar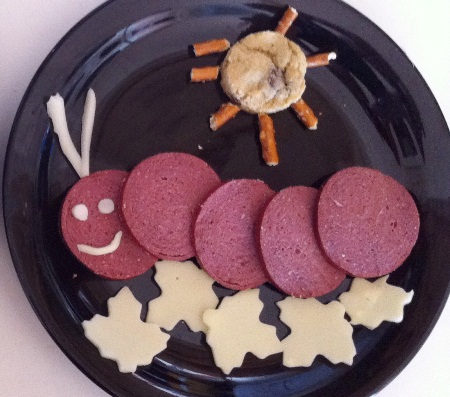 Trail bologna caterpillar with shredded cheese mouth and antennas, cheese eyes, cheese leaves, cookie & pretzel sun. I let them eat crackers with it, but I should've incorporated the crackers into the caterpillar to make it more interesting and varigated!
5. Butterfly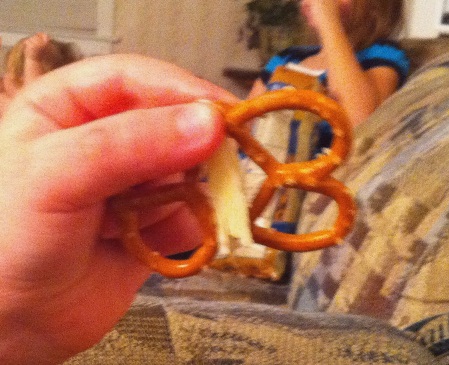 Snacking on cheese and pretzels on evening, Tiffany (5) suddenly came over to me and said "Look Mom! I made a butterfly with my cheese and pretzels!"
6. Sailboats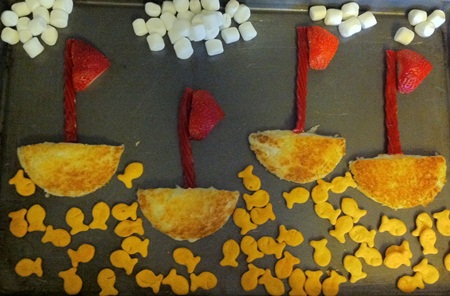 Grilled cheese boats, licorice masts, strawberry sails (it was this lunch that I realized "hey! It would be very easy to make hearts out of strawberry halves!"), Marshmallow clouds, cracker fish (swimming in invisible water, ha).
7. Semi and Car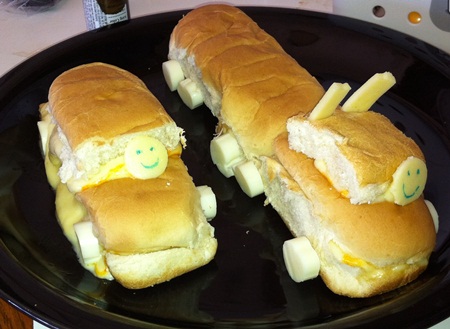 Bake ham n cheese sandwiches with hot dog bun instead of hamburger buns. Get them out of the oven and add unmelted cheese details: wheels, smoke stacks, driver with face drawn on. For the cabs, I added one layer from another sandwich. The kids drove these around a bit before eating them. The wheels are held on by toothpicks. A toothpick is the perfect length to span the width of a hot dog bun and have a bit left over on each side to press the cheese onto. The faces stayed on because I put them against the hot melted cheese and they stuck.
8. Lion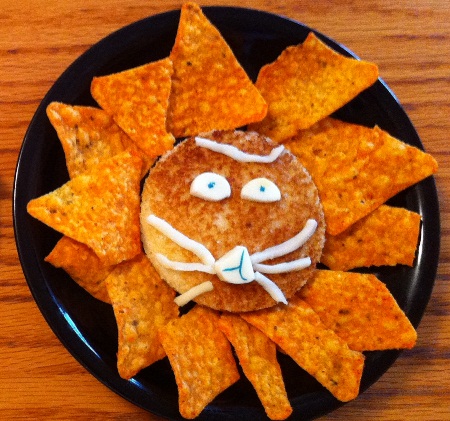 Yeah, you can laugh at these lunches, I don't care.

Grilled cheese head, shredded cheese and cheese chunk face, Doritos mane.
9. Spiral and a Scissors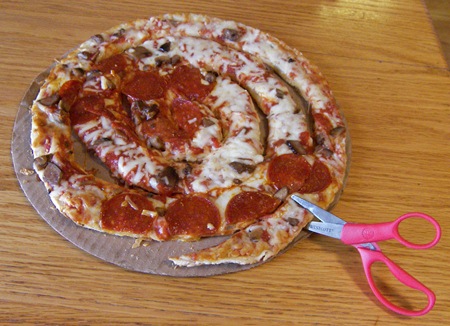 Cut-your-own-piece pizza. The girls cut small pieces so they could use the scissors more often.
10. Dog and Bone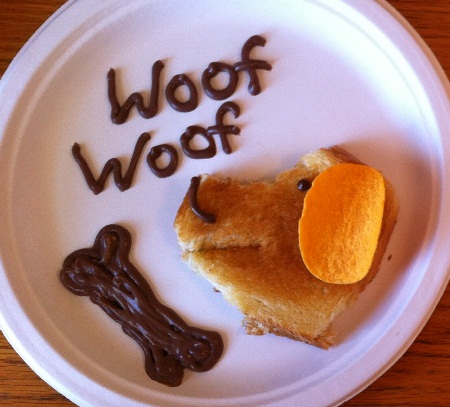 Grilled cheese dog, Pringles ear, piped chocolate pudding eye, nose, bone, and words.
11. Puzzle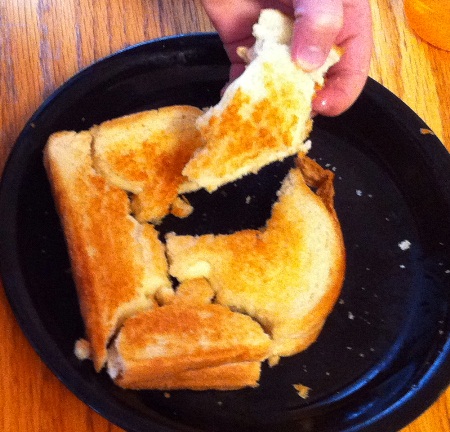 Grilled cheese puzzle pieces… very simple, but Tiffany had fun playing with it anyway.
12. Are You Ready for some Football?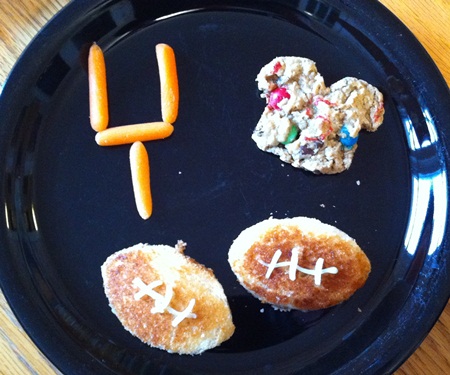 Grilled cheese footballs with shredded cheese laces, carrot goal posts (not fastened, just arranged there, and they roll while transporting the plate, then you have to fix them again 

), cookie jersey (you can't see it very well, but I used red edible ink to draw a 5 on it (because the tot eating it was 5) and drew lines at the end of the sleeves).
13. Angry Birds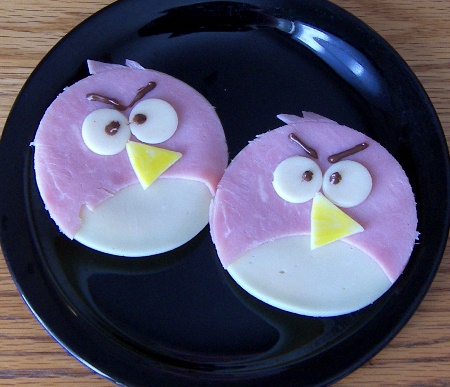 Head is round bread, round cheese, and crescent ham with 'tufts', cheese eyes and nose (I didn't have yellow cheese, so I colored white cheese with an edible ink marker), melted chocolate eyebrows and 'pupils'.
Ok, this ended up being 13… an unlucky number! I'm not superstitious, but maybe I should add another one that I just thought of that I made this week to go with a lunch, but didn't take a picture:
14. A carrot man. Think stick man with 5 baby carrots: 1 carrot was the torso, 2 were legs, 2 were arms. The head was a round piece of cheese with a smile drawn on with an edible ink marker. Then, I put a raspberry upside down on his head for a cap. One carrot man was sitting and one was standing (or laying, rather). Everything was held together with little pieces of toothpicks. Could even dress them up with fruit roll-ups or cheese/ham slices or something… didn't think of that till right now.
Have fun! We are! 

This is just going to be a miscellaneous post of 12 pictures that have to do with kitchen/cooking/eating that happened in the last few months. It's called catch-up.

These incidents fall into one of 2 categories:
1. Not important enough to merit their own post.
2. Happened too long ago that a whole post on them now would be like digging up old bones.
I didn't know I was going to do this post, or I would've just thrown my Before/After picture in this list because that whole deal was a bit embarrassing in the previous post. I'm not going to keep talking about my diet in future posts, but I do know that getting it out in the open now definitely makes me feel more accountable, which is a good thing. 
First up is a birthday cake by Lexi and Tiffany. Lexi is 8 and Tiffany is 4. This was this past January and since then, Tiffany had a birthday and turned 5… her ladybug cake will be featured sometime soon. But here, it was Shannon's birthday. The cake was Lexi's idea, so I let them have at it. It's a chocolate sheet cake with peanut butter icing… because a sheet cake would give them more room to scribb—oops, I mean, decorate, than a 9×13 would. I helped with the baking and spreading the frosting, but they did ALL the decorating. Lexi made the smiley face and the heart and did all the writing… meanwhile, Tiffany did the picture down in the corner (yeah, not exactly sure what it's supposed to be, but I think I can make out a person on the left of it). Lexi was surprised how hard it is to write with frosting. 😉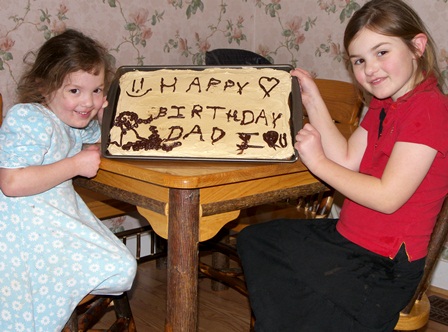 The other day, Tiffany purposefully went to her room, got her apron on, then came to me and said, "Mom, the ONLY thing I ever eat is cupcakes. So… *pause* can I have one?". Could YOU have said no? Me neither.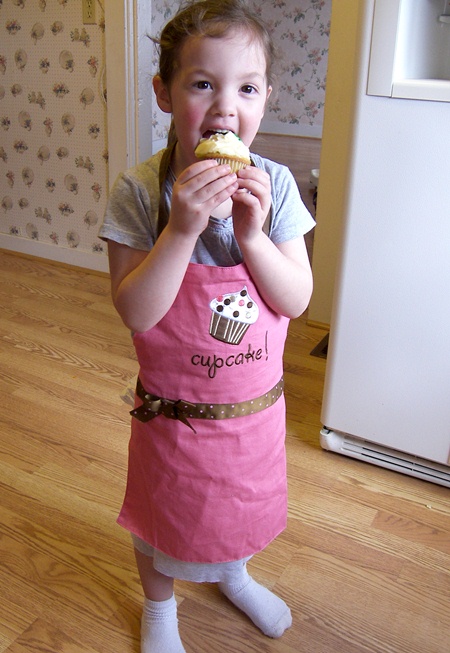 Tiffany was playing with her little doll named Paige while drinking chocolate milk. She thought it was so cool that Paige would stay hanging when she'd let go of her.

 (And no, she doesn't have her eyes closed like it looks.)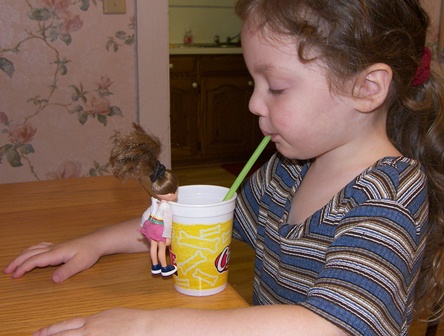 A random kid snack, all happy and yummy…

 

This is a window in my mom's kitchen/dining room. At Christmastime, she took all her grandchildren over to it and sprayed some spray-on "snow" over their one hand (and then washed their hands right away). Long after they were gone back to Pennsylvania/Missouri/Ohio/the other side of town, she still had this little souvenir on her window.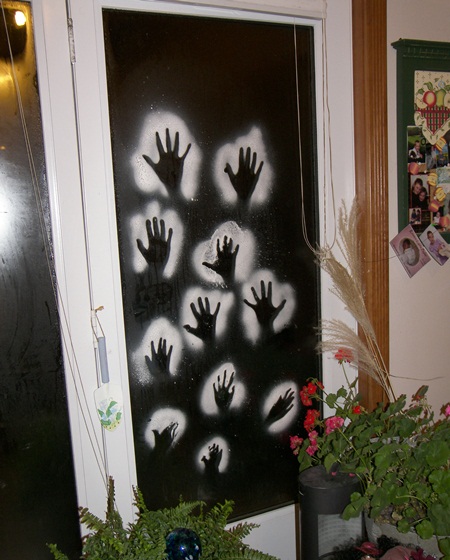 Here is some monkey bread that I made one lazy Saturday morning earlier this year that I never featured. And now, I'm not even sure what recipe I used! It got rave reviews, but really, you can't go wrong with biscuits, butter, brown sugar, and cinnamon, can you?!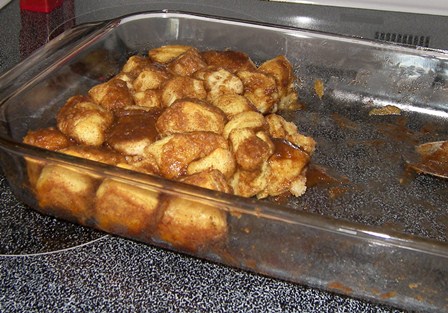 This is a pie from one time a few months ago when I NEEDED a chocolate peanut butter fix NOW. I pulled a baked pie crust out of the freezer, spread a layer of peanut butter on it, filled it with some instant pudding, put chocolate and Cool Whip on top, sprinkled it with Nestles powder, and TA-DA! I had a ready-to-eat-pie in 10 minutes flat!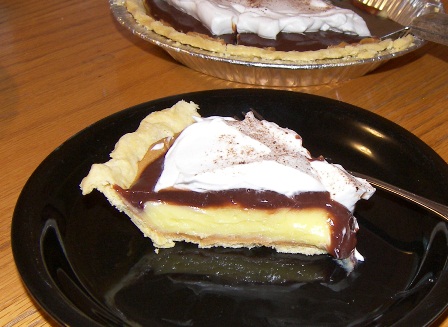 Here are some sour cream cookies that I made last week that didn't make the cut, according to my food critics who live here. Here's what I wrote beside this recipe in the cookbook: "Kinda dry. Don't make again. Good, but with a million other cookie recipes out there, don't bother with this one."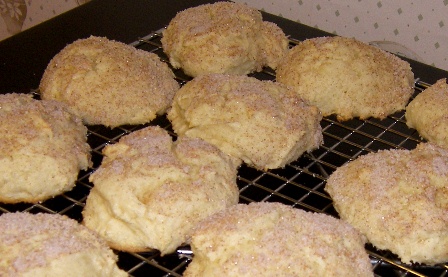 Here are some of my scrapbooking buddies of yesteryear… Ruthie, Linda, and Liz. We moved to Ohio a couple years ago and went back for a visit to WI this past year for Christmas, so of course we girls had to work a good-ole-days catch-up evening in. Well, ok, we got together the next day, too. This particular evening involved restaurant-hopping. Shannon and I went on a double date with Ruthie and her husband. Then, when we were done there, our men dropped us off at this restaurant, where Liz and Linda were waiting for us at a cozy table by the fireplace. We got dessert here. Then, this restaurant closed at 10:00, so we went over to McDonalds, which closed at midnight. Welcome to Small Town, where 24-hr businesses are hard to come by and Main St rolls up its sidewalks at 5:00, but aw, is it ever cozy and friendly! Even the policemen are friendly, we found out. Heehee. Ok, I won't go into that or say which one of my friends was driving, but it turned out well because no speeding tickets were involved… the I-was-just-talking-to-my-friends-and-not-watching-my-speed explanation worked.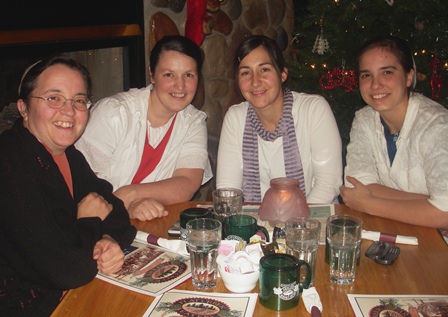 Here was our SuperBowl party cake. The cake was sweeter because we had cake and ice cream after the game was over… the sweet taste of victory. 

 

I saw Pioneer Woman several weeks ago! She was in Columbus on Feb 19. I didn't take my camera, so these are with my phone. It was a bit surreal, I'll have to say! On the talking picture, I was probably saying, "I CAN'T believe I actually get to SEE you!" I forget what all I said, but I do remember saying that.

 

And last, but not least, here's Megan. She's 10 months old. She doesn't get enough to eat, so she has to supplement her diet with Princess tiaras.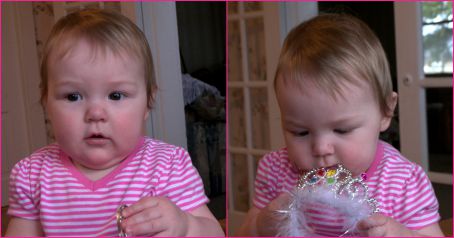 You know how when you have a problem, you try to find a solution? And then sometimes the solution doesn't work because it hinges on another problem? And then you have to back up and fix that problem before you can fix the initial problem?
Is anyone still with me? If you didn't follow, I'll explain it using a few more words… I know I was kind of concise in that first paragraph. Ok, just kidding.
Well, here's my problem: I miss this cooking site. And having fun in the kitchen. And trying new stuff, making tried-and-true stuff, playing with food, etc.
Solution: Ok, duh, so start cooking, making, playing, and updating!
Problem hinging on that solution: I'm on a South Beach diet, and I couldn't eat 90% of the stuff I'd make. And if I can't taste it, how would I rate it? Plus, it would take ALOT of the fun of cooking away. I started posting alot around Christmas time and was planning to keep it up, then one day in January, I looked in the mirror, and decided to go on a diet, and well, you know the rest of the story (see above).
So, I found a solution: Make a diet exception. So, I did that. I decided that I can have 1 serving of anything I put on here. It'll just be, you know, a cross I have to bear, you know, because I really DO actually want to stay on my diet, you know.
Anyway.
I hope you won't get tired of me posting cheesecakes ALL. THE. TIME! 😉
When I was thinking out loud, rambling to Shannon about my problem/solution/problem/solution and told him how I'm solving it all, his comment was (as if he was saying this one day after my blog was up and going regularly again), "37 posts on Kitchen Scrapbook today?! and 24 yesterday?!!!"

Here's where the out-of-my-comfort-zone tidbit comes in… I'm putting on a Before/After picture of myself. WAY out of my comfort zone…even if I keep the pictures small …and even if the pictures are in poor lighting. But by posting this, it'll give me some accountability to keep on and get to the Final picture. So, here you go, this is what the halfway mark looks like, I just passed it a few days ago…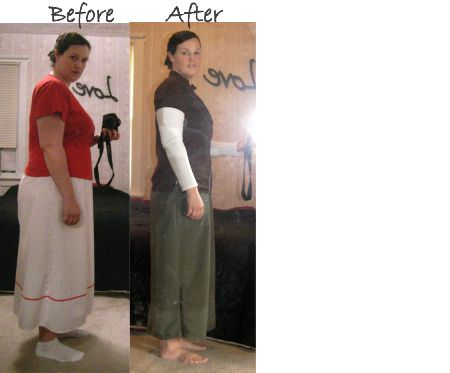 Now, onto the mints. Not sure if you can trust my judgement on these… of course they were good! Hello… it's CARBS!!
Ahhh, carbs. How I love thee.
Maybe if I was eating normally, they'd get a good/average rating instead of a 'they were absolutely awesome' rating. I don't know. So, just make them yourself… they're easy enough!
This recipe was not taken from a cookbook. It was taken from the book The Hand that Rocks the Cradle. The book title doesn't even have to finish that sentence …we all already know that we rule the world.

If you're a mom and don't have that book, you should. It's great. Every 2-page spread is loaded with inspiration, Bible verses, real life experiences, and here's my favorite: little sayings/quick quips/advice. A few pages have some fun little recipes on them, like page 145 with Mint Patties.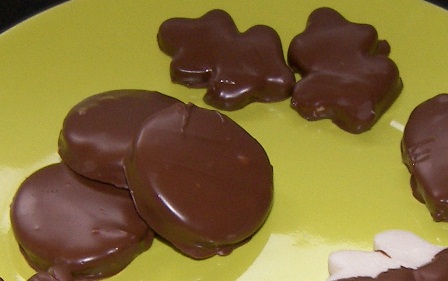 Mint Patties
1 lb. powdered sugar (I'll save you some research… that's 3 3/4 cups)
2 tsp. cream
1 Tbsp. soft butter
1 egg white (unbeaten)
1 tsp. vanilla
Mix together and shape into patties. Dip in chocolate.
And there you have it, simple as that. I got done putting all the ingredients in and then thought "Uhhhh, MINT patties? It must mean mint patties in looks only, because there's no mint in the recipe." So, I added about 1/2 tsp. of peppermint extract.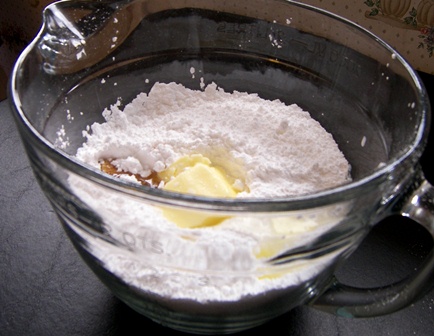 I just threw everything into a bowl and mixed it, but it made little pea-sized balls, so I added a bit more cream and then it all blended together like a dough.
Instead of shaping the patties (which I thought would be too time-consuming), I rolled the 'dough' out and used cookie cutters. Got a variety of shapes that way too, which inspired me to make a mental note that these could go with any theme or holiday… just make it in whatever shape is right for the occasion!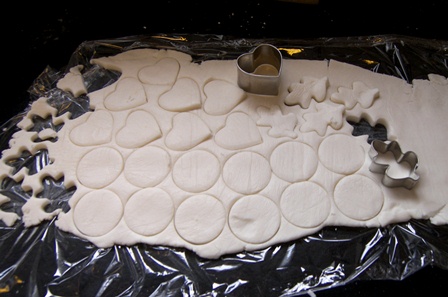 I chilled the patties in the fridge for about a 1/2 hour before dipping them. I dipped some, half-dipped some, and 'scribbled' on some. You could even leave some plain, or add a tint of green food coloring.
This recipe made about 6 dozen mint patties.
So, I can only have 1 serving… how many patties is 1 serving? Just wondering, because the recipe doesn't say. Oh well, I'll just assume the whole batch is 1 serving. 😉