I always run across scone recipes in my cookbooks and wanted to try them sometime, but didn't know how or when to serve them. The recipes didn't give any tips except 'serve warm'. I guess you're just supposed to automatically know!
  Anyway, after a little research and asking questions, I got a few tips. So here's the ones I made, although in my research I found out that chocolate chip scones are too American. I want to try some that are more authentic sometime. They're kinda like fancy biscuits.
Chocolate Chip Scones   …recipe from an Easy to Bake, Easy to Make recipe card.
2 cups flour
1/2 cup sugar
1 Tbsp. baking powder
1/2 tsp. salt
1/4 cup cold butter, cut into pieces
1 cup whipping cream
1/2 cup semi-sweet chocolate chips
Preheat oven to 400. Grease a baking sheet. Combine flour, sugar, b. powder, and salt in a large bowl. Cut in butter with a pastry blender until coarse crumbs form. Stir in cream until a dough forms. Stir in chocolate chips.  Knead dough gently on lightly floured surface 8-10 times. Pat dough into an 8″ round, about 1/2″ thick.


Cut round into 8 wedges with a sharp knife. Place on prepared baking sheet. I put the chunk of dough on the baking sheet, THEN shaped it into an 8″ round.

  At the bottom of the card it said "Helpful Hints: If you prefer soft scones, arrange the wedges on the baking sheet so they are touching each other. For scones with crispy edges, place the wedges about 1 1/2″ apart on the baking sheet." I thought soft would be better, Shannon thought crispy would be better. So, that's why they're arranged like they are, that way we'd have some of each.
Bake scones until golden brown, 20-25 min.


Serve warm. Tips I got were to split them apart and spread butter and/or jam in them and to put whipped cream on top. I did the butter and whipped cream… didn't know if jam would go with choc chips.

  I know, I should have a cup of tea sitting beside the plate. These were really good! Easy to make too. Another note on the recipe card was "For biscuitlike scones, do not knead dough. Drop dough into 8 mounds on prepared baking sheet. Bake about 20 minutes." So, I guess they're not necessarily all wedges. 
                 ————————————————————————————————
Note: On the post before, I forgot to say where the recipes came from. The Broccoli Casserole and the Pudding Pumpkin Pie both came out of the 2006 Quick Cooking annual cookbook.
From my mom…
Easy Cinnamon Biscuits (not sure of the real name, if there is one)
2 7.5 oz cans Pillsbury biscuits (10 biscuits per can)
2 handfuls brown sugar
Cinnamon
8 oz Cool Whip
Grease 9×13 pan and put biscuits in.


Sprinkle brown sugar and cinnamon on top.


Spread Cool whip on top.

Looks more like a dessert now, doesn't it?

Bake at 375 for about 20 minutes.

  These are great!!!!! There's a goo at the bottom and next time, I'm planning to add some pecans on top before putting on the Cool Whip. They take very little time to assemble, plus no rising time. Very good! Keep on hand for a warm breakfast on busy mornings!
From my mom-in-law…
Yum Yum Pudding
60 Ritz crackers
1 stick butter
2 qt vanilla ice cream
2 boxes instant vanilla pudding
1 1/2 cups milk
Crush crackers. Mix with melted butter. Spread out in a 9×13 pan and bake at 350 for 5 min.  (I made a half batch for us, so used a smaller pan here and should've used a smaller bowl later!)

 
Beat softened ice cream. Add milk and pudding. Put crumbs in the bottom of a serving dish, saving some crumbs to sprinkle on top.


Pour ice cream/pudding mixture over crumbs.


Top with remaining crumbs.


Store in refrigerator (not freezer).  Yum is right! I didn't remember having it before and as I was making it, I was so tempted to add some chocolate for an extra layer. Glad I didn't because it was so good!!!! Lots of buttered toasted crackers!
First the picture:

 These are date pinwheel cookies made by my mother-in-law. I don't have the recipe and don't want the recipe, because just the fact that I'm married to her son guarantees that I'll get to taste these now and then. They are her specialty and they look hard to make… you should see the rolls of them before she cuts and bakes them… it's rolled very thin!
  They are just delicious!!!!
                  ————————————————————————-
Now for the recipe. The reason I don't have a picture is because I used Shannon's camera. But now that I'm ready to feature this, he has his camera. So, I may edit it later to add a picture. I made it on Christmas Eve.
Christmas Banana Bread   …from the 2004 Quick Cooking Annual cookbook
1/2 cup butter or margarine, softened
1 cup sugar
2 eggs
2 cups flour
1 teaspoon baking soda
1/4 teaspoon salt
1 1/4 cups ripe mashed bananas (about 3 medium)
1/2 cup chopped walnuts
1/2 cup semi-sweet chocolate chips (I'm going to use milk chocolate next time
)
1/4 cup chopped maraschino cherries
In a large mixing bowl, cream butter and sugar. Add eggs, one at a time, beating well after each addition. Combine the flour, baking soda, and salt; gradually add to creamed mixture. Beat in the bananas just until combined. Stir in the walnuts, chocolate chips, and cherries.     Pour into a greased 9″x5″x3″ loaf pan. Bake at 350 for 70-80 min. or until a toothpick inserted near the center comes out clean. Cool for 10 min before removing from pan to a wire rack. Yield: 1 loaf.      This was VERY good, but then I love banana bread! The cherries in it made it look more festive, and they tasted good too. I know it's past Christmas now, though. Next year, I want to make a real fruit cake. I saw all the fruits featured in the middle aisle with the baking stuff at the grocery store all Christmas season, but didn't try it this year.
                   —————————————————————————
Now, I'm going to throw out a question, just out of interest and because I love to hear from you too… What is the theme/color of your kitchen? And anything else you'd like to say about it.
Mine is Coca-Cola. It started a couple years after we were married when we saw some kitchen Coke stuff one time and thought it would be neat. Then, when you keep your eyes peeled for it, it's amazing how much there is out there!!!! So, my colors are red and black… which is why the colors of this site will always be red and black.
Ham/sausage/bacon & egg & cheese muffins
Raspberry Cream Cheese Cinnamon Rolls
Fruit and dip
We had a brunch for Lexi's 4th birthday party, then she opened her gifts and we had the cake and ice cream closer to noon then. I tried a new recipe for the brunch. It was a hit!!! I was replenishing the fruit tray and the eggs and was going to eat after everyone else was done… until… people started coming out for seconds and saying "these rolls are awesome" type of comments. So, I got a plate and got a roll before they got all. They were soooo good! My mom copied the recipe down and my mom-in-law confirmed that I would put it on this site and said she'd get it then. So, this is something I will DEFINITELY make again and it wasn't just the taste I liked… they were so easy to make too. By the way, if you remember back around Thanksgiving, I was planning to make these T-giving morning, well, it didn't happen then, so here they are finally!
The recipe comes from my friend Shannon .
Raspberry Cream Cheese Cinnamon Rolls
1 Tablespoon yeast
1 3/4 cups warm water
Mix.
Then add
7 to 8 cups donut mix
Mix dough and let rise till doubled. Reserve 1/4 of dough. Roll out the 3/4 and spread with melted butter (I used a little over a half stick) and brown sugar ( I had it maybe about an 1/8″ deep) and cinnamon. Roll it up, cut into 12 pieces, and lay in a 9×13 pan.

  Tips for cutting rolls: I use a string… slide it under the rolls, bring the ends up over, cross them and pull, and it makes a nice cut without smashing… ok, maybe everyone cuts rolls like that… I learned it from my mom. Also, to get them an even 12 pieces, cut in the middle first, then each section in half, then thirds from there (if you count my pieces, there are 14 because I cut the ends off first).
Swirl raspberry filling and cream cheese filling on top of rolls.
 I piped it on, then tried to swirl them together with a knife, but as you can see, it didn't get too good. I stopped after doing 3 and just left them like that.
Edit: If you don't have access to the cream cheese filling, try this:
8 oz softened cream cheese, 1 egg, 1/4 cup sugar, and 1/2 tsp. vanilla. Beat till smooth. Put it in a plastic storage bag (or a decorating bag), cut the corner off, and pipe it onto the rolls.
Roll out the rest of the dough. Spread with butter, brown sugar, and cinnamon and cut into small pieces. Lay on top of filling. Let rise about an hour.

Bake 25-30 min at 350. Drizzle with glaze (1 c. powdered sugar, 1/2 teaspoon vanilla, 2 Tablespoons milk).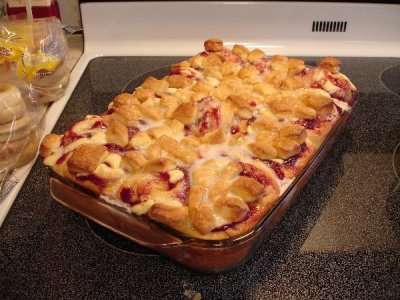 They sorta billowed out of the pan… maybe because I used the 2 ends after all. I drizzled the glaze on right away and it kind of melted and pooled. Next time, I'll let them cool for a few minutes first. Madisonsmom2, I don't know if this looks like yours did. ????? 
Edited January 2012 to add: I often put about 3 rolls in a different small pan so the 9×13 doesn't billow over. Also, I often make them the evening before, put them in the fridge overnight (unbaked), pull them out of the fridge and put em in the oven, then turn the oven on. I don't preheat the oven if I'm pulling them out of the fridge because I'm afraid the cold pan would crack on the hot oven rack.
Anyway, they were just scrumptious and another great thing about them is that the dough was not at all sticky! I didn't get my hands or the rolling pin messy. I could just roll on top of it without it sticking to the rolling pin or the counter!!!
Here is the rest of our meal…

  Ham is in the closest crockpot, eggs are in the farthest crockpot… we just used those to keep them warm. I should've made a sandwich and taken a picture of it… didn't think of it.